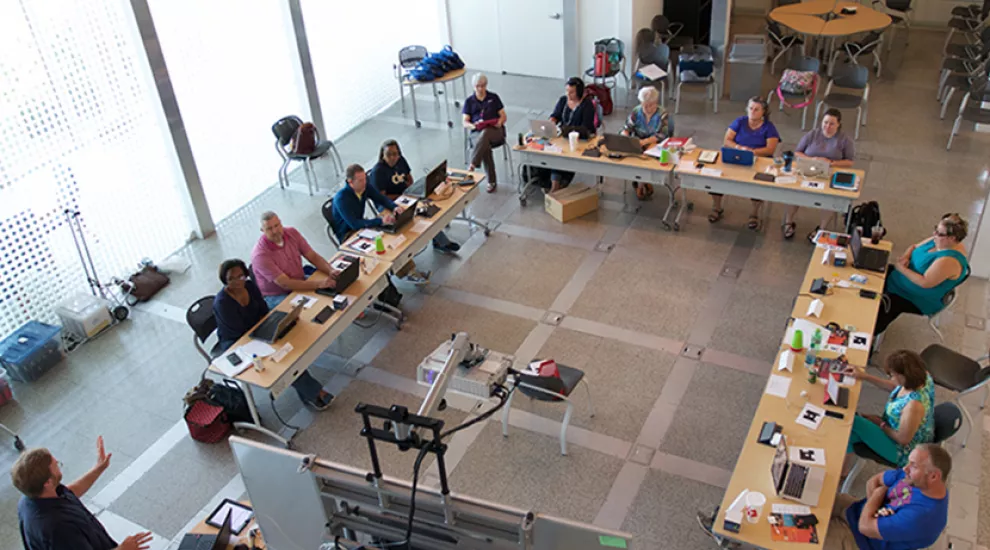 This summer the Education Division will coordinate a number of fun and interactive learning experiences to take place in the month of July.
Join us in Famously Hot Columbia for the following events:
Blended Learning Workshop – July 17, 2019
On July 17th SCETV will host a FREE workshop geared towards integrating technology in K-12 curricula. Local educators will spend the day with ETV learning about free technology tools for educators, assessing student learning using technology, flipping the classroom, and resources for communicating with teachers, parents, and students. There is a wait list for this workshop. Please contact Debbie Jarrett djarrett@scetv.org for more information.
21st Century Learners Week for Educators and Students – July 22-24, 2019
21st Century Learners Week is a FREE 4-day professional development experience that highlights the importance of critical thinking, communication, collaboration, and creativity in academic and workforce development. Workshop sessions will take place from 10:00 – 2:00 each day. Lunch is included.
South Carolina educators are invited to join SCETV Education for this event and can register for individual days or the entire week at SCETV Education Workshops, starting June 3, 2019. SCETV Education will provide a certificate of participation noting instructional hours. No direct recertification will be given.
Check out the overview of 21st Century Learners Week below!
Week–at–a–Glance
Monday – Instructional Technology Day for Educators featuring activities on using PBS/ETV curriculum resources, augmented reality, and innovation. The day will also include technology showcases from platforms like Sli.do, FlipGrid, and other tech tools for teaching and learning.                                                                             
Tuesday – Teacher Retention Day featuring an escape room experience for teachers, designed by SCETV. On this day participants will be invited to use their 21st Century skills to save education! The day will also include sessions that promote self-care, self-advocacy, and celebration of educators.
Wednesday – Media Literacy Day for Educators featuring Molly of Denali, a new PBS series about an Alaskan Native girl who is an avid blogger/vlogger specializing in non-fiction content. Workshops for the day will cover analyzing and creating media and using curriculum resources for integrating non-fiction content and promoting diverse families.  Participants will also participate in vlogging activities using resources provided by FlipGrid.
Thursday – Family & Community Outreach Day featuring fun and learning activities for lifelong learners of all ages. Educators, parents, and children are encouraged to join us!
We hope to see you in our studios, July 22nd – 24th! Questions about 21st Century Learners Week may be forwarded to Kimberly Singletary at ksingletary@scetv.org or Salandra Bowman at sbowman@scetv.org.
More updates coming soon…