Workshop Events Calendar

21st Century Learners Week Registration is Now Open
ETV Education is excited to host our inaugural 21st Century Learners Week. This event is designed to promote critical thinking, collaboration, communication, and creativity in teaching and learning for South Carolina residents. We look forward to seeing you July 22-25, 2019. Sessions are FREE and last from 10:00 – 3:00 PM each day at the ETV Studios in Columbia. 21st Century Learners Week is a bring your own device (BYOD) series.
Check out the highlights below and confirm your attendance online at
21st Century Learners Week Registration
. Sessions are being added daily! You don't want to miss this opportunity to network with your colleagues from across the state. Certificates of attendance will be provided.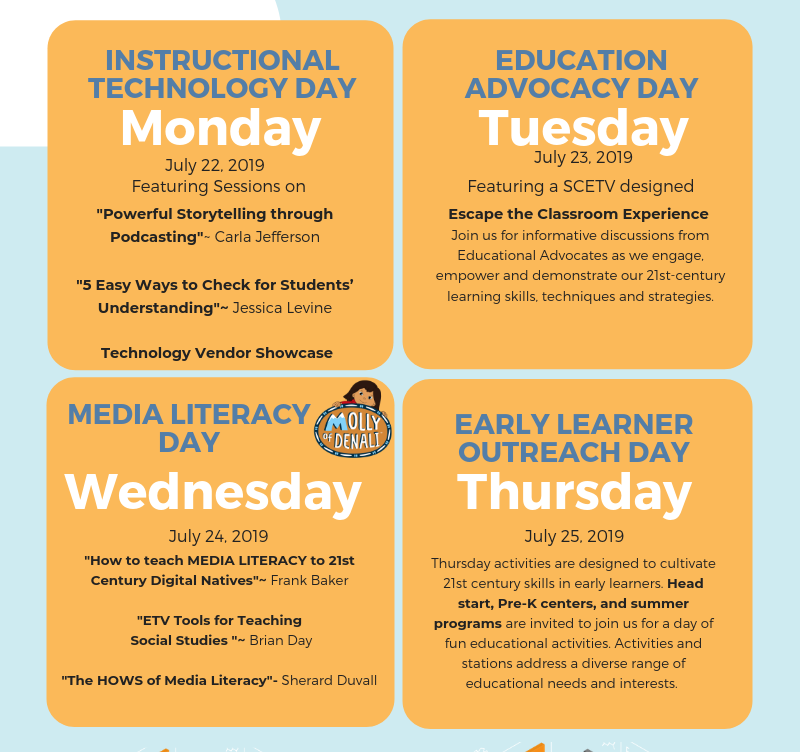 SESSION DESCRIPTIONS
Monday - July 22
Instructional Technology Day Sessions
Powerful Storytelling through Podcasting
with Carla Jefferson, Instructional Technology Coordinator, Darlington County School District
In today's digital age, audio recording is often overlooked as a mode through which students, teachers, and districts can tell their story. Learn how you can leverage the power of podcasting and see how it can break down barriers and establish/improve digital equity within your educational community.
5 Easy Ways to Check for Students' Understanding
with Jessica Levine, Instructional Technology Specialist, Berkeley County School District
In this session, teachers will learn about tools they can use to check for their students' understanding of the content they teach. This will be an interactive session where teachers will experience each tool from a student's perspective. The tools that will be explored in this session are Quizizz, Google Forms, Nearpod,
FlipGrid
, and Seesaw.
Promoting Equity in Group Work with Technology
with David Nelson, Educator & Founder, Equity Maps
Come and learn about 
Equity Maps
Ⓡ app and discover ways to engage students in classroom dialogue, empowering them with agency and ownership of their learning.  Learn how to provide your students with a "mirror" into their own dialogue and tools that promote introspection, reflection, self-regulation and collaboration. This session will introduce tools and techniques that can be used within groups or classes of all ages to boost reflection, performance, and equity.  Equity MapsⓇ...so that all students' voices can be heard!
Technology Vendor Showcase featuring presentations and resources from the following instructional technology vendors:
Tuesday - July 23
Teacher Advocacy Day Sessions
Teachers to the Rescue: An Escape Room Experience
designed by SCETV
All superheroes do not wear capes! Join us for this Escape the Classroom Activity challenges participants to use the critical thinking, collaboration, communication, and creative skill to save education. Do you accept the challenge?
Teacher – Support Staff Listening Session
The Education Division is coordinating a series of listening sessions to engage South Carolina educators about their professional development needs and the ways in which our agency can offer support. If you are interested in lending your voice to support our professional development re-design, we would be happy to engage you. Additional details forthcoming
It's Time to Find Your EdTech Passion
How do you fuel your edtech passion? Kathy can help! She cares deeply about teaching and learning, and will showcase the aspects of educational technology. She will provide a wide array of practices, pedagogies, and thought-provoking uses of technology by educators and students. From cool gadgets to embedding technology, and everything in-between, you will come away with a plan of how you can focus on "doing what you love" with technology.
Wednesday - July 24
Media Literacy Day Sessions
Screening of Molly of Denali & Talk Back
with Friends of ETV Education
Molly of Denali is an action-adventure comedy that follows the adventures of feisty and resourceful 10-year-old Molly Mabray, an Alaska Native girl who lives within a multi-generational household and blogs/vlogs about her adventures. The show is the first nationally distributed children's series in the U.S. to feature an Alaska Native lead character and is designed to help kids ages 4-8 develop knowledge and skills for interacting with informational texts through video content, interactive games, and real-world activities. The discussion that follows will engage attendees in a discussion on information literacy and non-fiction content.
Teaching Digital Natives in a Media Driven Society: A How to Guide 
with Frank Baker, Media Literacy Expert, Richland County
& Sherard Duvall, Founder, On the Reel Media Group
Part 1 of this workshop lays out a map for teaching REAL media literacy to 21st century digital natives. It provides resources for creating and analyzing media that are applicable across grades. Part 2 of this workshop focuses on the teacher as an individual. The presentation invites attendees to reflect on their own engagement with media and provides resources for helping teachers adapt to the media and students.
ETV Tools for Teaching Social Studies
with Brian Day, SCETV Instructional Technology Specialist and former Social Studies Teacher
As South Carolina's public media provider, ETV has a host of resources that support the integration of media literacy into classroom learning. From the new PBS series Molly of Denali to the locally created History in a Nutshell, the options around Social Studies and SC history in support of media literacy are vast. Join us as we explore a variety of resources that will allow you to utilize Social Studies skills to enhance your teaching.  We will be focusing mainly on Geography, oral histories, and analyzing primary sources. Teachers of all grade levels are welcome.
Thursday - July 25
Early Learner Outreach Day Activities
Thursday activities are designed to cultivate 21st century skills in early learners. Activities and stations are fun and address a diverse range of educational needs and interests. They include: The ETV Education Reading Nook, Coding Corner, Storytelling with ETV favorites, birdfeed making, face painting, and more. Registration is available to Head Start - Kindergarten summer programs only. A PD session for teachers is also included. If you are interested in bringing students from your school/camp/organization to participate in Thursday activities, contact Salandra Bowman or Kimberly Singletary.
Bridging Your Blended Learning Classroom with the Home
with Adam J. Babcock, Technology Integration Specialist, Spartanburg 7 District
Could you benefit from learning about a series of parental engagement hacks to enhance classroom and student success outcomes?  In this session, learn how LMS features keep parents in the loop and glean resources that help parents navigate their "home management" of devices and students' online access.
Additional details about Thursday sessions for early learning educators forthcoming.
We look forward to seeing you in July and will continue to provide updates as they become available….stay tuned for more information.
If you have questions, please contact:
Salandra Bowman, Director of Training & Research – sbowman@scetv.org
OR call 800-277-3245