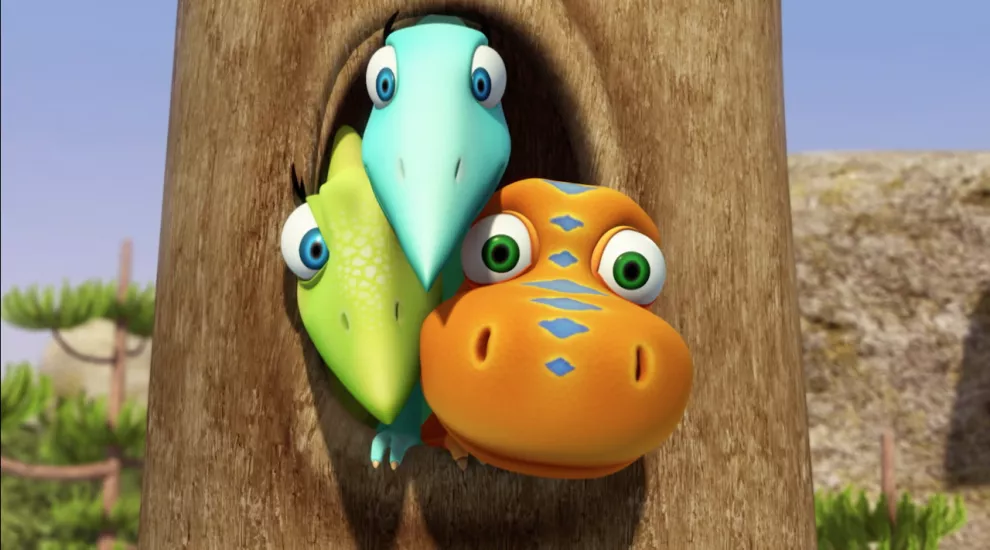 "The Tiny-saur Train/ How Many Horns?"
"The Tiny-saur Train" – While Mikey Microraptor is visiting Tiny at the family nest, next-door neighbor Larry Lambeosaurus tells Mikey that he can't actually be a dinosaur, since he's so small, and all dinosaurs are gigantic. Tiny and Mikey decide to show Larry he's mistaken. They take the Dinosaur Train to find the tiniest dinosaur of all – in Jurassic China.
"How Many Horns?" –  Buddy and Tank Triceratops are best friends, and they share a love for comparing features. Tank, who has 3 horns, wonders why Mayor Kosmoceratops has 15, and Protoceratops has only 1. Buddy, Tank, and the other kids go on a quest to track down Ceratopsians with horns numbering from 1 to 15. In their travels, they end up meeting "the Queen," an amazing Late Cretaceous Regaliceratops, who has a very decorative frill that almost rivals Kosmoceratops for number of horns!
"Mom Was a Kid Once" 
"Mom Was a Kid Once" - Part 1 – After Shiny and Annie have a disagreement while exploring a local cave, Mom recalls a similar disagreement with her best friend, Tilly Pteranodon, when she was a kid. Tilly happens to be visiting that day and the kids get to meet her for the first time. Mom and Tilly have a great reunion, yet they have very different memories of what their childhood disagreement was about—except that it was about an adventure in a swamp and a swamp-dwelling creature. To clear things up, Mom, Tilly, Tiny, Shiny, and Annie go back to Mom and Tilly's old neighborhood and the swamp.  
"Mom Was a Kid Once" - Part 2 – Mom and Tilly (along with Tiny, Shiny, and Annie) return to their old neighborhood to explore the swamp where they used to play as kids and had a disagreement. The disagreement was about a swamp creature – was it a friend or foe? Mom and Tilly discover the creature, who is still there, is a friend! She is Goldie the Globidens, a marine creature who eats mostly shellfish. Mom recalls that she was scared of Goldie as a kid and that that was the crux of her disagreement with Tilly. But, that was then, and now their friendship is patched up and strong again – a good example for Shiny and Annie.
"Gilbert the Conductor/A Clubhouse of Their Own" 
"Gilbert the Conductor" – The Conductor's nephew Gilbert has been taking Conductor courses at the Troodon Academy, and has finally graduated to Cadet Conductor! The kids are thrilled – will Gilbert get his own Dinosaur Train to conduct? The answer comes when the Conductor gets sick and can't do his job, including calling out the station stops! He appoints new Cadet Gilbert to run the Dinosaur Train until he gets his voice back. The strain of running the train by himself wears heavily on Gilbert, and our kids step in to help him run it. Gilbert learns it takes a team to get the job done and keep the train running. There's big relief when the real Conductor gets his voice back and goes back to running things. No one's more relieved than Gilbert!
"A Clubhouse of Their Own" – Our kids want their own clubhouse, separate from the family nest. They try out several locations – Tiny's Tiny Place, Dad's Thinking Tree, a large Don-made hole – but none of them are the right fit. Eventually, the kids (with the help of Mom and Dad), build their own clubhouse using natural materials.
"A Brand-New Species"
"A Brand-New Species" - Part 1 – The Conductor and the kids are out digging in a favorite fossil spot, out past the Big Pond. Buddy turns up something that the Conductor doesn't recognize. It's an excellent fossil – he guesses that they may have discovered a whole new Jurassic species! They all carefully finish digging out the beautifully intact theropod raptor skeleton and bring it to Troodon Town, where they can examine it at the Science labs at Troodon Academy. The experts agree: The Conductor and the kids have discovered a new Jurassic dinosaur!
"A Brand-New Species" - Part 2 – Buddy gets the idea to travel to the Early Jurassic and meet an example of their new discovery, a theropod they named "Buddysaurus." Unfortunately, since this is a brand-new-discovery, there is no train to the home of the Buddysaurus, nor a train station! The Conductor decides to take them all to the Early Jurassic, and hike from the nearest station to find this new theropod. And, they do! They discover that the theropod is actually called a "Dracoraptor." Our kids invite him to come back to Troodon Town with them so they can present him to the Troodon Scientists.
"Don's Hole-iday/We're Not All Dinosaurs"
"Don's Hole-iday" – When Don is told he can't dig any more holes around the nest, he complains that he needs his own day just for digging holes—a hole-iday! The kids make up an imaginary holiday just for Don and recruit the Oryctodromeus to help dig all the holes Don could ever hope for.
"We're Not All Dinosaurs" -- The Pteranodon kids meet a new, small mammal friend, Adele Alphadon, and introduce her and their Big Pond friend, Cindy Cimolestes, to a new concept -- that not all Mesozoic creatures are dinosaurs. And that includes the Pteranodons! They live in a diverse world.