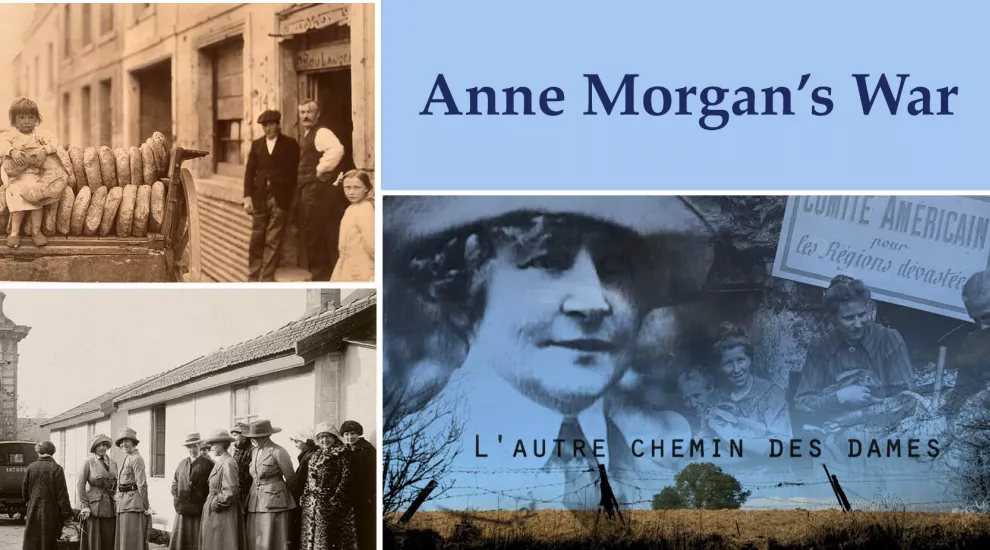 ANNE MORGAN'S WAR tells the little-known story of how one American woman became an exemplary force in the recovery of Northern France's World War I wartime devastation, and highlights the legacy of a woman in the vanguard of feminism and humanitarian action.
From 1917 to 1924 a team of some 350 women, appalled by news of wartime destruction, left comfortable lives at home to volunteer in the devastated regions of France. Their dynamic leader was Anne Morgan (1873-1952), the wealthy daughter of the late financier J.P. Morgan. As she rallied potential volunteers and donors on speaking tours across the United States, Morgan harnessed the power of documentary photography and moving pictures to instigate a humanitarian response to the devastation of war.  She told her American women volunteers they needed to speak French, know how to drive a car and be prepared to travel to a warzone.  Morgan and her troop of volunteers based themselves at the ruins of Chateau de Blerancourt in Picardy, France to help rebuild the region and bring aid to the few French civilians still living there.
"She had a sheltered existence in a conservative, Protestant environment defined by culture and traveling. She was educated by home-tutors with other girls from wealthy, respectable families, "says Miles Morgan, Anne Morgan's great-nephew. But these young women quickly refused the well-ordered lives that awaited them. Inspired by social and political issues of the time, such as workers' rights and the female condition, and drawing on American philanthropic tradition, they decided to get to work.
This film documents the life of Miss Morgan and the work of the volunteers, using testimony of volunteers, interviews with historians and a significant amount of archival film from the period.  She was one of the first to realize how powerful the latest techniques of photography and film could be in raising awareness along with the funds needed for the work. It also shows one of the early instances of volunteer humanitarian aid in rebuilding after a disastrous war in an effort completely managed by women.
ANNE MORGAN'S WAR tells the story of "an extraordinary, free and staunchly modern woman" says Miles Morgan.
The film premiered in France in May of 2018 and is being released for broadcast in the United States with the assistance of the American Friends of Blerancourt.  The documentary will make its United States premiere on public television stations during Women's History Month in March 2019.  The program will be presented by South Carolina ETV via American Public Television (APT).    
About the American Friends of Blerancourt
The American Friends of Blérancourt proudly supports the Franco-American Museum Château de Blérancourt in Picardy, France whose mission is to uphold and further this friendship through historical, artistic and educational exhibits, programs and exchanges.
About South Carolina ETV
South Carolina ETV is the state's public educational broadcasting network. Using television, radio and diverse digital properties, ETV's mission is to enrich lives by educating children, informing and connecting citizens, celebrating our culture and environment and instilling the joy of learning. ETV currently presents A Chef's Life, Expeditions, Reel South, Yoga in Practice and Live From Charleston Music Hall  on public television in addition to national radio productions, Piano Jazz, Chamber Music from Spoleto Festival USA, and World of Opera. More information is available at scetv.org.
About APT:
American Public Television (APT) is the leading syndicator of high-quality, top-rated programming to the nation's public television stations. Founded in 1961, APT distributes 250 new program titles per year and one-fourth of the top 100 highest-rated public television titles in the U.S. APT's diverse catalog includes prominent documentaries, performance, news and current affairs programs, dramas, how-to programs, children's series and classic movies. America's Test Kitchen From Cook's Illustrated, Cook's Country, AfroPoP, Rick Steves' Europe, Chris Kimball's Milk Street Television, Front and Center, Doc Martin, Nightly Business Report, Midsomer Murders, A Place to Call Home, Lidia's Kitchen, New Orleans Cooking With Kevin Belton, Simply Ming, and P. Allen Smith's Garden Home are a sampling of APT's programs, considered some of the most popular on public television. APT also licenses programs internationally through its APT Worldwide service and distributes Create®TV — featuring the best of public television's lifestyle programming — and WORLD™, public television's premier news, science and documentary channel. To find out more about APT's programs and services, visit APTonline.org.