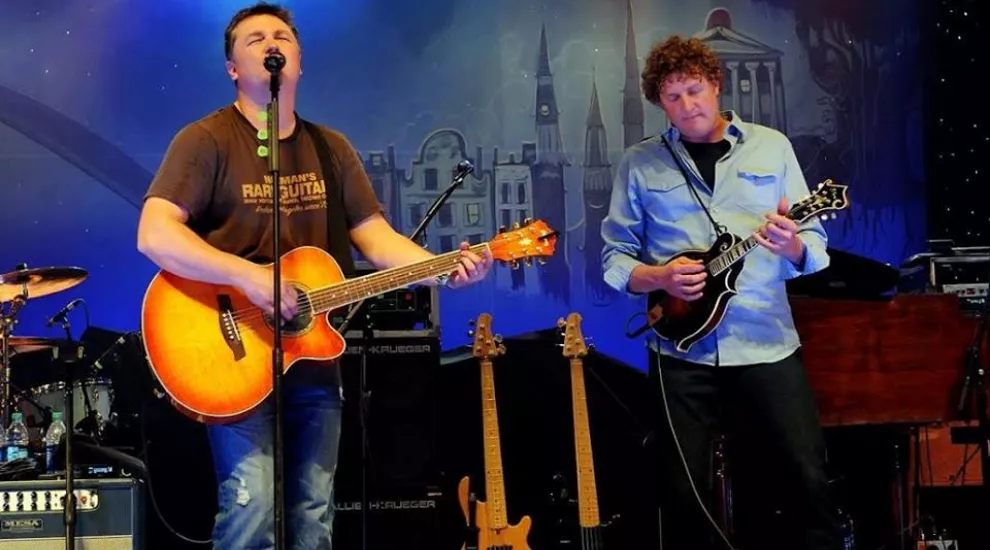 Live at the Charleston Music Hall is a front row seat for some truly memorable performances. 
Artists performances recorded live at the historic Charleston Music Hall with host Mark Bryan (Hootie & the Blowfish). The series visits an impressive roster of music's best talent in this new concert series packed full of soulful songwriting and award-winning music.  Live at the Charleston Music Hall truly shines through with Mark's familiar, easygoing banter with the artists – giving viewers a glimpse of their true personalities and what inspires their work. 
Produced by Chucktown Music Group and presented by South Carolina ETV, eleven episodes are being offered nationally through NETA starting  January 2018. 
Season One
McCain has built an enviable career over the past 20 years by balancing his massive pop success with the year-round touring schedule of a tireless troubadour. His hit songs, authentic spirit and surprisingly affable sense of humor keep fans coming back time and time again for nights that feel more like parties with old friends than rock concerts. In this episode, Edwin talks about his hobbies, his start in music, and his mother-in-law.
Called "The Father of Newgrass" and "King of Telluride," Bush has long since established himself as roots royalty, revered for both his solo and sideman work, which includes time with Emmylou Harris, Lyle Lovett, and Béla Fleck. He's the recipient of an Americana Music Association Lifetime Achievement Award and suite of Grammys and International Bluegrass Music Association trophies. Sam talks instruments and takes us on a musical journey in this episode.
A powerhouse vocalist whose incredible stage presence and vocal maturity rank with the best, Testone is the perfect combination of soul, rock, attitude and restraint. Equally as impressive and at ease belting James Brown style vocals over a relentless funk groove as she is resting her voice gently over a ballad, Testone's range of influences and vocal capacity know few limits.  In this episode, Elise shows that she's got game.
SLO, formed by songwriter/pianist John-Keith Culbreath and guitarist Louis Duffie when they were thirteen, is truly a "garage band".  They were joined by drummer Luke Withers, vocalist Will Blackburn, bassist and fiddler Coleman Sawyer, and lead guitarist Wyatt Garey while all were in high school. In this episode you witness the evolution of their brotherhood in their performance.  
For over 20 years, these five friends have built the kind of musical communication that comes only with time, talent and commitment. From bars and clubs back home in Gainesville, Florida, to venues all over the world, they've seen audiences light up the night like seas of stars as the band tells a story, their story.  In this episode, Sister Hazel inspires you to  "Change Your Mind".  
In 1986, four California teens adopted the Monty Python moniker as a joke for their first gig.  And, it stuck!  A new dawn has risen for this band, as they continue to write, play and tour together.  This episodes reveals the depth of earlier songs and how the band has come full circle.
Ukulele virtuoso, Jake Shimabukuro, first played the instrument in his native land, Hawaii, at the age of four.  In 2005, Jake became the most watched ukulele player … ever, when millions tuned in to YouTube to watch his rendition of George Harrison's "While My Guitar Gently Weeps".  In this episode, Jake's phenomenal talent and  true Aloha Spirit shine brightly.
Twenty-four year old Oklahoma native, Parker Millsap has had a banner year including his network TV debut on CONAN. Sir Elton John said of Parker,  "...I saw one of the best concerts I have ever seen...It restored my faith in music." Parker does not disappoint in this episode with his sultry vocal and Elvis moves.   
Grammy award winning twenty-six year old Texan, Sarah Jarosz, has been praised by the press for her vocal carriage and musicianship alike.  In this episode you'll experience those entrancing songs and vocals, and get a glimpse of who she is.
#110  Patrick Davis & His Midnight Choir
South Carolina native, Patrick Davis is a singer, songwriter, storyteller & showman who has made a rather impressive musical mark in Nashville with songs recorded by Jimmy Buffet, Lady Antebellum, Darius Rucker, Jewel, Guy Clark and many more. Since 2016, he has been joined by his "Midnight Choir", an 11-piece band featuring horns & background singers.  In this episode you'll see him sing with sis, play with pops, and command his audience.  
Georgia Rock n' Roll Hall of Famers, Drivin N Cryin, celebrate 32 years together.  Their hit 'Straight To Hell' is given new life on Darius Rucker's latest release as a collaboration with Luke Bryan, Jason Aldean, and Charles Kelley.  In this episode, these rockers deliver all the goods and keep the audience on their feet.