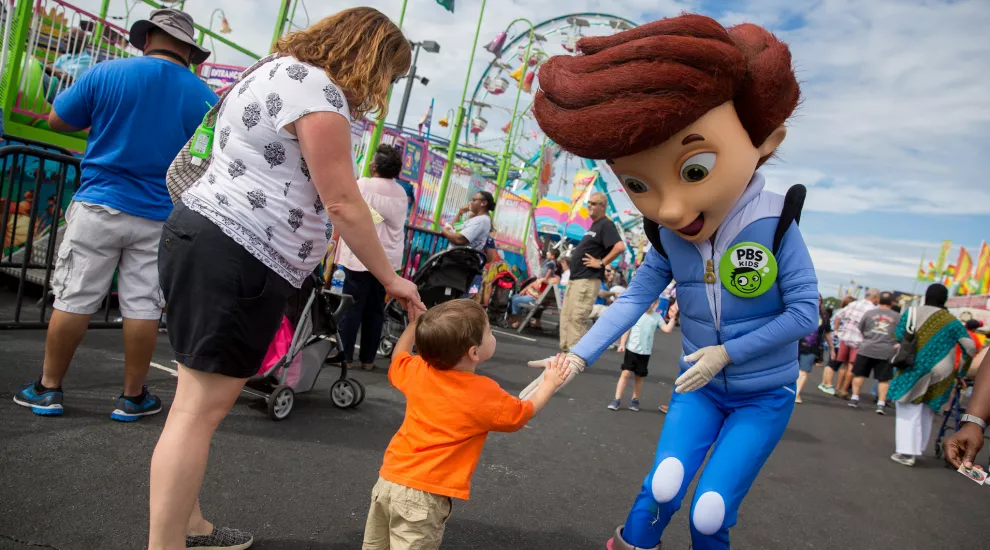 Join us on Sunday, November 11th, from 2 to 5 PM at our studios on George Rogers Boulevard in Columbia for an unforgettable afternoon of celebration as South Carolina ETV commemorates its 60th anniversary!
This isn't your typical soiree, because we're not your typical public broadcasting organization. Our Diamond Jubilee celebration is a birthday bash in the grandest sense, with entertainment options perfect for the whole family—from the youngest in your bunch to the oldest.
Meet Program Hosts, Enjoy Tours, and More! 
Grown-ups can enjoy a tour of our facilities, participate in guided meditation and yoga exercises with Yoga in Practice host Stacey Millner-Collins, talk travel with Expeditions host Patrick McMillan, gardening with Making It Grow host Amanda McNulty, or get to know the countless other South Carolina ETV and South Carolina Public Radio stars that will be in attendance—from Walter Edgar of Walter Edgar's Journal to Rudy Mancke of Nature Notes.
Kids Will Enjoy Visits from Daniel Tiger and Other PBS Kids Characters
Don't worry; there are plenty of activities for kids, too! Not only is there Kids Zone and a scavenger hunt, but Daniel Tiger, Smart Cat, WordGirl, Clifford, and a host of other PBS Kids characters will be throughout the building to meet our younger audience members. Plus, Aunt Pearlie Sue will host an interactive storytelling experience, and Julia Jones of Emerald's Artistry will offer face painting.
Plus, There'll Be Food Trucks That Suit Every Palette!
Think you'll have a hankering for something sweet while you're at our party? What about something savory? There'll be options to suit every palette at South Carolina ETV's Diamond Jubilee, with food trucks from:
Cha Cha's Food Truck – Noodles, rice, and more—enjoy these surprising and delicious Asian fusion options
The Chillin Cow – Creamy, delicious homemade ice cream, available in a range of flavors—satisfy your cravings with scoops, cones, milkshakes, floats, and more
Doko Smoke Barbeque – Mouthwatering traditional barbeque, done the right way (that is, the South Carolina way)
Scoopy Doo Gelato and Drip Coffee – Aromatic pour-over coffee and handmade sorbetto and gelato
Haute Dog Lady – Taking hotdogs to the next level with gourmet toppings that are out of this world
Mary's Arepas – Traditional corn-based Colombian arepas and other South American delicacies
So Join Us!
Interested in coming to our Diamond Jubilee yet? We thought you might be.
 
No need to purchase a ticket. Simply show up at 1041 George Rogers Boulevard on November 11th with your friends and family and enjoy all that your favorite public media station has to offer. If you're feeling inspired, RSVP on our Facebook event page and share the news that you're attending on social media using the hashtags #SCETVTurns60 and #DiamondJubilee.
 
We look forward to seeing you all very soon. Happy Diamond Jubilee!