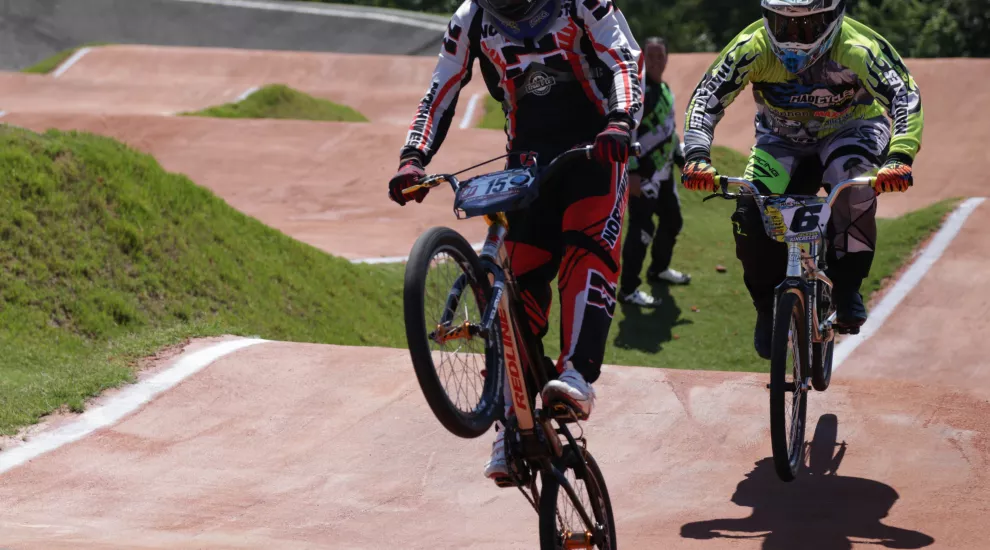 The timer buzzed and the gate was let down on the hill of the starting point of the BMX racetrack. The racers took off speeding down the hill and going over jumps.  The crowd was cheering as the racers sped around sharp turns closer to the finish line. It was hot and muggy out but that didn't stop anyone from enjoying the race, nor did it stop me from capturing those priceless moments of people racing on the BMX bikes.
It has been an exciting week. I had a great opportunity to help Kaitlyn Cannon, the producer for ETV Carolinas, get some amazing footage at the Novant Health BMX Supercross track located at the Riverwalk in Rock Hill, SC. The event we attended was the Rock Hill BMX Media Showdown. Media representatives from the area were given the opportunity to experience the life of a BMX racer by competing in a race. I was able to capture those moments using the DSLR camera, taking photos and short video clips.
Kaitlyn Cannon shredded some tires out on the track during the practice run of the race. It was a team effort to get some really cool footage for her BMX Media Showdown blog. It was my first time ever at a BMX track, not to mention getting to see people race. Some of the professional BMX riders went out there and demonstrated their skills on the race track. No one seemed to care about winning. It was all about having a good time that day.  Being able to see the racers speed by me while going over jumps and sharp turns was really fun to capture on camera. For the most part, no one got injured - just a couple of scrapes and bruises from falling off the bike a couple of times.
After the race was over, Kaitlyn and I were able to squeeze in some interviews. We spoke to a couple different young BMX racers who are qualified for the UCI BMX World Championships. I was really touched by the interviews and how dedicated these young kids are to BMX. Some of them even talked about how they moved to Rock Hill just for this specific race track and how they want to become a professional BMX rider one day. Overall it was a great day!