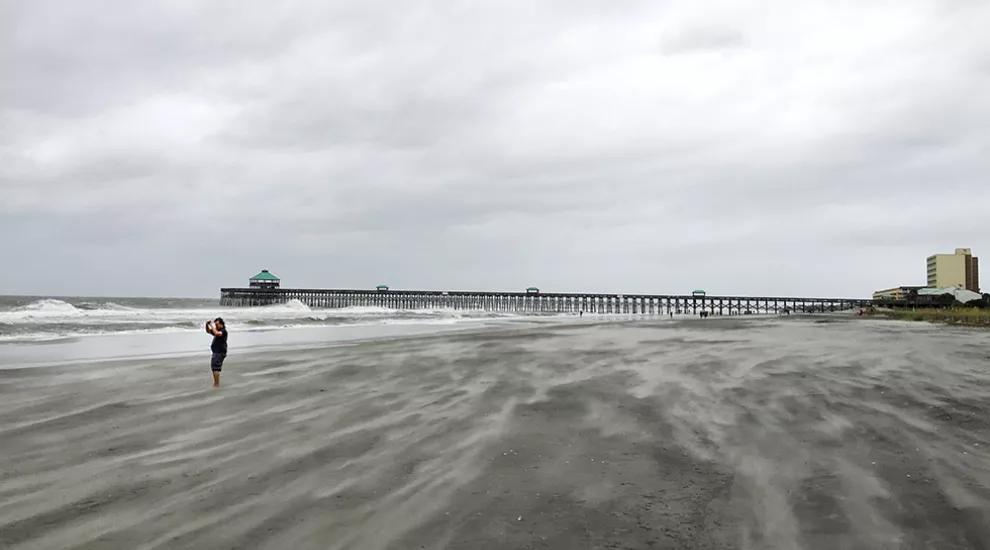 The latest on hurricane preparations in South Carolina (all times local):
7:50 p.m.
BEAUFORT -- County officials are warning evacuees not to post information, including addresses, to social media about their vacant homes to prevent would-be thieves from targeting them.
The sunset to sunrise curfew remains in effect tonight and tomorrow night for the barrier islands of Beaufort County: Hilton Head Island, Daufuskie Island, Harbour Island, Hunting Island and Fripp Island.
Law enforcement officers and armed S.C. National Guard soldiers are patrolling the evacuated islands. 
6:30 p.m.
CHARLESTON -- Tropical storm force winds are expected to reach South Carolina in the early morning hours of Monday, according to the National Weather Service office.
Tropical storm force winds are at a minimum of 39 mph. The NWS expects frequent gusts in excess of 50 mph.
Rainfall is expected to range from 4 to 7 inches in the state and 5 to 9 inches in the southeast.
Storm surge is still expected along the coast, especially between 10 a.m. to 3 p.m. 
3:30 p.m.
BEAUFORT -- Officials told the media that despite expected conditions, predicted to be worse than Hurricane Matthew, some residents remain on the barrier islands under evacuation orders.
Some 100 residents out of 743 remain on Fripp Island--though water and sewer service had been suspended--and 95 out of 468 residents remain on Daufuskie Island.
Residents in flood-prone areas, not under the evacuation order, were encouraged to seek shelter inland.
12 p.m.
CHARLESTON – State and local officials continue tell residents to take precautions or evacuate from historic and flood-prone areas ahead of hazardous conditions from Hurricane Irma coming to the area this evening.
"When it happens tomorrow, during the middle of the day, it's going to be right when we have a full moon high tide," Charleston Mayor John Tecklenburg said at a press conference.
"So the combination of the regular high tide mid-day tomorrow and this 4 to 6 extra feet of extra high tide means in all of our historic low lying areas were going to have some serious flooding tomorrow."
Residents can move vehicles into city county garages free of charge.
Charleston County authorities are on full alert in preparation for the effects of Hurricane Irma.
Starting at 1 p.m. until 8 p.m. residents can catch buses at 85 different locations across the area that will transport people to the county shelter located at 3765 Leeds Ave. Those locations can be found here.
The shelter is pet-friendly, but people need to bring their own supplies for animals.
The Charleston County citizen information hotline is 843-746-3900. People with medical issues who have questions can call 1-800-578-2031.
DAUFUSKIE -- The last ferry departs from Daufuskie Island to the mainland in Beaufort.
Beaufort County officials will hold a 3:30 p.m. press conference on the latest regarding Hurricane Irma impacts expected for the area. 
11:30 a.m.
WEST COLUMBIA -- Gov. Henry McMaster and state officials will hold a press conference with an update on expected Hurricane Irma impacts and ongoing preparations. The press conference will be carried live on SCETV channels, all South Carolina Public Radio stations and online at SCETV.org.
CHARLESTON -- The latest weather briefing from the National Weather Service office in Charleston can be found here.
9 a.m.
BEAUFORT -- The two storm shelters are open in Beaufort County: Bluffton High School at 12 H.E. McCracken Drive in Bluffton and Battery Creek High School at 1 Blue Dolphin Drive. Jasper County on September 9th for all 
evacuating citizens. The shelter is located at Ridgeland-Hardeeville High 
School 250 Jaguar Trail, Ridgeland SC 29936.
Palmetto Breeze is providing bus services to Beaufort County evacuees needing transportation from the following locations resumed this morning at 8:00 AM and will continue until weather conditions are deemed unsafe:
-151 Gumtree Rd. (in front of the Boys and Girls Club)
- 173 Marshland Rd. (in front of the Sea Island Chapel)
- 450 Spanish Wells Rd. (in front of Grace Community Church)
- 430 William Hilton Parkway (in front of Pineland Station)
- 24 Pope Ave. (in front of Holy Family Catholic Church)
- 663 William Hilton Parkway (in front of Hilton Head Resort)
 - 95 Mathews Drive (Bi-Lo Grocery in Port Royal Plaza)

- Wal-Mart on Lady's Island

Residents and guests on Harbour, Hunting and Fripp islands and those from other areas in Beaufort County needing transportation are encouraged to call the  Palmetto Breeze Evacuation Hotline 843-757-5782.