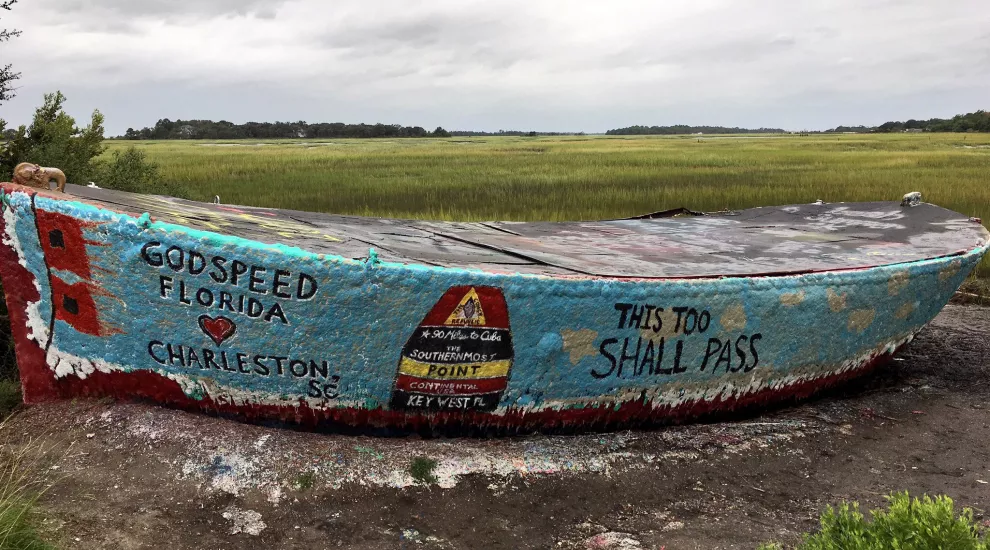 Anyone who has made the pilgrimage to Folly Beach, S.C., has a memory of the brightly painted boat to the right of the road. Sitting just off the marsh, the vessel had become emblematic of the seaside that lays just down the road.

Whether one considered the boat to be a beloved landmark or more of an eyesore, the layers upon layers of paint were a physical reminder of the passage of time, from the day in September of 1989 when Hurricane Hugo brought the Folly Boat to land. Messages of congratulations for graduations or anniversaries graced the rock, as well as artistic and even at time controversial opinions, and more recently a message of hope to Floridians graced the hull.

But in perhaps a bit of serendipity, Hurricane Irma brought the highest tide Folly has seen since Hurricane Hugo, and combined with significant rains and winds, pushed enough water to raise the Folly Boat from it's home on the marsh and back out to see, according to The Post and Courier.
On Sol Legare Road, Chris John was live-streaming storm surges and rain when the "blue-and-pink hull" crashed into his dock between James Island and Folly Beach.
As of Monday afternoon, the boat was still floating, and according to Live 5 Lowcountry, John and his friend, Ryan Godbout, managed to tie the boat off, despite the damage to John's dock.
As of Tuesday afternoon the fate of the Folly Boat remains to be seen, but John told Live 5 Lowcountry he hopes to return the boat to it's original home off the marsh, "so the tradition surrounding it can continue."