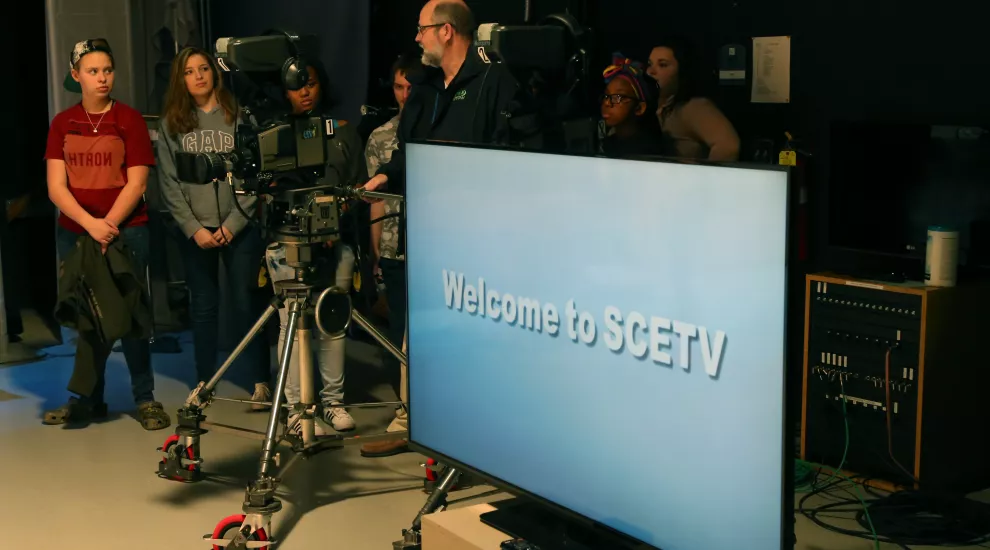 This February, eager Journalism students from Great Falls High School in Chester County walked through the doors of WNSC in Rock Hill, South Carolina.  With an enthusiastic attitude, they began their tour of the South Carolina ETV regional facility.
The main event of the tour was the TV control room and studio. Craig Ness, the Operations Manager for South Carolina ETV's regional station in Sumter, assisted with the tour. He taught the students about the components of the WNSC control room and explained to them the different staff positions required to run a control room properly. After that, Craig led the students to the studio. 
Once in the studio, Craig asked for volunteers to be the "talent" for his demonstration. There was definitely not a shortage of volunteers!  Several students ended up sitting at the desks in the studio, having a lot of fun seeing their faces on the monitor that was set up. After touring the studio, a few students expressed interest in wanting to be reporters and on-air talent. Journalism teacher, Wendy Branham, told the students that they might have even found their "calling".
After completing their studio tour, the students got a "behind the scenes" look at what goes into creating news packages; they learned about the equipment needed for location shoots, and previewed two different video editing systems. Check out our album to get an inside look!