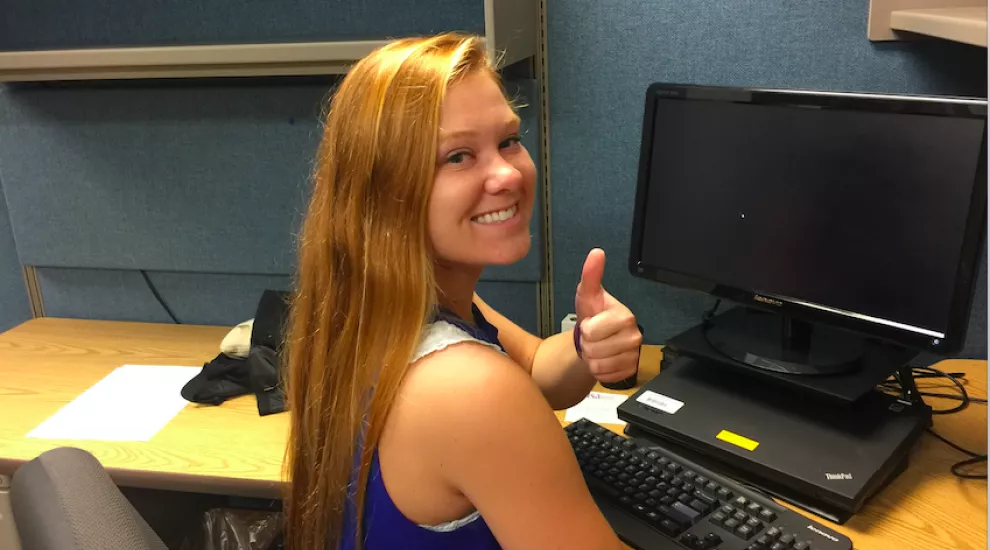 BlueCross BlueShield of South Carolina is the only South Carolina-owned and operated health insurance carrier. They have been offering security to Palmetto State citizens for more than 65 years and is one of South Carolina's largest employers. In addition to their service to South Carolinians, they have a comprehensive internship. Their program allows interns to learn the different facets of the department and gain professional experience by shadowing meetings.
Meg Demaar is Greenville's BCBSSC newest intern. Meg is a Business major and Latin American Studies minor at Furman University. She learned about the position from representatives from BCBSSC who spoke to her business class about the internship opportunities being offered in Columbia and Greenville. Meg was able to secure an internship in the marketing department that is stationed in Greenville, South Carolina. Meg participated in extensive training in order to work at BCBSSC. As her work continues she is given more responsibilities, and recently she updated every company's benefit summary with the 2017 Non-Discrimination and Foreign Language Access.
When asked if this was her desired career path she replied enthusiastically, "I am figuring that out as I go! I appreciate health and wellness, and helping the employees of the companies insured to live a healthier and better life. BCBSSC does a great job of providing resources for that." In Meg's experience, an outstanding characteristic of this internship is its inclusion of all parts of the business. She is not set to one role but is able to see every part.
In only a few weeks of work at BlueCross BlueShield of South Carolina, Meg has gained valuable knowledge and experience while navigating the business world. "I've learned about how much work and constant communication goes on behind the scenes of healthcare. And how much the employees here truly care about the people they provide to and want to do as much as they can to help." Meg appreciates how the BCBSSC program allows her to get glimpses of all the different services the company has to offer. While there are other impressive internships in Greenville, BlueCross BlueShield is assisting this college student's search for a potential career path.