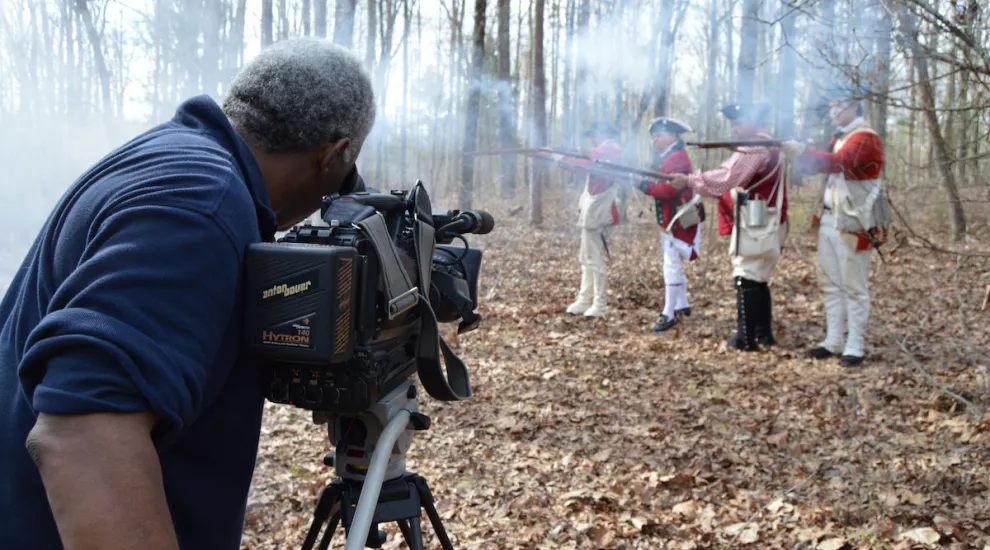 The smell of gunfire filled the air as rifles fired between Revolutionary War militia and British regulars in the woods at Historic Brattonsville last Saturday. 
Perfect weather greeted the SCETV crew from Spartanburg and Columbia for their final location day for the Southern Campaign of the American Revolution project.  Reenactors from South and North Carolina came to Historic Brattonsville  to recreate several key scenes related to Kings Mountain and other stories of the Southern Campaign.
Producer Steve Folks and Director William Richardson led their SCETV colleagues to capture key engagements between militia and British regulars.  Women who were important to the campaign moved supplies for the men from the rear of the battle sites, while also preparing to mend the wounded.  The crew took advantage of the excellent conditions to record numerous creative angles to enhance the final product that will be used in schools nationwide and a part of Knowitall.  View the photos to see the crew and our reenactors at work!
The next phase of this project leads to a broadcast documentary that will detail how vital the Southern Campaign was to the American Revolution's success.  A special thanks to our project supporters, the National Park Service, The Self Family Foundation, The George Washington Endowment Fund of the National Society of the Sons of the American Revolution, The South Carolina State Society of the Sons of the American Revolution and the ETV Endowment.