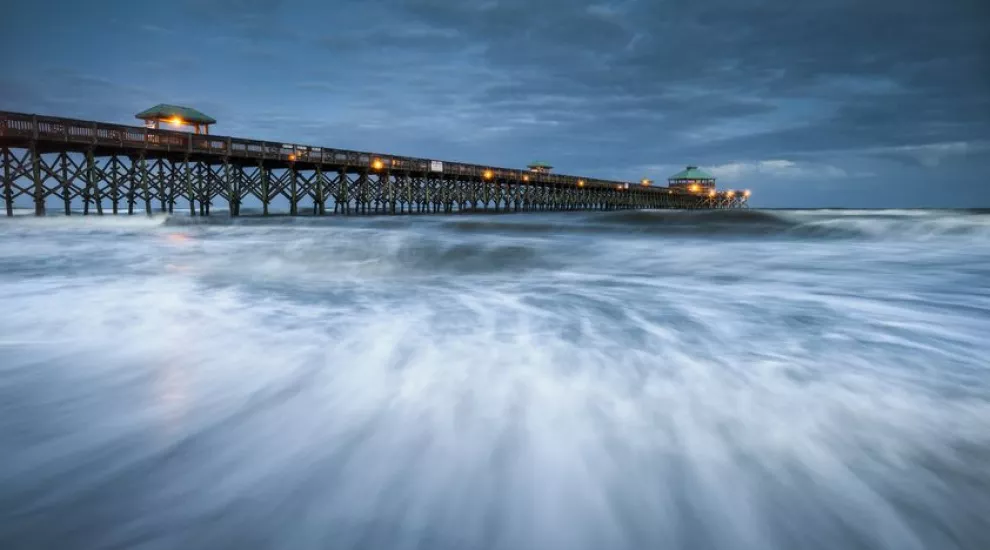 In 2015, the United Nations Climate Conference passed the historic Paris Agreement, signed by representatives of 196 nations. This agreement, combined with the scientific findings on climate change, is a testament to the international consensus that climate change and its effects are to be addressed with urgency, in order to assure a habitable planet for future generations.
Six months previous to the U.N. Conference, the Medical University of South Carolina (MUSC), the U.S. Department of Energy (DOE) and South Carolina Educational Television (SCETV) produced and distributed Climate Change: A Global Reality. The made-for-television dialogue, moderated by CNN Chief National Correspondent John King, featured a panel of experts on climate change and its impacts across the United States. The program first aired on ETV in July 2015, and has since appeared on public and educational television affiliates nationwide, furthering awareness of the potentially devastating effects of climate change on the environment and the population.
While this program and others like it are paramount to creating dialogue on a national scale about climate change and the future of the United States, in order to create lasting change, action must be taken at the local and community levels. Issues affecting different communities, such as water and sewer infrastructure enhancement, as seen recently with the South Carolina historic flooding, are often complex and expensive. Other issues, such as wetlands protection, human health and safety, reduction in greenhouse gas emissions, and evaluating the environmental impacts of residential and commercial development require substantial commitment and responsibility at the most intimate community level.
Drawing from this information and in continuing the efforts of Climate Change: A Global Reality and U.N. Climate Conference, MUSC, SCETV, Allen University, the South Carolina Aquarium and the U.S. DOE are partnering to conduct Community Leaders Institutes in the following coastal communities:
St. Helena Island, SC – Penn Center – May 14, 2016
Savannah, GA – Coastal Georgia Center – June 11, 2016
Charleston, SC – South Carolina Aquarium – July 16, 2016
Myrtle Beach, SC – To Be Determined – August 20, 2016
In each location, Climate Change: A Global Reality will be used to introduce climate change impacts to the local audience. Following the program, a group of local experts will open a dialogue and encourage audience participation. These sessions and individual interviews will be recorded by SCETV, to be packaged as part of a larger, made-for-television program to be broadcast statewide in South Carolina and neighboring cities in Georgia and North Carolina in 2017.
For more information, visit the Medical University of South Carolina's PICO website at: http://pico.library.musc.edu/.  Program contacts include:  Dr. David E. Rivers, Associate Professor and Director of Public Information and Community Outreach at the Medical University of South Carolina, at riversd@musc.edu; Mr. Albert A. George, II, Director of Conservation at the South Carolina Aquarium, at AGeorge@scaquarium.org; and Dr. Marcus Ferguson, Coordinator and Assistant Professor, Department of Chemistry; Assistant Professor, Department of Biology, and Director of the Environmental Justice Institute at Allen University, at mferguson@allenuniversity.edu.