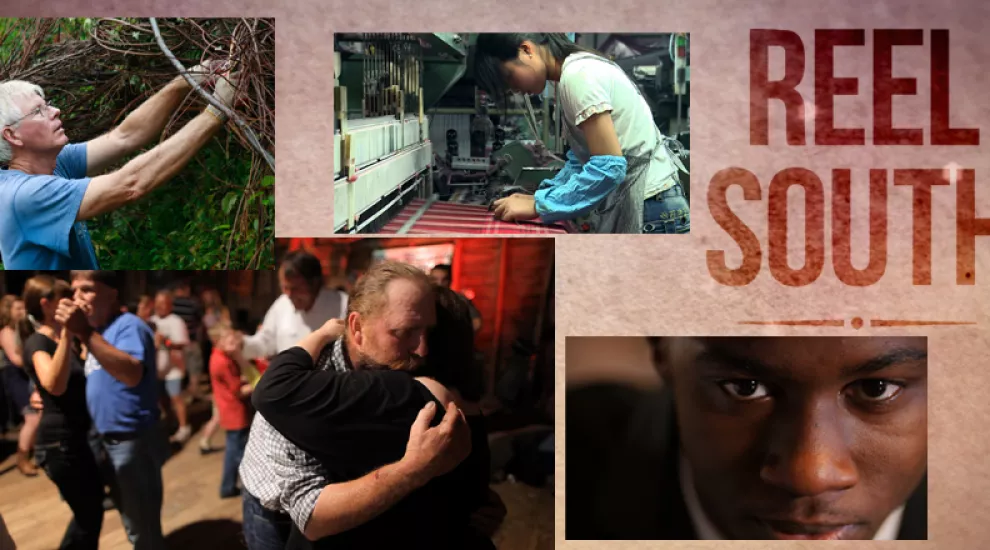 The Carolinas' two statewide public television networks, South Carolina ETV and UNC-TV have partnered with the Southern Documentary Fund to create an exciting new TV showcase for independently produced documentary films about the American South.  The series will air for five weeks on ETV Thursday nights beginning January 28.
Reel South is an anthology series highlighting the best non-fiction storytelling from the region. Distributed to public television stations nationwide, the series will bring diverse Southern voices, topics, and points of view into millions of homes.
The six acclaimed films have recently premiered at film festivals and theaters.  The films include stories about a barn dance, follow Carolina cotton to China, recount Rock Hill's "Friendship 9", and watch an artist transform saplings into sculptures.
The films are:
The Last Barn Dance.  A story about farming, fragility, and a fight to save the family business. Randy Lewis struggles to save his dairy farm in the piedmont region of North Carolina, where dozens of family-owned dairies have disappeared. While keeping the business afloat, Randy also hosts one of the only true old-time barn dances left in the region, keeping the tradition alive and the community that loves it.  A film by Ted Richardson and Jason Arthurs, airs Thursday, January 28 @ 9PM on ETV.
TOMMY! The Dreams I Keep Inside Me.  A touching portrait of Tommy Onorato, a 60 year-old man with an Autism Spectrum Disorder (ASD) and the life-long dream of singing with a Big Band. Armed with his golden voice and his All-American optimism, Tommy embarks on a quest to have the "world on a string." A film by Rodrigo Dorfman airing Thursday, February 4 @ 9PM on ETV.
Cotton Road.  Americans consume nearly 20 billion items of clothing each year, yet few of us know how our clothes are made, much less who produces them. This episode follows the cotton commodity from South Carolina farms to Chinese factories, illuminating the people and processes behind a global supply chain. A film by Laura Kissel, airing Thursday, February 11 @ 8PM on ETV.
Counter Histories: Rock Hill.  In 1961 nine college men decided they were ready to go to jail to fight segregation laws and inequality in Rock Hill, S.C. Their sit-in at the local whites only lunch counter changed the course of the civil rights movement by introducing a new strategy. "Counter Histories: Rock Hill" explores the untold story of the 'Friendship 9', and the human capacity to find courage, take action and inspire change.  A film by FR3DER1CK airing Thursday, February 18 @ 9PM on ETV.
Can't Stop the Water. The story of Isle de Jean Charles, Louisiana and the Native American community fighting to save its culture as its land washes away.  A film by Rebecca Marshall Ferris and Jason Ferris airing Thursday, February 18 @ 9:30PM on ETV.
Bending Sticks. A celebration of the 25-year career of internationally renowned environmental artist Patrick Dougherty, who has created hundreds of monumental, site-specific sculptures out of nothing more than saplings. The film follows the artist and his collaborators during a year of stick work and reveals Dougherty's process, personal story and inspirations.  A Film by Penelope Maunsell and Kenny Dalsheimer airing Thursday, February 25 @ 9PM on ETV.
Contact: South Carolina ETV & South Carolina Public Radio                                                         
Glenn Rawls
South Carolina ETV is the state's public educational broadcasting network.  Using television, radio and the web, ETV's mission is to enrich lives by educating children, informing and connecting citizens, celebrating our culture and environment and instilling the joy of learning.  ETV currently presents A Chef's Life, Expeditions, Reel South, and For Your Home on public television in addition to national radio productions Song Travels, Piano Jazz, Chamber Music from Spoleto Festival USA, and World of Opera.
# # #