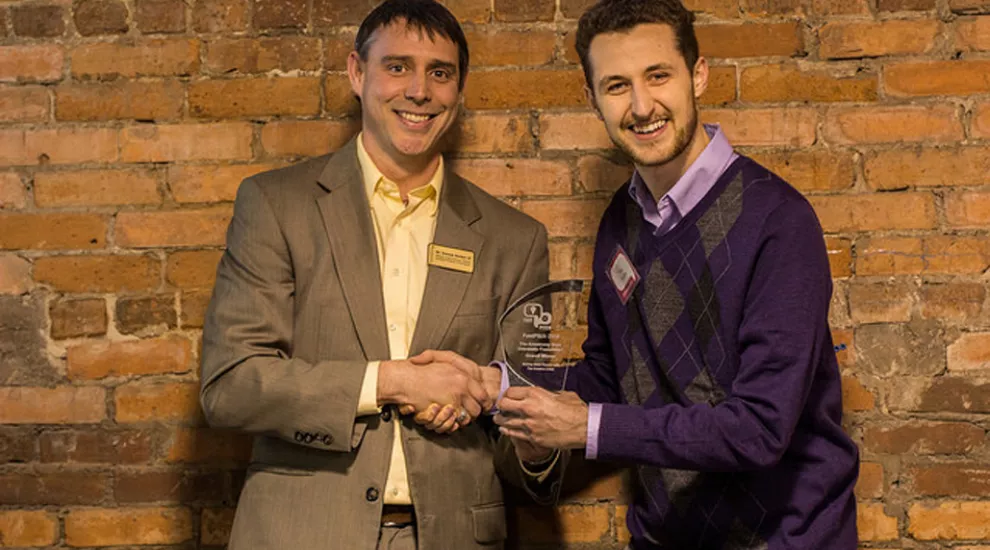 As Carolina Money celebrates its one-year anniversary this month, we decided to follow up with the first startup companies that we talked to one year ago, to learn about their progress. Last week, we spoke with Mike Meyers, CEO of Tradeversity, and this week, we caught up with Trey Gordner, CEO of Koios, to hear about what they have been up to.
Koios, a startup located in Columbia, S.C., is striving to save their users money by searching libraries for the availability of books a person has looked up online. They have developed a browser extension that easily connects the user to their local library.
Q: What has changed with Koios since last time we talked to you?
Well, for starters, we won a couple of pitch competitions, Proving Grounds at USC, as well as Fast Pitch, down in Savannah, Georgia, so those are big wins for us. We have made a couple of big releases for the extension. Koios now works across Google Chrome, Firefox, and Safari, and Internet Explorer is about to come out of testing. We jumped to four times as many users, and we are launching in Reno, Nevada soon; that'll have the ability to support 400,000 users. There are some larger systems coming down the pipe. I can't speak to you about those right now, but we expect to make some big announcements in the next month or so. A big change for us, now that the product is ready, we've been able to go out and show it off at national conferences and even day-to-day sales conversations. There's been a good response. Since last time, I became a speaker on the national circuit for library marketing and advertising to talk about web traffic, analytics, conversion.
Q: Are you still working with the USC Incubator?
Yes, we work out of their new co-lab space. It's a great place to have our office hours and to have meetings.
Q: Have you hired any new employees? 
It's still the two of us, Ralph and I, but we've certainly begun to commit more and more time to Koios. When we talked to you guys last year, it was in the middle of the accelerator program and we were both part-time on this, just looking to do it on the side, while paying the bills through other means. Now we've both been pretty much full-time for a couple of months because we see growth potential and the momentum, so it may not look like we've done much hiring on the outside, but internally we really officially hired ourselves on it. We have added a couple of interns. We have continued our partnership with a couple of classes at the University of South Carolina, along with Alpha Kappa Psi's Propensity Consulting.
Q: What would you say the biggest success of the year was?
It would probably be winning the social impact category of the Proving Grounds competition. We saw a lot of benefit from that competition, not just in terms of financing, but we got an advisor out of it and a couple of leads. People were willing to be partners. That was a big moment for us.
Q: Has the company seen a good amount of revenue come in?
We're still pre-revenue. Really, the big success for us is that we've managed to avoid, in part through the accelerator investment and pitch competition win, raising an angel round. As far as revenue goes, we really see the path of revenue being knocking these first couple of beta clients out of the park, and then from there taking their stories and using them to convince other libraries that this is the right move for them, too.
Q: What about your biggest challenge?
I would say the biggest challenge for Ralph and I was not getting discouraged. For a little company like us, we feel every yes that comes through the door, but we feel every no that comes through the door, too. The important thing is looking at that and saying we know what's going on here, we know what the market needs; we know this is what people want, so let's go out and prove it.
Q: Short term plans?
We are looking to really promote the Reno launch., to open that gate with tweets, newsletters, press releases, and posters, as well as getting these other couple of really big library systems on board. On the technical side, Ralph is looking to introduce some really cool new features, some system messaging capabilities, and also deeper integration with new sites.
Q: Long term plans?
Long term for us is thinking in the next year. I would really like to see us making sales, of course, but also in ten library systems by this time next year.
Next week we will be bringing some news about 52inc. Stay tuned!