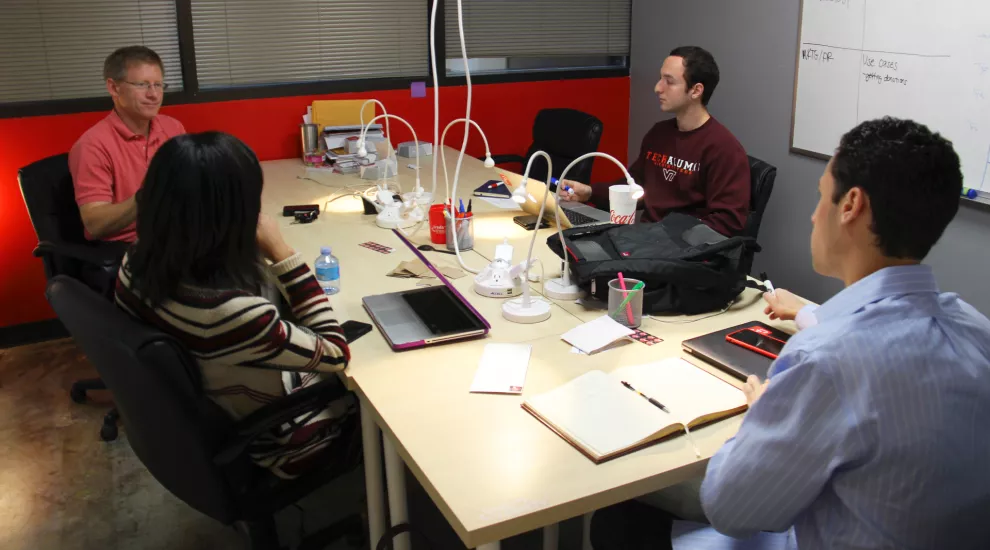 When trying to sell a few spare bookbags during college, Mike Meyers had what entrepreneurs call the "Aha!" moment. What if there was a safe and convenient website for the university community to buy and sell items to each other?
In 2014, Mike Meyers and a team of fellow business school students started to develop this online marketplace concept for University of South Carolina faculty, staff and students. Meyers presented his idea at Proving Ground, the University of South Carolina startup competition, and earned a $20,000 prize to turn his idea into reality. The team also received a free year of office space at the USC/Columbia Technology Incubator, which allowed them to receive a lot of advice and guidance from people who worked in that environment.
And that is how the student-run startup, Tradeversity, was born.
When the Carolina Money team spoke with Meyers, one year ago, this was his story. But now, one year later, Meyers has a lot more to tell.
"It's crazy to think how far we've actually come in one year," Meyers said. "It has been a constant learning cycle."
After gathering some feedback from Tradeversity's users, Meyers and his team realized that many things needed to change.
"Our users came back and said, look we love Tradeversity, we love what you are trying to build, but we hate the product," Mayers said.
What did users want? A rating and review system for the items they wanted to buy and sell, a mobile app to access the marketplace from anywhere, and an easier way to process payments.
A grant of $25,000 from the SC Launch Program helped the Midlands-area startup to further the platform and technology. The company developed its own app, through the local app development company 52inc, made changes to the product, and brought in new talent.
"People are the most important asset that any company can have. If Tradeversity is growing right now it is not because of me, it is because of everyone in the room next door," Meyers said.
From working with seven interns at the USC/Columbia Technology Incubator last year, Meyers is now working with two full-time and seven part-time employees at an office space in downtown Columbia. Two of the part-time employees are graduate students at USC, and Meyers expects to bring two more full-time workers to join the team.
Meyers also set up an advisory board to provide strategic advice to the management of Tradeversity. One of its members is Jim Stritzinger, an accomplished entrepreneur, senior manager and engineer with extensive experience in tech companies.
"Mike is very humble and coachable. So when you have an entrepreneur that is humble, recognizes that he doesn't know everything, and is willing to accept advice, I can help him anticipate things when I see something coming," Stritzinger said. "I can be an early warning system or an early opportunity system."
As an advisor, Stritzinger said that he recognizes that "small companies start off thinking that they are going to do one thing, but may end up doing something completely different."
And Tradeversity has been open to this idea. Originally a platform designed to allow students to buy and sell items, Tradeversity has pivoted towards creating a sharing experience for college students. Besides selling and buying items, users can now rent and offer their services.
"We are focusing on building a community that can exchange value," Meyers said.
By offering this new resource where students can offer their services to other students, Tradeversity has attracted many student-entrepreneurs who are using the platform to set up their businesses.
That's the case of Vincent Felix, a senior in the Darla School of Business.
Felix owns a local business called Mr. Penguin Designs that makes and sells decorated covers for cell phones. His company partners with local, student artists who create fresh and unique designs.
Mr. Penguin Design has its storefront set up with Tradeversity, so people can flip through its products, check them out, and order directly from the website.
"Most of the people we sell to are other students, so Tradeversity allow us to directly connect with other people here on campus," Felix said. "For a student-entrepreneur, that's critical."
Meyers and his team aim to expand Tradeveristy to other universities. Right now, seven universities nationwide have access to Tradeversity, which include USC, Midlands Tech, and Columbia College.
Although a lot has changed, Meyers recognizes that there are still many challenges to overcome and wants to keep his eyes on the road ahead.
"The thing about startups is that they are very, very ugly. It is a constant struggle," Meyers said. "But you can't drive a car looking at the rear view mirror, right? The biggest learning has been to just keep moving."