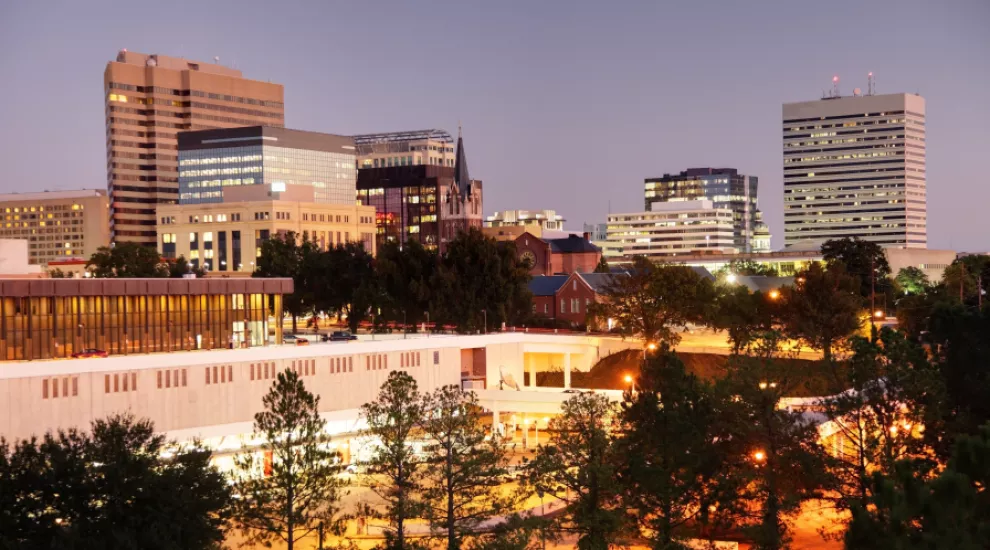 COLUMBIA, S.C.
YES, WE HAVE IMPROVED!
Much attention has been given to downtown Columbia lately, not only from the media but also from city leaders, partnerships and organizations that are trying to make downtown a more vibrant and livable place.
Matt Kennell, President and CEO of City Center Partnership, recalls a time, back in the '80s, when a photograph of the area that is now known as the Vista, was published in the National Geographic magazine, along with the label of one of the worst urban places in the United States.
Nowadays, the Vista owns a bohemian, energetic and eclectic atmosphere filled with restaurants, retailers, cultural offerings, and people gathering together to go out and have fun.
"It is important to look at the past and see that we have come a long way," Kennell says. 
Kennell was recruited in 2011 to start the first Business Improvement District in South Carolina, the City Center Partnership (CCP). The organization provides public space management, economic development, marketing services, and public advocacy for downtown Columbia.  Among their programs, CCP offers a free shuttle service all over downtown and the Vista area. CCP's ambassadors, also known as the "yellow shirts," take people from the 1200 block of Main Street up to City Hall, or in and around the Vista. CCP also helps homeless people get into programs or facilities where they can get help instead of living on the streets of Downtown. 
"Our job is to create a clean, safe and livable Downtown," Kennell says.
The creation of attractive districts in downtown Columbia, such as the Vista, and programs that improve the city's quality of life are the results of intense investments that downtown has received over the past years. Kennell points out that in the last 5 years, downtown Columbia has received around 1.3 billion dollars of new investments.
Tom Prioreschi, founder of the development and property management firm, Capitol Places, was a pioneer in the downtown residential development. Prioreschi moved from New Jersey to South Carolina in 1998. At that time he started his first Main Street project, Capitol Places I, featuring 31 apartments. Questions, such as "who would want to live in downtown Columbia?" were not uncommon for him to hear. 
"Everybody said we were nuts," Prioreschi said. "But we knew from having done research that people migrating to live downtown was a trend that was starting to happen in a lot of cities and we believed it would accelerate."
Prioreschi was right. He not only started with higher rents but while he was renting the building, rents were raised twice, due to the demand of people who wanted to live downtown. 
"People were making the commitment of living there before we even opened the building," he said. "We had it pre-sold." Since then, Capitol Places started other development projects, and it now provides five distinct buildings designed for people seeking an urban lifestyle, all located in downtown Columbia.
Another project in place now that promises to take downtown Columbia to the next level is the Bull Street project, which will feature the Spirit Communications Park, a multi-venue and minor-league baseball stadium for the Columbia Fireflies, 400,000 square feet of retail and restaurants, residential components, and 100,000 square feet of Class A office and retail space.
PREDICTIONS
It is estimated that 4,000 people live in downtown Columbia, including people living in the Vista/Innovista, Five Points, Main Street and Bull Street. This estimate, drawn from 2013 statistics, does not include the people who moved into private student housing projects downtown or on-campus student residents.
The State mentioned a recent prediction, attributed to the Linneman Quarterly Letter, of a tenfold increase in the downtown Columbia population. This means that by 2030, downtown would grow to 40,000 residents.
Although this number is questionable among some city developers, it is unquestionable that downtown Columbia has been experiencing a progressive population growth. However, this growth is not free of challenges. Safety, traffic, housing, infrastructure, and lack of high-paying jobs are some of the first concerns that arise.
Kennell mentions that one of the goals of the city is to better connect the Vista to Main Street and also Main Street to North Main Street. With that, there would be a sense of one big city center instead of separated areas. 
"We have a number of very large streets such as Gervais Street, Assembly Street and Huger Street, but they were really designed for cars and not for pedestrians," says Kennell. "We need to get people across those streets in a safe way that they can walk or bicycle, and make them a better place for people to commute."
Projects such as The Walk Bike Columbia are already in place to improve just that. Walk Bike Columbia is the city's 20-year master plan that envisions an expanded and accessible network of transit, sidewalks, greenways, trails, and on-street bicycle connections linking people to jobs, schools, and other destinations.
Improving street connections is also a way to address traffic and parking issues that may arise with an increased number of people living downtown.
Prioreschi believes that we are looking ahead to a new era of driverless cars, a vehicle capable of sensing its environment and navigating without human input, which will also improve traffic and parking issues. 
"The self-driving cars will change cities. They will change the world," Prioreschi says. "It will be transformational, you will see."
As businesses and organizations in Columbia try to attract young talent, those in the millennial generation, the development of new apartment complexes in or near downtown Columbia becomes urgent. Although there has been a boom in student housing, there are not as many options for young professionals to live downtown. According to Kennell, a developer named Don Tomlin identified this need. Tomlin has recently obtained the air rights of six public parking garages in the downtown and the Vista areas to build residential towers above parking. The first tower will have twenty stories and will be located in the intersection of Lady Street and Assembly Street.
Another concern has to do with the lack of high-quality jobs.
"There is a gap between USC and other college graduates and the amount of jobs available for them," says Prioreschi. "The job growth in downtown Columbia has been more limited than the amount of students coming out of the university. Not enough students stay here and not enough people have opportunities."
Kennell says that some companies, such as Aflac, are succeeding in this regard. From just a few hundred people in Columbia three years ago, the company now has about 1,000 people.
A new innovation center, officially known as the Center for Applied Innovation, also promises to provide opportunities for students, graduates and researchers, while advancing delivery of higher education. This partnership of the University of South Carolina, Fluor and IBM will create internships and permanent direct and indirect jobs for USC graduates and other local IT professionals. The building is expected to open in the spring of 2016 on the corner of Assembly and Blossom Street.
But Kennell reminds us, "often times, young professionals do not just go where they have a job, they go where they want to live, and from there they try to find jobs or create their own jobs."With that being said, we come back to the starting point; the importance of providing a safe, clean, enjoyable, and beautiful place for people to live. "It is sort of a chicken-and-egg type of thing," says Kennell.
Not only that, but in order for people to want to remain in Columbia, or in any other city, they need to earn a sense of belonging. That is when Columbia Opportunity Resource (COR) walks in.
"We want to be the catalyst for a corporation to get their talented professionals involved in their community, as well as the young professional that is just starting their career that needs to make connections with Columbia's leaders," says Abigail Zeiler, Director of Communications at COR. 
COR is a nonprofit organization that aims to connect talented professional in the greater Columbia area through volunteerism, community activities and philanthropy. "Involving students and young professionals in our community is the key to retaining our talent," says Zeiler.
The State reported that consultants are working with city leaders on ideas to keep people more engaged with downtown Columbia. Some of the ideas include "making the State House grounds more usable for ongoing events" and "having pockets of events that are close to each other."
While we wait to see if predictions for the population growth of downtown Columbia will come true, we can be certain that the City is putting a lot of effort into improving and uplifting our community.
"Columbia is not a buzz city yet such as Charleston and Greenvile," says Prioreschi. "But will we get there? Yes, I think so. I'm very optimistic."