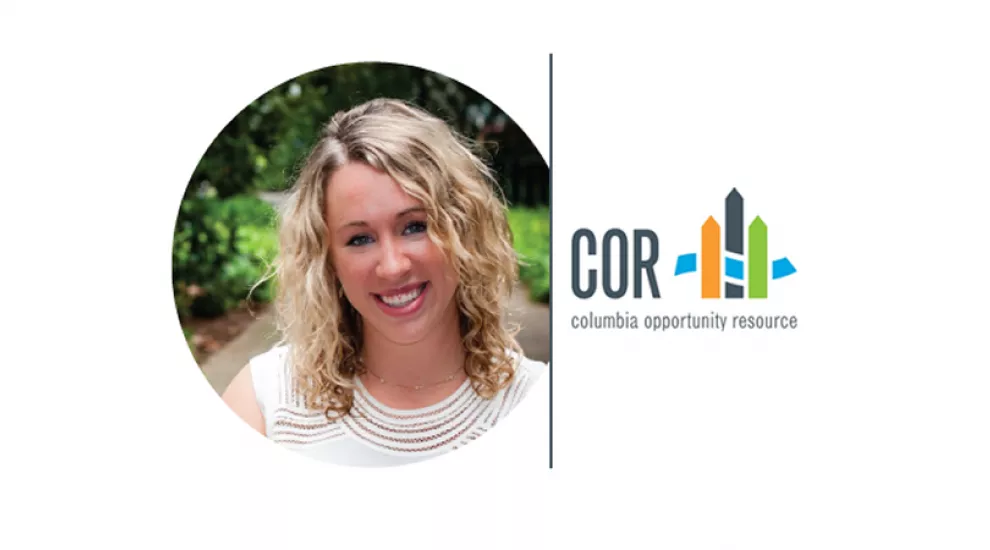 Columbia Opportunity Resource, COR, connects talented professionals in the greater Columbia area to diverse and meaningful networks for leadership, service and fun. COR is a 501(c)3 nonprofit organization. COR's vision is an innovative, energized and successful Columbia community that attracts, inspires, develops, and retains the best talent in the region. 
Q: What is unique about COR?
COR is as unique as the people who work to fulfill its mission. Our board, action teams and members are a true microcosm of the Columbia community. Our diversity stems from our engagement of not only the young professional, but more the talented professionals who support the organization, no matter their age. Our niche is being the connector of talent and retaining that talent in the Midlands for years to come.
Q: What types of activities does COR do? What types of leadership development opportunities does COR offer to the community?
Connecting our members with executive mentors and nonprofit leadership positions via our Power Lunch and Table for Six programming
Goal: ​Ensure a sustainable future for our community through identifying, developing, nurturing and connecting the next generation of leaders.
Providing and promoting volunteer opportunities
Goal: ​Connect the next generation of Columbians to their community through volunteerism, service and philanthropy.
Serving as a cheerleader for Columbia by promoting Columbia to Columbians
Goal: ​Promote and enhance a vibrant and diverse talent "magnetic" community through measurable and actionable strategies.
Q: Who can join COR?
Anyone can join COR. There are many opportunities for corporations and individuals to get involved. Typically, our demographic ranges from the ages of 21-45 years of age. However, we want to be the catalyst for a corporation to get their talented professionals involved in their community, as well as the young professional that is just starting their career that needs to make connections with Columbia's leaders.
Q: How do you see innovation coming out of this community, since COR was founded in 2005?
Since 2005, there have been many accomplishments in the community and the development of a "new" Columbia. The Central Carolina Community Foundation has lifted our community in many ventures especially with Midlands Gives which raised over $1.5 million this year. COR co-founded Time for Art with the Young Leaders Society of the United Way, which has boosted volunteerism this year to over 3,100 hours ($65,000) for our community.
Q: What is the biggest challenge when trying to attract talent and retain students and young professional in the Columbia/Midlands region?

Competitiveness. It has to do with opportunities in certain fields, a change of venue for some, or the lack of involvement in their community. Involving these students in our community is the key to retaining our talent. They feel a sense of pride for the area, create lasting friendships, and see Columbia as a "famously hot" growing city and community.
Q: Does COR have any projects planned for this year and 2016? What is next?

We are looking toward the future and being on the cutting edge of what our community wants and needs. We have some of the most talented professionals in Columbia, so let's get them involved and let them earn a sense of belonging, here in the capital city. COR is working with EngenuitySC on a project called What's Next Midlands, a three-step social innovation program focused on developing a more engaged community by helping people with great social and civic ideas connect with the volunteers, organizations, and capital they need to turn those ideas into reality. COR will be providing the volunteerism for that innovative project.

Q: Where do you see Columbia in the next 10 years?
Columbia is becoming the city that we all want it to be. Main Street is announcing new progress, The Vista is growing business fronts at an alarming rate, and the Bull Street development is underway. USC and the Darla Moore School of Business are expanding and we hope that the development of our riverfront will be the next step. I think you will see Columbia set the example for development and growth in the Southeast.