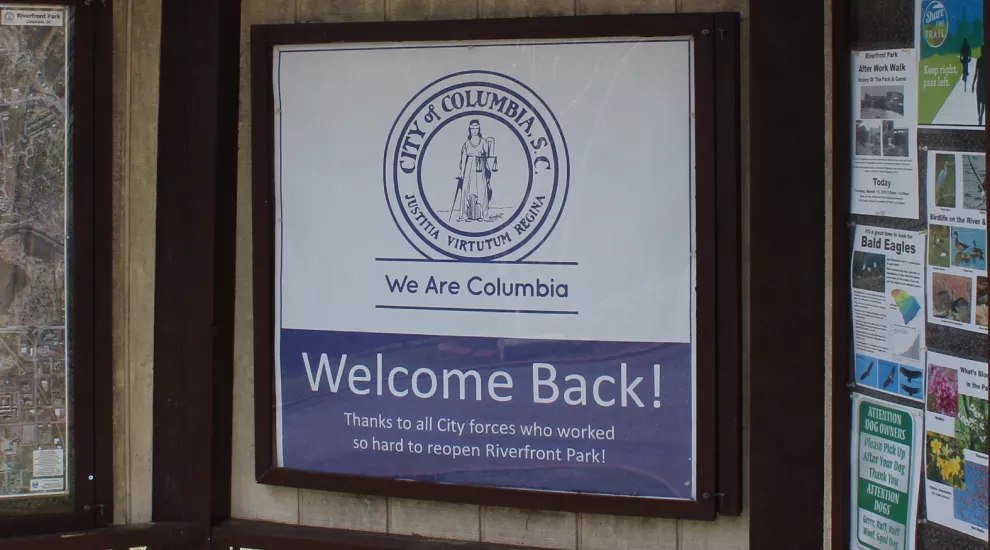 Columbia's Riverfront Park is more than just a path by the river. It is a place that brings people together. After the canal was breached during the historic flood, the Columbia Riverfront Park was closed. However, portions of the park finally reopened this past Tuesday. Already, the stories of how it is drawing people from all over are flooding in.
George and Pat Flammer are from New York. They own a home here in Columbia that they visit a few times during the year, especially during the winter when it is cold further north. "We're very happy that it's open again," says Pat. 
Sarah Parks and Alexandra Busto are originally from Columbia, but currently, they are college students attending Clemson University. They decided to come home for their spring break and are excited that the Riverfront Park opened in time for them to relax in their hammocks by the river.
Noah and Pamela Redmond are from a small town about forty minutes outside of Columbia, but on their free days they love to come up to the river to fish and spend time together. "It's a nice, cool spot," says Noah. "I'm glad it reopened. It feels good to sit out and look at the river."
Columbia's rivers are places where people can escape the busyness of the city and enjoy some time winding down, while getting fresh air. Ever since the flood, this particular park has been closed due to damages. The city partnered with many others to restore the riverside trail, so now the main 2½ miles of paved trail, stretching along the Columbia Canal from the parking lot at Laurel Street to the diversion dam, is usable. 
Parts of the park still closed include the north parking lot by River Drive, as well as the portion of the trail between the Columbia Hydroelectric plant and the main entrance to the park, according to a city press release.