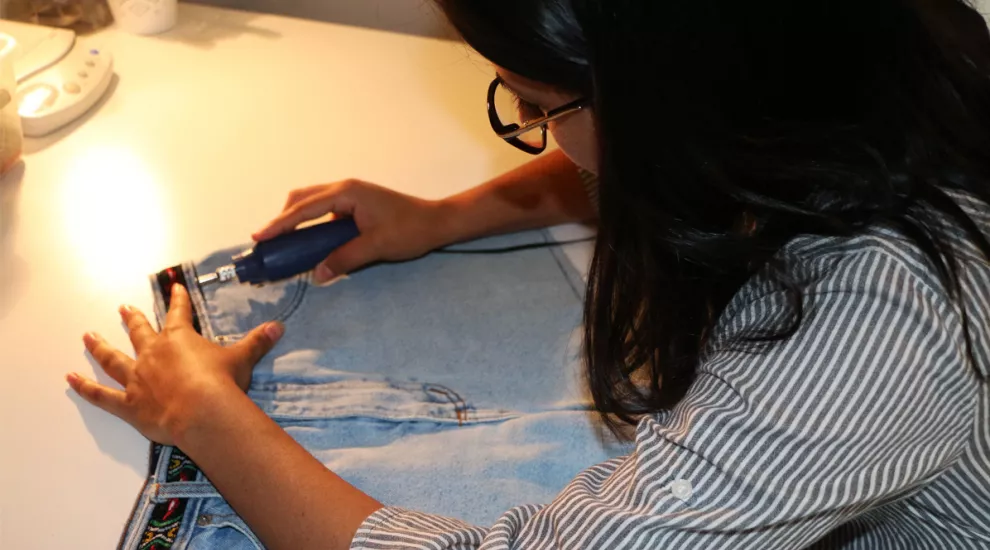 Karen Ayala loves thinking of new ways of doing something.
Originally from Miami, Ayala has been living in Lexington, S.C., for 13 years. She started her business, Moda y Arte, in 2012, while selling handmade and reworked jeans shorts.
"I had a pair of shorts that no longer fit me, so I put them on and someone bought them. I had another pair of shorts, I put them on, and someone else bought them. Then I had people messaging me, 'do you customize? Do you have it in this size, in that color?' I thought that would be a really good opportunity," said Ayala.
Since then, Moda y Arte has developed into an online store that sells not only shorts, but also premium denim products and vintage pieces that range from accessories to clothing.
Managing a business created a path for a comprehensive learning experience. 
Ayala's business demands that she spend time planning her finances.
"At the beginning, it was not at the top of my head, so you could say now I'm kind of paying the price, in terms of slacking off and keeping up with my finances," said Ayala. "Finances are very important and I've learned a lot about it so far."
Time management was another skill that she was able to improve while managing her business.
"I've always been very organized, which helps me a lot," said Ayala. "Organization is key."
Ayala said everything she learns through this experience makes her more confident in a job setting.
"I know when going into a job interview, I feel like I have an advantage, more so than others, because I understand what it's like to run a business and what it entails. I come into an establishment knowing what to expect and the direction in which action needs to be taken, if something needs attention."   
Her passion for arts came from her mother, who makes stained glass.
"My mom would make really nice pieces of art work, especially angels in churches. I guess it got handed down to me, the creative hand," Ayala said.
The 21-year-old business owner is also a student at USC and a graphic design intern at local startup Tradeversity.