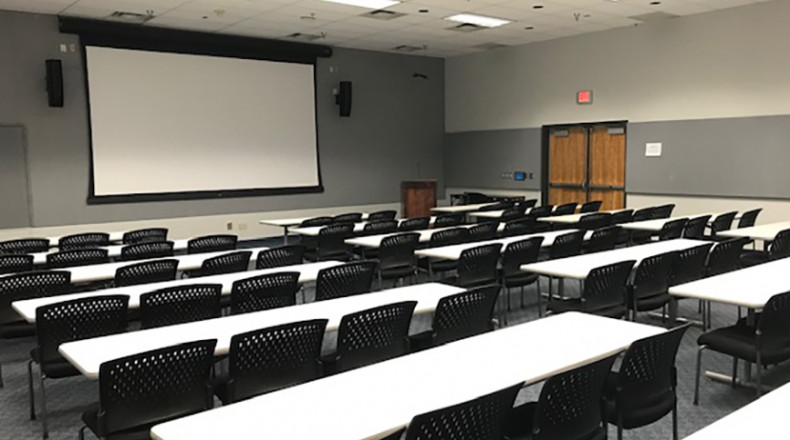 SCETV's comfortable, high-tech Bank of America Theater (BOA) is the perfect medium-sized facility for corporate retreats, training sessions, seminars, luncheons, or special events. The 1,440 square-foot room, while very flexible in set-up options, is the perfect venue for gatherings requiring the latest in media and communications technology support. With its newly renovated technical system, our room use options have only grown!
Centrally located to all guests in South Carolina, ETV's BOA offers ample free parking and easy unloading for any specialized equipment, displays, or other user-supplied equipment. The flexible meeting room set-up seats up to 81 participants in its standard classroom organization. Users may choose their own event caterer or rely on the assistance of SCETV's event team to suggest catering or other special needs. The attractive meeting room is located just a few steps from the main lobby and is fully ADA-compliant.
The BOA provides the following audiovisual equipment to enrich any kind of meeting or event:
Sony Laser Projector (VPL-FHZ90L: 9,000 Lumens)
13.5' projection screen (adjustable for 4:3 or 16:9 video playback)
DTP (CAT6) Switch HDMI, Display Port, VGA and Audio for presenting at podium with laptop
Apple TV and Apple Screen Mirroring also available for presentations/streaming
HD Blu-Ray player
Video Conferencing (2) Black Panasonic PTZ Cameras with room microphones
10.6" touchscreen Controller for Crestron Control System
Audio System:
(4) JBL Line Array Column Loudspeaker
(2) JBL Sub-Woofer
(2) Crown (DSI 2000)  Power Amplifier
Crown (DSI 6000)  Power Amplifier
BiAmp (Nexia VC0_ Digital Mixer/Signal Processor
BiAmp (Nexia CS)  Digital Mixer/Signal Processor
Furman (M-8S)  Power Sequencer
Podium Microphone Shure (MX418/C)
(3) Middle Atlantic (CN-MP15)  Miniport Power Module, 15 Amp
(2) Audio Technica (AT8035)  Shotgun Microphone
(2) Shure ULXD Handheld UHF Wireless System (ULXD4 single-channel receiver and a ULXD2 handheld transmitter with an SM58 microphone capsule)
Inquire About Renting This Event Venue
If you have any questions about this event space or wish to request a quote, please fill out our rental inquiry form.
Explore Other SCETV Event Venues
If this facility doesn't seem right for your needs, explore other event venues and meeting spaces for a wide range of events.