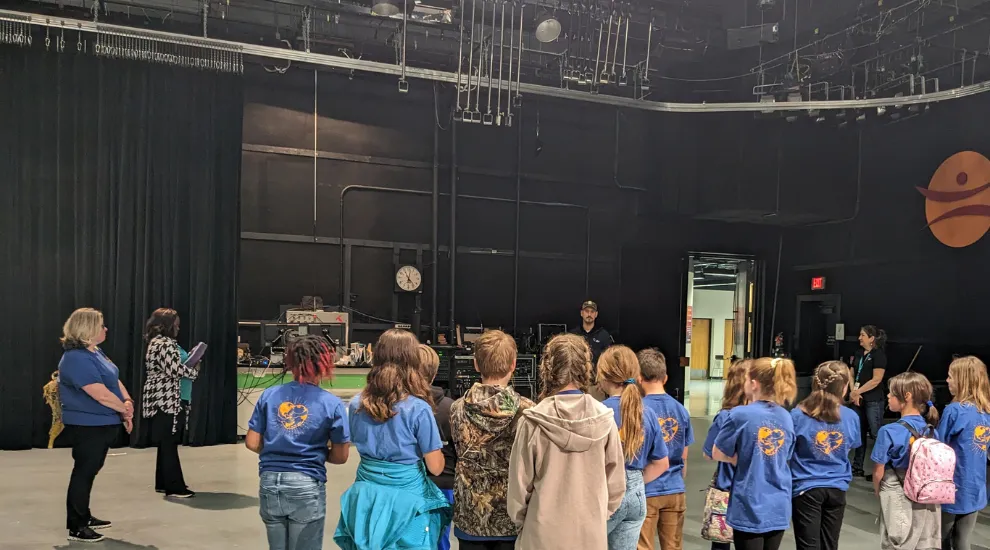 Line up the students and schedule your free field trip to SCETV now! 
The SCETV Education team is delighted to welcome students from across South Carolina to our main facility in Columbia for tours and field trips. 
During these visits, our Education team and other South Carolina ETV staff members offer a glimpse into the world of public media. For our young learners, we provide a tour that's less technical, however we encourage them to ask questions about anything in which they're interested. For older students, and those in degree or skill-focused programs, we offer a job-focused tour to reveal the many roles behind the scenes of public media. SCETV is about more than just television and radio; our tour groups discover the various departments that make it all happen, including education, content, engineering, and other vital components of SCETV.
For groups who can continue with us after the tour, we offer engaging learning activities for all ages. Students can experience the same "greenlight" process we use to produce new shows, step in front of the camera as newscasters, and much more. These experiences and activities align with educational standards and can be tailored to suit your class's needs.
PLUS, very soon, students will be able to explore and use our brand new MediaSCape Studio! This exciting new studio space was crafted by SCETV Education as a special space for students to explore the world of television and digital production with the same equipment and technology we use to produce the shows you love! The studio features a large screen, podcast suite, production equipment, greenscreens, and so much more. Watch for our launch announcement in early 2024!
Dates tend to fill up quickly so don't delay in scheduling your free field trip for 2024. Send your request to etveducation@scetv.org or call 800-277-3245, and we'll work with you to plan an exciting and valuable field trip experience.