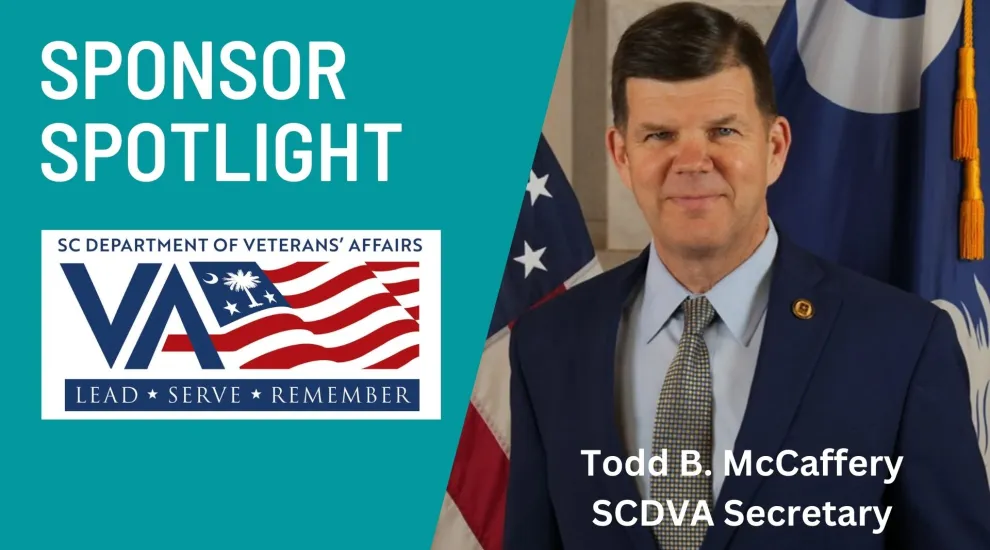 SPONSOR
SC Department of Veterans' Affairs
1800 St. Julian Place, Suite 305, Columbia, SC 29201
The South Carolina Department of Veterans' Affairs (SCDVA) leads and enables a state-wide coalition of partners to create and sustain an environment in which Veterans and their families can thrive as valued and contributing members of the South Carolina community and the nation. SCDVA assists Veterans and their families in obtaining the benefits to which they are entitled including integrating all services, advocating for Veterans and military installations, and informing the public, and state and local leaders on matters pertinent to Veterans.
SCDVA Secretary Todd B. McCaffrey said, "I appreciate SCETV's transparent coverage of the South Carolina Legislature, and how they cover in-depth topical areas that are hard to find elsewhere, like their deeper dives into military history and the service of Veterans. It's very compelling."
SCDVA defines success as a South Carolina Veteran population that is mentally, emotionally, and physically sound; satisfied by the dignified way they are treated by those who provide services; respected by their fellow citizens; and proud of their continuing contributions to the South Carolina community and the nation.
"After Action is a great series to highlight Veterans in South Carolina and reconnect Veterans to the population who have not served in the military, helping tell the stories of what we go through, from basic training to deployments to highlighting serving in the military from different perspectives. It gives us a way to share what we've gone through, what we've learned, how we're better people for that, how we contribute to South Carolina, and what it means to be a Veteran. It is an important communication tool to highlight Veterans in South Carolina," said Dan Wrightsman, SCDVA Deputy Director of Operations.
For more information, 
visit www.scdva.sc.gov
To become a sponsor contact Melanie Boyer, Corporate Sponsorship Manager, 803-737-3289 or via email at mboyer@scetv.org