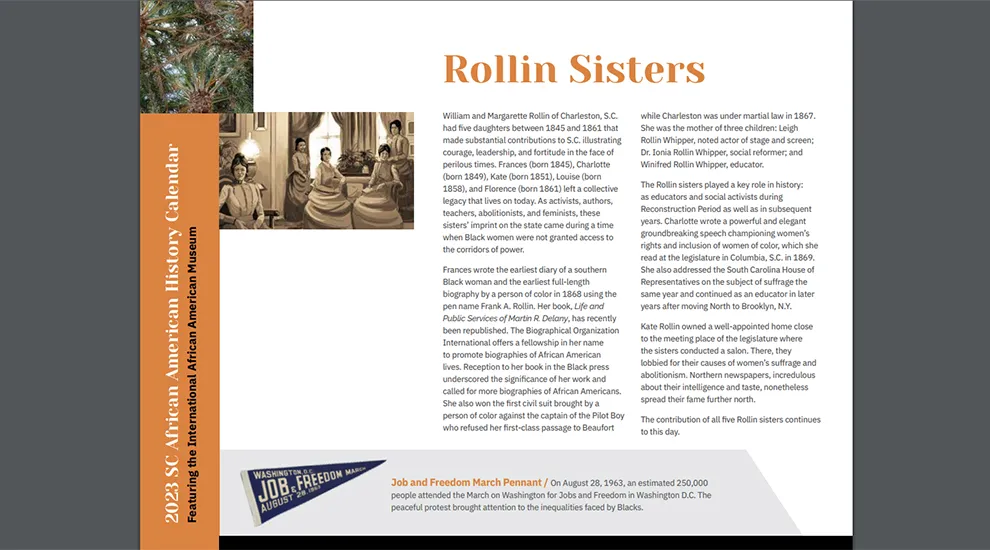 William and Margarette Rollin of Charleston, S.C. had five daughters between 1845 and 1861 that made substantial contributions to S.C. illustrating courage, leadership, and fortitude in the face of perilous times. Frances (born 1845), Charlotte (born 1849), Kate (born 1851), Louise (born 1858), and Florence (born 1861) left a collective legacy that lives on today. As activists, authors, teachers, abolitionists, and feminists, these sisters' imprint on the state came during a timewhen Black women were not granted access to the corridors of power.
Frances wrote the earliest diary of a southern Black woman and the earliest full-length biography by a person of color in 1868 using the pen name Frank A. Rollin. Her book, Life and Public Services of Martin R. Delany, has recently been republished. The Biographical Organization International offers a fellowship in her name to promote biographies of African American lives. Reception to her book in the Black press underscored the significance of her work and called for more biographies of African Americans. She also won the first civil suit brought by a person of color against the captain of the Pilot Boy who refused her first-class passage to Beaufort while Charleston was under martial law in 1867. She was the mother of three children: Leigh Rollin Whipper, noted actor of stage and screen; Dr. Ionia Rollin Whipper, social reformer; and Winifred Rollin Whipper, educator.
The Rollin sisters played a key role in history: as educators and social activists during Reconstruction Period as well as in subsequent years. Charlotte wrote a powerful and elegant groundbreaking speech championing women's rights and inclusion of women of color, which she read at the legislature in Columbia, S.C. in 1869. She also addressed the South Carolina House of Representatives on the subject of suffrage the same year and continued as an educator in later years after moving North to Brooklyn, N.Y.
Kate Rollin owned a well-appointed home close to the meeting place of the legislature where the sisters conducted a salon. There, they lobbied for their causes of women's suffrage and abolitionism. Northern newspapers, incredulous about their intelligence and taste, nonetheless spread their fame further north.
The contribution of all five Rollin sisters continues to this day.
Presented through a partnership between the South Carolina Department of Education and South Carolina ETV.  
View the series on KnowItAll.org here.  
Download the SC African American History Calendar here.