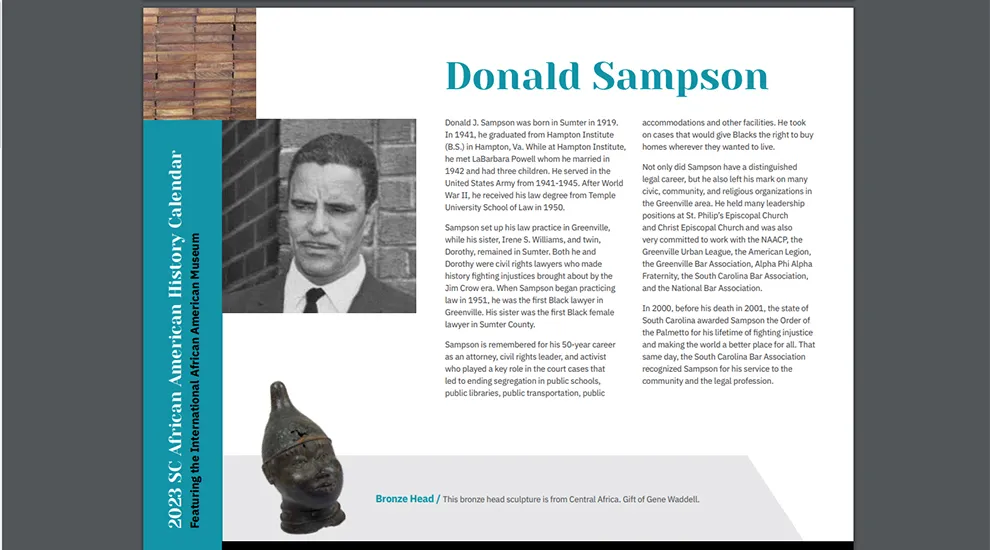 Donald J. Sampson was born in Sumter in 1919. In 1941, he graduated from Hampton Institute (B.S.) in Hampton, Va. While at Hampton Institute, he met LaBarbara Powell whom he married in 1942 and had three children. He served in the United States Army from 1941-1945. After World War II, he received his law degree from Temple University School of Law in 1950.
Sampson set up his law practice in Greenville, while his sister, Irene S. Williams, and twin, Dorothy, remained in Sumter. Both he and Dorothy were civil rights lawyers who made history fighting injustices brought about by the Jim Crow era. When Sampson began practicing law in 1951, he was the first Black lawyer in Greenville. His sister was the first Black female lawyer in Sumter County.
Sampson is remembered for his 50-year career as an attorney, civil rights leader, and activist who played a key role in the court cases that led to ending segregation in public schools, public libraries, public transportation, public accommodations and other facilities. He took on cases that would give Blacks the right to buyhomes wherever they wanted to live.
Not only did Sampson have a distinguished legal career, but he also left his mark on many civic, community, and religious organizations in the Greenville area. He held many leadership positions at St. Philip's Episcopal Church and Christ Episcopal Church and was also very committed to work with the NAACP, the Greenville Urban League, the American Legion, the Greenville Bar Association, Alpha Phi Alpha Fraternity, the South Carolina Bar Association, and the National BarAssociation.
In 2000, before his death in 2001, the state of South Carolina awarded Sampson the Order of the Palmetto for his lifetime of fighting injustice and making the world a better place for all. That same day, the South Carolina Bar Association recognized Sampson for his service to the community and the legal profession.
Presented through a partnership between the South Carolina Department of Education and South Carolina ETV.  
View the series on KnowItAll.org here.  
Download the SC African American History Calendar here.