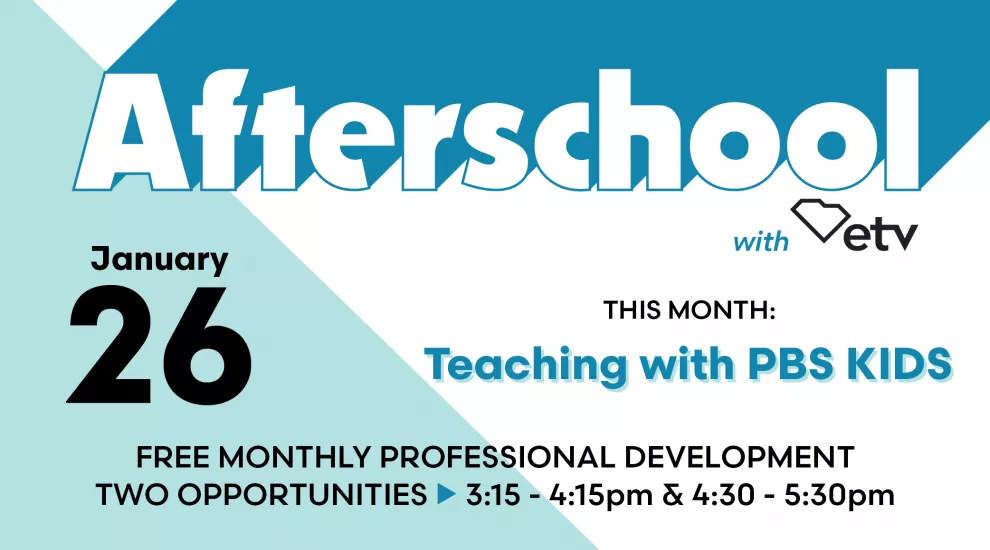 Did you know SCETV Education offers a free virtual professional development series?
Once a month, the SCETV Education team hosts Afterschool with ETV. This free one-hour series offers educators an opportunity to learn about new and exciting tools and resources at a convenient time; educators can choose one of two planned session times, both conveniently offered shortly after school ends. Grab your fellow educators and participate together! Attendees earn a certificate of participation for one hour of PD. 
Upcoming Afterschool with ETV sessions*:
Each date is planned to offer two scheduled times, 3:15 – 4:15 p.m. and 4:30 – 5:30 p.m. *Dates and times are subject to change.
January 26
February 23 
March 30 
April 20 
May 25 
June 22 
Register now for our January 26, 2023 session! 
Join us January 26, 2023, to learn about Teaching with PBS KIDS. In this session, participants will learn about the many distinct aspects of PBS KIDS and how their resources for children ages 2-8 can impact your learning community. Explore PBS KIDS with us and discover why it is such a trusted resource. 
Click the link to register for your desired session time: 3:15 - 4:15 p.m.  or  4:30 - 5:30 p.m.. 
Future session topics will be announced via our ETV Education monthly e-newsletter, the Education RoundUp (subscribe here). and SCETV Education on Facebook. 
Topics covered so far this school year include;
SCETV Educational Resources
Graphic Design Tips for Teachers
Canva 101
Virtual Tours with Let's Go!
If you miss a session or would like to view recordings of past sessions, access our Professional Development At Home sessions via our ETV LEARN Moodle platform. Learners can view these recordings on-demand and then receive a certificate of participation. Registration is free, but you do need to create an account. 
Please share this information with your colleagues, and we look forward to seeing you on Thursday, January 26, 2023, at 3:15 - 4:15 p.m. or 4:30 - 5:30 p.m.!