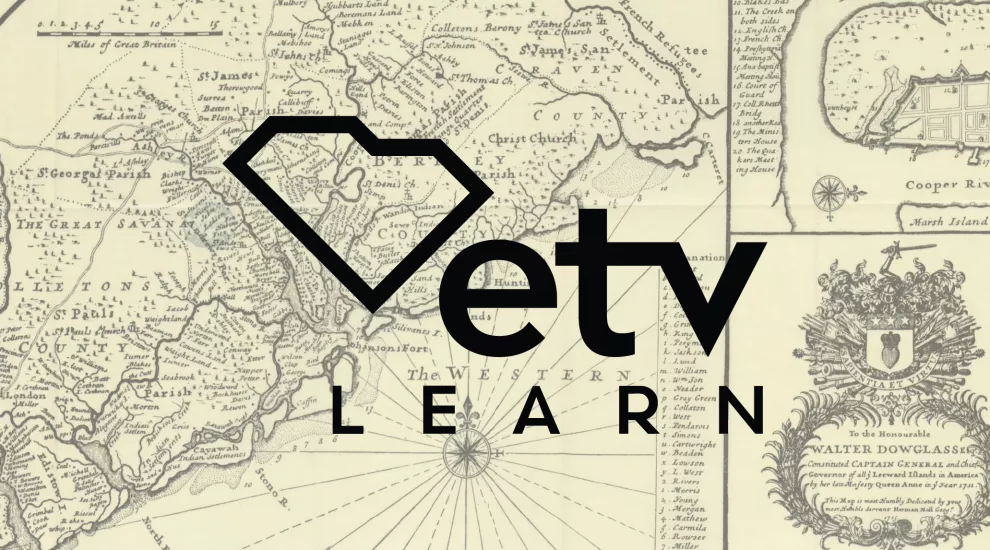 March is the perfect time to discover more SC history, natural history and women's history with ETV LEARN. Register now for our Spring I session courses!
ETV LEARN's Spring I session includes one Read to Succeed (R2S) course and more than 30 self-paced courses on a variety of topics. Review your options below and grow your career! 
R2S COURSE:  CONTENT AREA READING & WRITING
Course title: RDLA272 Vocabulary as a Foundation for Learning
Registration period: March 6 - April 27, 2023 (or sooner if seats fill up; if you'd like to be added to our waitlist, email moodleadmin@scetv.org)
Coursework Period: April 24 - June 4, 2023
This course is NOT self-paced; it requires active participation through a 6-week period, however, there are no set login days or times.  
Cost: $265  Credits: Approved by the SCDoE to earn 60 Renewal Credits (NO graduate credit)
This course is primarily intended for K-3 educators, however the SCDoE has approved the course as a R2S CARW course for ALL educators. 
SELF-PACED RENEWAL COURSES
30+ online, self-paced courses offered including our two newest (see below)
Registration period: NOW - March 31, 2023
Coursework period: March 10 - April 18, 2023
Cost: $75/each  Credits: Approved by the SCDoE to earn 20 Renewal Credits each (NO graduate credit)
Check out our FREE course offer below!
These are some of the interesting courses offered: 
Women Vision SC: Changes, Careers & Leadership, Series I and Series II 
The 19th Amendment granted women the long-awaited right to vote in 1919. These two engaging courses relate the history and feature SC women of our past and present who have made an impact on our state and nation. Their stories provide inspiring career and life-lesson advice for students. (For teachers of all grades/subjects)
Between the Waters: History Across the Curriculum, Series I and Series II  
Explores innovative website with a guided "tour" of Georgetown area's Hobcaw Barony from native American life through slavery, Reconstruction and both World Wars. Examines nature, art, architecture, religion, food & more. Educators must complete BTW, Series I course before taking Series II. (For teachers of 3-12 grades/all subjects)
SC & the Arts: Creating a Diverse, Unique Heritage (new Winter 2023)
Designed to enhance knowledge of the relationship between SC history and the arts. Home to a wealth of artists in all genres, architecturally interesting places, and dynamic folk traditions, South Carolina is both geographically and culturally diverse and has been shaped by the arts throughout our history. (For teachers of all subjects/grades)
Exploring Naturalists Impacting SC & Beyond (new Fall 2022)
Study of naturalists combines history, natural history, art, and science … rolled into one, an interdisciplinary approach. Informative and inspiring PD, outlining naturalists + integrating geographic and flora/fauna on related SC areas. Learning with SC naturalist Rudy Mancke is engaging and fun! (For teachers of all subjects/grades)
If you want to enjoy the work of SC-connected authors or regional storytellers, discover how to use media more effectively in the classroom, learn more about connections, engage with SC history highlighted by Dr. Walter Edgar, journey to all regions of our state with naturalist Rudy Mancke OR maybe … you simply want to be inspired by some outstanding SC teachers featured in our SC Teachers on Teaching and Teaching and Learning courses … ETV LEARN courses are for you! 
"ETV LEARN courses are just wonderful - valuable content, low cost, interactive, and accessible. I have started my 3rd course and I am learning a great deal." – Pamela C., ELA/history, Columbia 
"Great course. I have learned so much through ETV ...  and look forward to more courses in the future." - John J., Deputy Superintendent, Rock Hill
Free Course Offer:
The first 20 educators to enroll in at least ONE 20 renewal credit course in our winter session may request ONE of the following courses FREE in the same session:
Women Vision SC, Series I or II
Between the Waters, Series I or II
Exploring Naturalists Impacting SC & Beyond
SC & the Arts: Creating a Diverse, Unique Heritage
To receive the offer: Enroll in at least ONE course, then promptly email bjamison@scetv.org the title of the course you enrolled in AND the title of the free course you want from the list above. Be sure to also include your name, address, and school/district if applicable. *You may only receive ONE free course. 
View all courses with descriptions via scetv.org/teacher-recertification.
Stay up-to-date on SCETV professional development courses and opportunities via our ETV Education monthly e-newsletter, the Education RoundUp (subscribe here).
Questions/Help: moodleadmin@scetv.org or 888-761-8132  (or local 803-737-9915 or 803-737-3245)