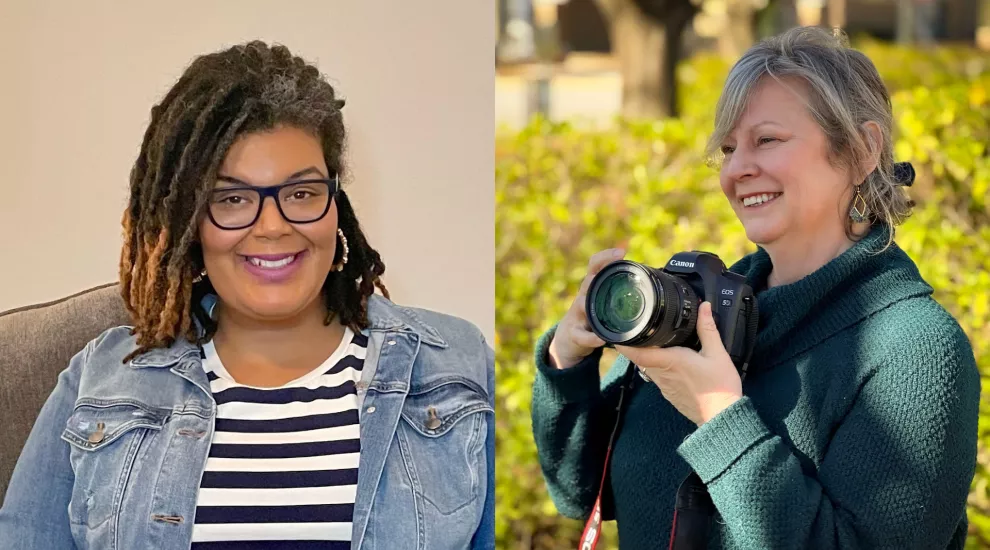 We're growing to serve you better; meet our new staff members!

Meet Brooke Weekes, ETV Education's new Curriculum Coordinator:
Brooke (on the left in the photo above) will coordinate the installation and use of our new Education Studio Space which will welcome teachers and students of all ages. This exciting, state-of-the-art facility will allow visitors to utilize the latest broadcast and multimedia equipment and learn how to use it in an educational setting. Brooke holds a BS in Mass Communications from Lincoln University of Pennsylvania and a MA in Communication Arts specializing in New Media from New York Institute of Technology, She has performed a variety of roles in production over the years, including working for The Wendy Williams Show and Good Day New York, a morning show on WNYW FOX 5 News. After making the transition into academia, Brooke has worked as an Adjunct Communications professor at Suffolk Community College teaching Introduction to Human Communications, Public Speaking, Introduction to Broadcasting, and Electronic Media Management for the past decade. 
Brooke's educational and broadcast background will be a true asset to this facility! Brooke looks forward to engaging with you and your students at the facility in the months to come; reach her at bweekes@scetv.org.
Fun facts about Brooke:
(Current) favorite book: Lovecraft Country by Matt Ruff
Favorite food: Italian cuisine, all things pasta
Favorite hobby: watching movies at home with my husband and 5 kids
Favorite movie: Harlem Nights
Favorite quote:
"It's easy to hear the voices of others and often very difficult to hear your own. Every person you meet is going to want something different from you. The question is: what do you want for yourself?" 
-  Beyoncé Knowles
 
Meet Ginger Cassell, ETV Education's new eLearning Designer:
Ginger (on the right in the photo above) will develop and create digital learning resources for online training and work with the Education team to plan and develop multimedia projects. She quickly hit the ground running by developing a training presentation for the SCETV finance department and also producing learning materials for the SC Division of Operations Interoperability Training. An alumna of the University of South Carolina, with a B.A. in Media Arts, Ginger has decades of experience as a producer/editor and has worked on both large-scale productions and small team learning projects. Her experience includes broadcast production, editing the national show "Good Eats" for the Food Network, graphic design, motion graphics, photography, and programming interactive projects. 
Ginger is excited about working on the Education team and creating new education assets; reach her at vcassell@scetv.org.
Fun facts about GInger:
Favorite book: To Kill a Mockingbird by Harper Lee
Favorite subject in school: English (because she's a storyteller at heart!)
Favorite celebrity: Morgan Freeman
Favorite movie: Out of Africa
Favorite hobby: Nature photography
Favorite quote: 
"Never forget that you are one of a kind. Never forget that if there weren't any need for you in all your uniqueness to be on this earth, you wouldn't be here in the first place. And never forget, no matter how overwhelming life's challenges and problems seem to be, that one person can make a difference in the world. In fact, it is always because of one person that all the changes that matter in the world come about. So be that one person."
― R. Buckminster Fuller