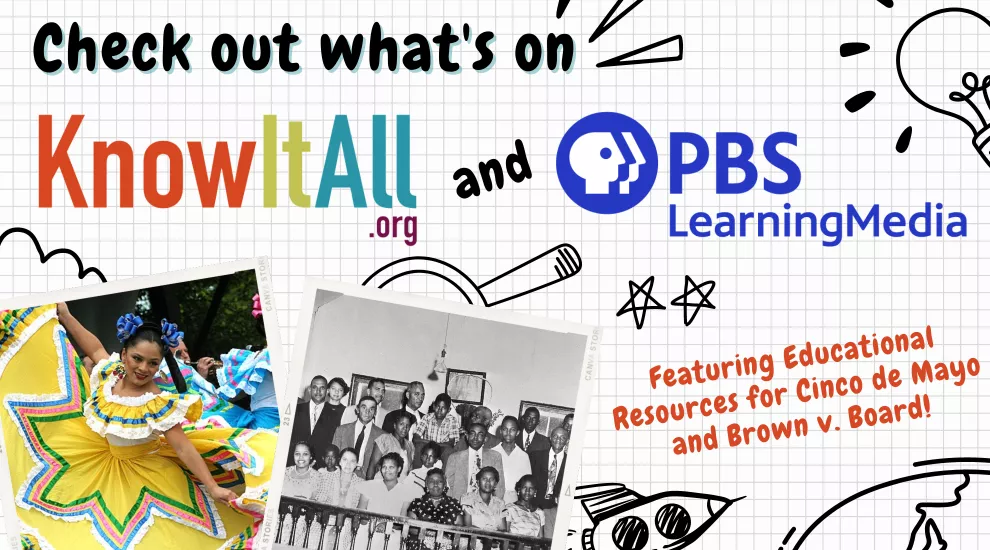 May 5 and May 17 are two days of note for the month. We've got lesson plans and resources to help you cover them in the classroom.
May 5: Cinco de Mayo
Did you know more people in the United States celebrate Cinco de Mayo (May 5) than in Mexico? The holiday honors the Mexican military victory over French forces during the May 5, 1862, Battle of Puebla. Primarily celebrated in the Puebla area, it is only a minor holiday in Mexico. Thanks to Chicano (people of Mexican descent born in the United States) efforts in the 1960s to raise awareness of the holiday, it became a celebration of Mexican culture and heritage.
To honor the Mexican heritage of those living in South Carolina, SCETV Education would like to highlight our Cinco de Mayo collection on KnowItall.org. 
Also, check out this bellringer from PBS LearningMedia: Cinco de Mayo | All about the Holidays! 
May 17: Anniversary of Brown v. Board of Education
On May 17, 1954, the Supreme Court of the United States decided that racial segregation in public school violated the 14th Amendment to the Constitution in the case of Brown v. Board of Education. In fact, the court case was made up of five separate cases that challenged racial segregation in public schools. One of those cases originated in Clarendon County when twenty parents requested bus transportation for their children for school. The parents, with the help of Reverend J.A. DeLaine, filed a lawsuit in the fall of 1950 entitled Briggs vs. Elliott. The plaintiff, Harry Briggs, was one of the parents who brought the suit against the school board of Clarendon County.
KnowItAll, with the partnership of The University of South Carolina Center for Civil Rights History and Research, recently created a virtual field trip experience of Historic Scott's Branch High School in Summerton, South Carolina in our Let's Go! Series. This resource uses multimedia and primary sources to teach about the historical importance of Briggs vs. Elliott.
PBS LearningMedia provides primary sources and resource materials for Brown v. Board of Education for students to practice their historical thinking skills. This media gallery resource group contains two facsimiles, a transcript of the case, and a background essay that are available to download.
We'd love to hear how you're using these and other KnowItAll and PBS LearningMedia resources in your classroom; please share with us at etveducation@scetv.org!