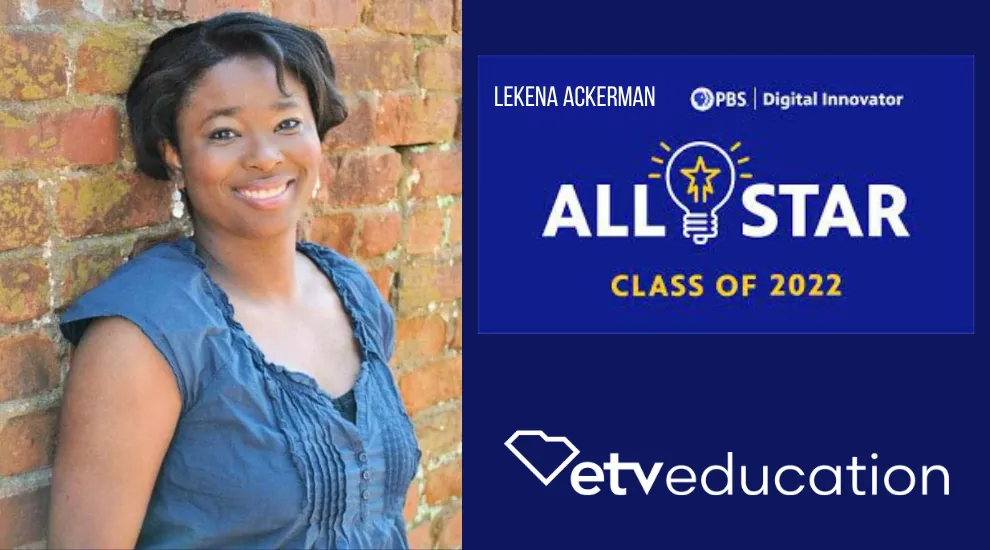 PBS Digital Innovator All-Star Lekena Ackerman is partnering with the ETV Education team for her second year of work promoting student education on civics.
Named a PBS Digital Innovator All-Star in 2022, one of only 20 selected across the nation, Ackerman spent her first year collaborating with a group of fellow All-Stars creating civic education assets for PBS LearningMedia. Now, for her second and final year of the program, she's chosen to partner with the ETV Education team to help support South Carolina middle school educators in teaching civics to their students.  
The topic is a natural choice for Ackerman, an 8th grade social studies teacher at Southeast Middle School, Richland District One. Known for her colorful wigs and history-inspired costumes, Ackerman works hard to engage her students in learning and make history come alive. "Democracy is a topic that is very near and dear to my heart. Our students will become members of our society. It is very important that they understand how our laws work. By studying [civics], our students will change the world for the better!"
Her All-Star collaboration work produced resources for the following PBS LearningMedia assets:
Now, Ackerman will tune-in specifically on SC standards and work with ETV to produce cross-curriculum lesson plans that include teaching for differentiated learning. She'll also help create an activity for use during ETV station field trips, and finally, lead a one-hour Afterschool with ETV session guiding educators in using the various resources and lesson plans created. As an adjunct goal, her work will encourage student media creation, whether via audio, video, cartoon, image, or more. The resources created will be announced by the ETV Education team as they become available in spring 2024. 
video...