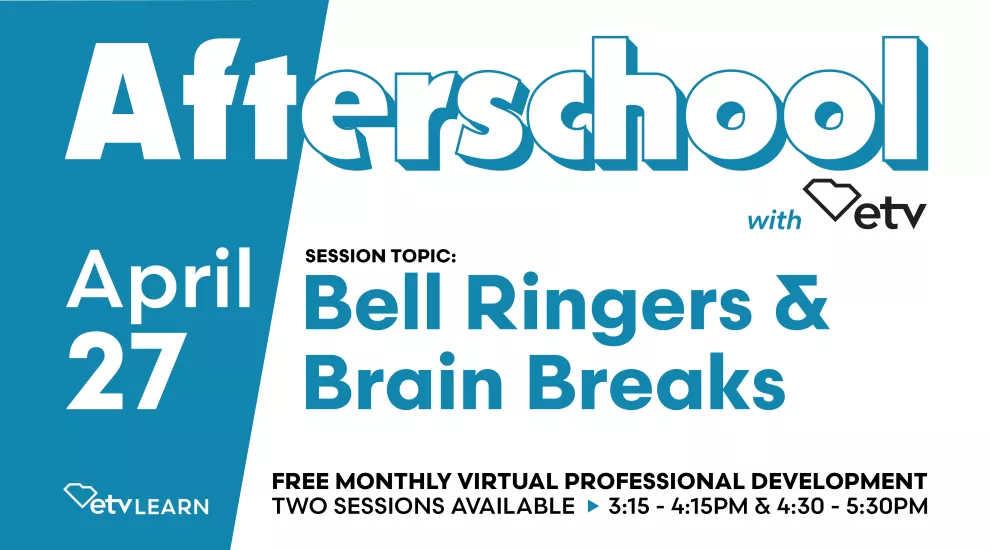 State testing is coming up and that means educators and students will be hard at work reviewing and preparing! Sign up for this month's Afterschool with ETV session to learn about free SCETV and PBS resources to engage students and take meaningful breaks during test review days.
Afterschool with ETV is a free one-hour virtual series offering educators an opportunity to learn about new and exciting tools and resources. Educators can choose to attend one of two planned session times, both conveniently offered shortly after school ends. Grab your fellow educators and participate together! Attendees earn a certificate of participation for one hour of PD. *We also offer session recordings for those unable to unable the live events; see further below.
Our April 27, 2023, "Bell Ringers and Brain Breaks" sessions will cover resources to use during breaks in content review including Carolina Snaps, South Carolina A-Z, Smart Cat Exercises and more.
REGISTER NOW to participate in either our 3:15 - 4:15 p.m. session or 4:30 - 5:30 p.m. session.
Intended Learning Outcomes
By the end of this training, attendees should be able to: 
Devise a mini lesson using one of the featured resources
Create cross-curricular opportunities using one or more of the featured resources
Create their own minute long podcast or video on a topic in which they are an expert and students can do the same
Also, save the date for our next two planned sessions; topics and start times will be announced via our ETV Education monthly e-newsletter (subscribe here).  
*Dates and times are subject to change.
If you miss a session or would like to view recordings of past sessions, access our Professional Development At Home sessions via our ETV LEARN Moodle platform. Learners can view these recordings on-demand and then receive a certificate of participation. Registration is free, but you do not need to create an account. 
Please share this information with your colleagues, and we look forward to seeing you on Thursday, April 27, 2023, at 3:15-4:15 p.m. or 4:30-5:30 p.m.!