Over the past several months, ETV Education has been surveying youth, from middle school through graduate students, regarding their media usage, educational experiences, and related interests. This information is important to ETV and educators in seeking to serve and engage with youth and provide them with meaningful media experiences.
Sample questions included:
•    How do you feel about using these types of media for learning purposes? (Audio and music; Documentaries; Infographics; etc.)
•    How do you feel about educational media shared by your teacher(s)?
•    What social media platforms do you use?
•    How do you access most of your electronic media content?
•    What are your favorite TV show(s) on any network?
•    And more
We urge you to please share the survey with your applicable students so we can hear from more students and, together, better understand how to engage with them and meet their learning needs.
In the meantime, we are happy to share the following current findings below with you. (To download as a PDF, click here.)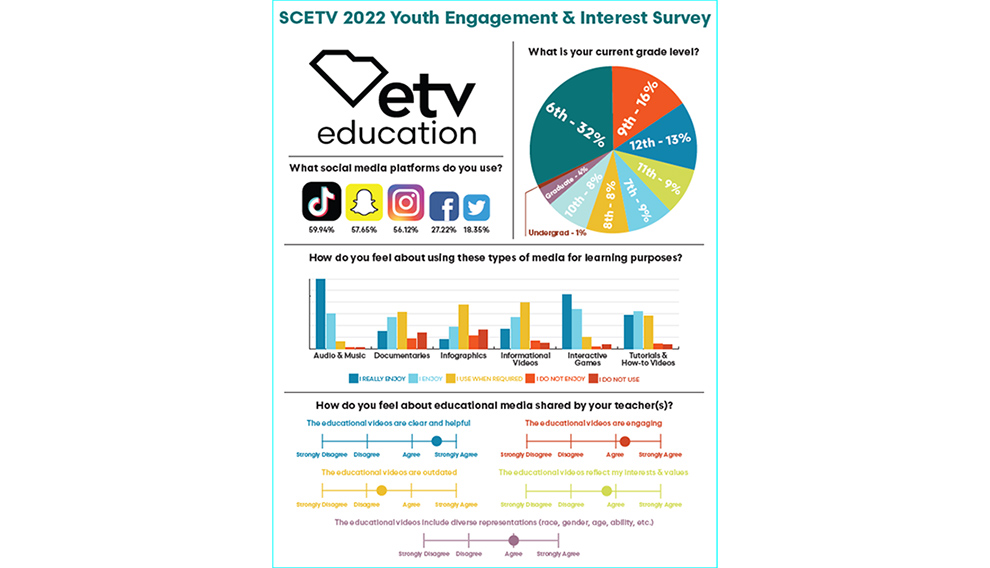 If you have any questions or concerns re: the survey, please contact us at 800-277-3245 or via etveducation@scetv.org.