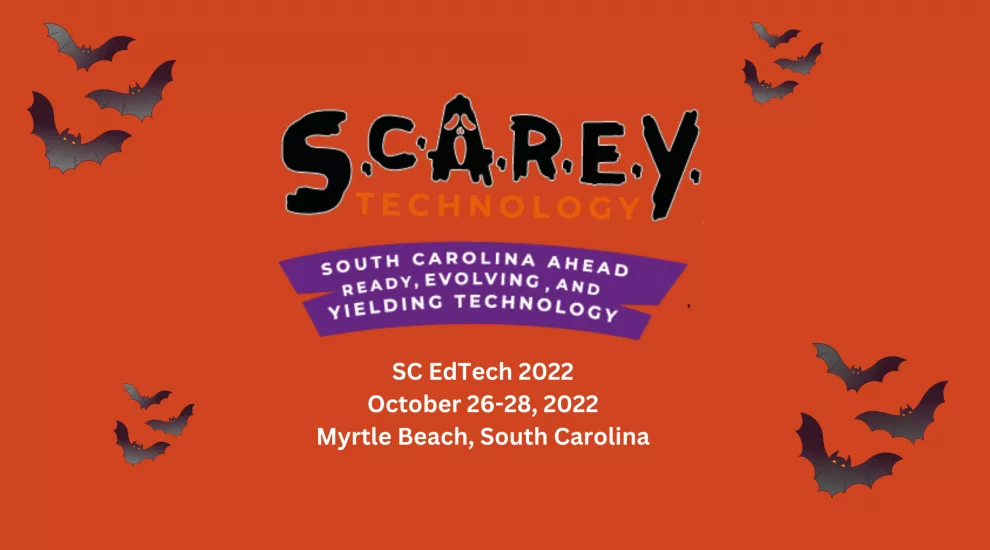 The SC EdTech 2022 Conference (October 26-28) offers content and activities that span all areas of educational technology, organized into nine pertinent tracks. Over 170 high-quality, relevant concurrent sessions and workshops are available to you at SC EdTech 2022!
Expand your knowledge through an extensive array of diverse sessions, workshops, speakers, and exhibitors. Register now at https://edtech.scaet.org/index.cfm/register/. Whether you are exploring the latest technology products and services in our 200+ booth Exhibit Hall, or sitting in session or workshop led by an expert in the field, you will leave EdTech 2022 with the best new technology practices and methods to integrate into your schools and districts.
NEW THIS YEAR! Specialized two-hour workshops are being offered all three days of the conference, each for a nominal fee of only $10 in addition to conference registration. These comprehensive workshops provide an excellent opportunity to thoroughly explore a variety of topics, all in a personal setting due to the small class size. Visit our website for a complete list of the workshops available, and don't forget to register for them in advance as space is limited - https://edtech.scaet.org/index.cfm/conference-info/workshops/.
SPECIAL OFFERINGS!
Youth Mental Health First Aid Certification Training – This training is designed to teach classroom educators and other participants how to help an adolescent (age 12-18) who is experiencing a mental health or addictions challenge or who may be in crisis. The course introduces common mental health challenges for youth, reviews typical adolescent development, and teaches a 5-step action plan (ALGEE) for how to help young people in both crisis and non-crisis situations. Participants will receive a 3-year nationally recognized certification certificate at the conclusion of this training session.
Certification Central - This area in the exhibit hall allows attendees to take proctored tests for various certifications. All tests offered are free for attendees. Certification Central will be open Wednesday, October 26, 1:00-4:30 (last tests administered at 3:30) and Thursday, October 27, 9:30-4:30 (last tests administered at 3:30) in the rear of the Exhibit Hall.
As we've seen since the COVID-19 pandemic began, educational technology is now more important than ever before. When you attend EdTech 2022, you will receive the up-to-date information you need to continue expanding the use of technology in your education career. Teachers, administrators, technology coordinators, media specialists, and more will all find something new and innovative at the conference.