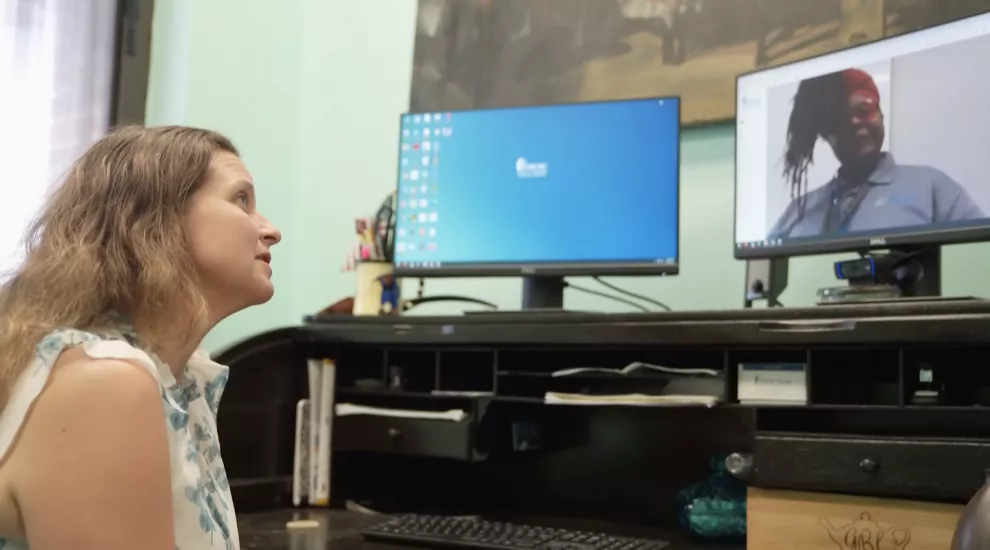 As the world grappled with another year of the COVID-19 pandemic, medical professionals found a way to balance in-person care with telehealth visits. For many COVID-19 patients, telehealth visits provided a lifeline to their doctor when the only other option for medical care was an Emergency Room. Here's a look at the most impactful telehealth stories of the year. 
1. VIRTUAL VISITS ARE A LIFELINE FOR SOUTH CAROLINA PATIENTS
When everyone in her home became sick with COVID-19 at the same time, Shirley Erwin struggled to take care of her family while suffering through the illness herself. 
"I was upset, nervous, overwhelmed," Erwin said. 
Her 16-year-old son's symptoms were especially worrisome. Erwin considered driving from her home in Bennettsville, South Carolina, to the nearest Emergency Room. But thankfully, she had another option: telehealth. 
2. VIRTUAL CARE MODEL HELPS PATIENT BUILD TRUST 
After Randolph Anderson learned he had contracted COVID-19, he isolated himself inside a bedroom of his home in Lexington, South Carolina. But he wasn't alone. He was immediately contacted by a remote patient monitoring nurse from the Medical University of South Carolina. 
3. BABY STEPS: A MOTHER AND NURSE PARTNERSHIP 
As a first-time mother, LaShawna Nicholson said she had a lot of questions throughout her pregnancy and after the birth of her son Chance, who is now two years old. Nicholson said she was grateful for the support of Debbie Brush, a registered nurse with Spartanburg Regional Healthcare System's Nurse Family Partnership Program. The partnership program connects mothers to a registered nurse who guides the mother through her pregnancy and into the first two years of their child's life.  
4. LOCAL LIBRARY PROVIDES CONNECTION POINT FOR HEALTHCARE
Women in rural areas of the Lowcountry can access healthcare services at Charleston County Public Library branches. 
These services are offered through a partnership with the WISE (Women In the Southeast) Telehealth Network which aims to improve women's health and well-being through telehealth appointments at local libraries and the mobile library in the rural Lowcountry. 
5. VIRTUAL PLATFORM BENEFITS KIDNEY TRANSPLANT PATIENTS
"I have been on dialysis for 15 years and six months," said Leona Dawkins-Derrico. 
The 51-year-old mother is one of the 600,000 Americans with end-stage kidney disease. Dialysis may have saved her life, but it cannot be a permanent solution to her health condition. 
6. TELEHEALTH BRIDGES GAPS IN CARE TO PROVIDE PATIENT-FOCUSED ACCESS 
Telehealth has leapt to the forefront of healthcare for patients and providers during the COVID-19 pandemic. According to the Centers for Disease Control and Prevention, telehealth visits increased by 50 percent in January through March 2020 when compared to the same weeks just a year earlier. That percentage surged to 154 percent the last week in March when compared to the same week in 2019. 

7. VIRTUAL IMAGING SYSTEM HELPS DETECT POTENTIAL BLINDNESS AMONG DIABETIC PATIENTS 
A retinal imaging camera located at a free medical clinic in North Charleston is helping to prevent blindness among diabetic patients. 
Harvest Free Medical Clinic serves as a safety net clinic for people who lack insurance or the financial resources to pay for medical care. Dr. Martin Smith, medical director for the clinic, said the clinic strives to build a relationship with patients while providing care.
8. TROUBLE KICKING THE HABIT? TELEHEALTH CAN HELP
About 42 million Americans still smoke cigarettes, and tobacco use remains the single largest preventable cause of disease and premature death in the United States. Quitting is an incredibly challenging process, but with the right resources, including behavioral counseling and medications, anyone can become smoke-free.
9. ON DEMAND VIDEOS EXPAND PRISMA HEALTH'S REACH 
When the coronavirus pandemic halted in-person classes, Prisma Health pivoted its school-based telehealth education program, expanding to reach more students. 
"We really just revamped the telehealth education program and made it accessible to students even though they were at home," said Madelyn Hutnyak, administrative coordinator for Prisma Health. 
10. DIGITAL LITERACY: OVERCOMING ISOLATION IN A CONNECTED WORLD 
"Digital literacy is knowing how to communicate and interact digitally, whether it's through email, virtual calls...across a variety of different devices," said Carroll Brabham, digital literacy teacher for Palmetto Care Connections' pilot project to teach seniors digital skills.
With the COVID-19 pandemic still going on, many people are isolated. In-person communication has been limited; with digital means of communication becoming the new normal. For the senior population it is especially difficult.