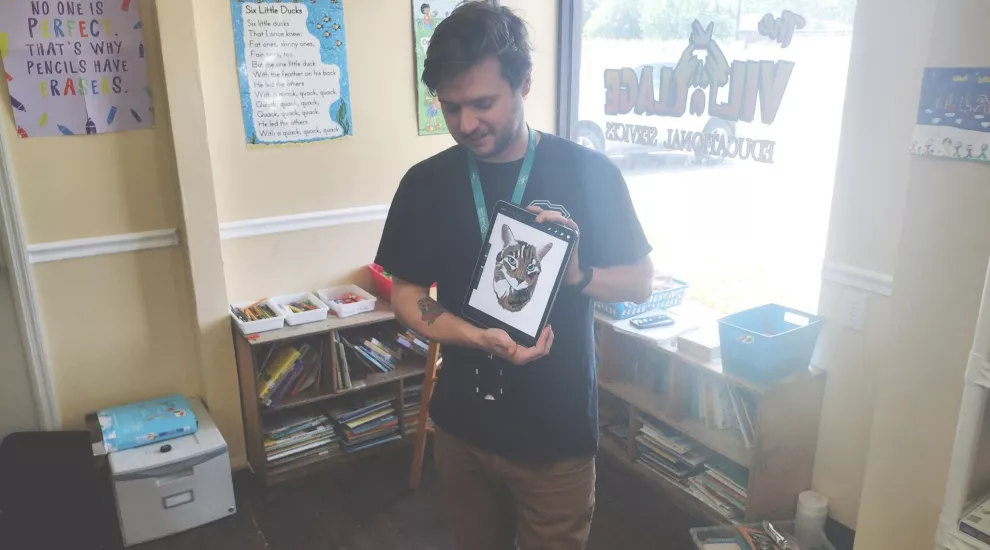 This summer was a lot of fun for ETV Education, and we hope it was fun for you as well. We had several opportunities to engage with South Carolina's K-12 students for fun, PBS KIDS STEM-based activities, and tours of our SCETV studio in Columbia!
Students are the reason we're all here, so we really enjoyed the opportunities to meet them, ask them about themselves, and provide them with educational experiences they won't readily forget. As you read about our "Summer of Possibilities", please keep in mind we can provide these types of engagement for your students this school year too! 
Student tours:
ETV Education was delighted to provide tours to several groups of students at our main facility in Columbia. During these tours with groups ranging from early learners to soon-to-be high school graduates, the Education team and other members of the SCETV staff provided a glimpse into what it's like to work in public media. Early learners and younger students are given a less technical tour of the facility but are encouraged to ask questions about anything in which they may be interested. Older students, and degree or skill-focused programs, are given a job-focused tour to show that there's a lot that goes into working for public media and a lot more people behind the scenes than they may not know about. At the beginning of these tours, a brief history of SCETV is given and we share a bit about our mission to get South Carolina voices heard and for their stories to be told. Once we enter actual working spaces, the students get to learn about the technology we use to bring the shows they love to air. Students learn about master control, production, post-production, development, filming, our national studio, and a tour of the South Carolina Public Radio offices. But SCETV is a lot more than just television and radio! Our tour groups learn about all the other departments they might not think of like education, content, engineering, and other vital parts of SCETV. 
Camp activities:
It is our goal to make sure every student across the state has the same opportunities, so our team traveled all over to different summer camps to meet and teach as many students as we could. From the Piedmont to the Lowcountry, the ETV Education team was there providing activities that blended fun and creativity with STEAM standards. These activities were centered around the scientific method and had students form hypotheses, make observations, conduct experiments, and record their results. Students were also challenged with explaining their findings and why their hypothesis was correct or incorrect. The goal of these visits and activities is to show that learning can be fun and engaging and to provide a hands-on experience unlike any other! 
The Education team is thankful for opportunities to engage with the students of South Carolina. Students are at the center of why we do what we do, and it's amazing to put faces and stories to that motivation. We are always looking for more opportunities to engage with students, educators, and the people of our state throughout. Please visit our Education page to learn more about what we have to offer, and contact us at 800-277-3245 or etveducation@scetv.org for more information.