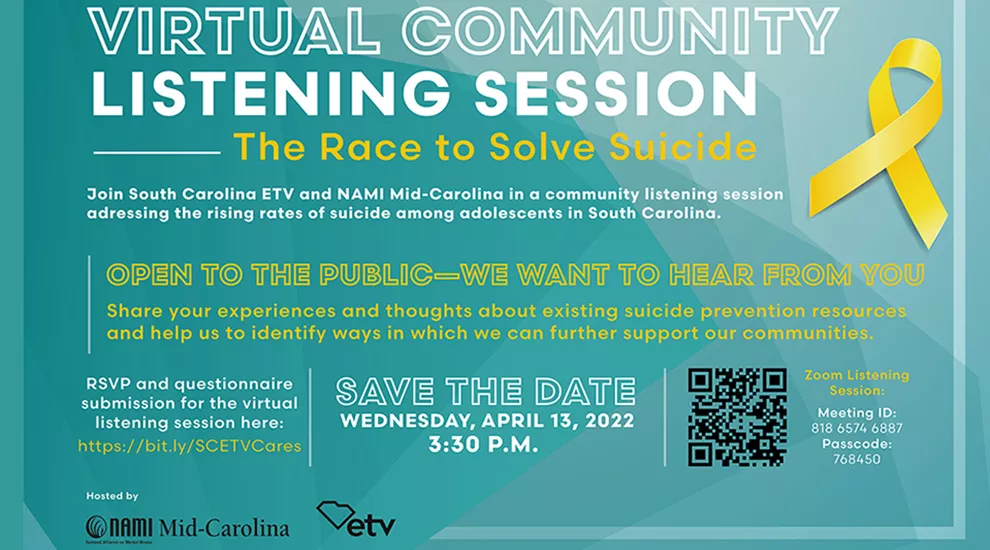 Please join South Carolina ETV and NAMI Mid-Carolina in a community listening session regarding youth suicide on Wednesday, April 13, 2022, at 3:30 p.m.
South Carolina Educational Television and Pubic Radio (SCETV) has recently been granted funding to participate in the Race to Solve Suicide National Impact Initiative. Recent reports show that suicides have increased throughout the state since the start of the COVID-19 pandemic, especially for those aged 10-14. There is a clear need to engage youth and their support systems within the community on discussions concentrated around suicide awareness and prevention.
On April 13 at 3:30 p.m., we will hold a listening session open to the public. We especially encourage students, parents, faculty, and counselors to participate and share your experiences and thoughts about existing suicide prevention resources and help us identify ways in which we can further support our communities. 
Register to attend at https://bit.ly/SCETVCares.  
Questions about the listening session can be forwarded to Desiree Cheeks at dcheeks@scetv.org.