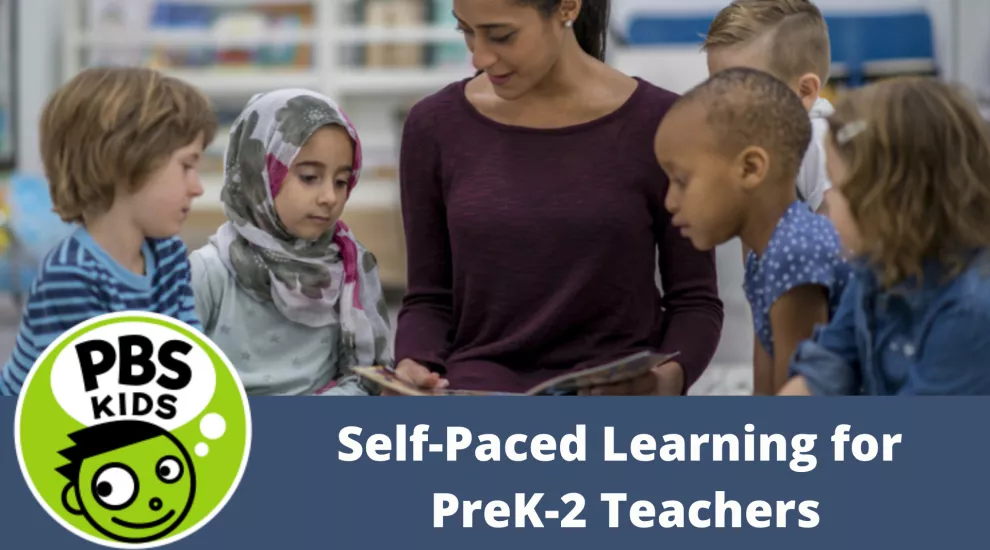 Can you believe January 2022 is here? Along with all the cool and interesting things this new year may bring, PBS KIDS has added a catalog of very useful, self-paced, FREE professional development courses for teachers!
PreK – 2 teachers can now enroll in courses through PBS KIDS Self-Paced Learning. Teachers can choose from several learning experiences designed to spark new ideas, expand their skill set, and earn one to three credit hours!
Some of the courses are based on our award-winning, educational shows, such as Ready Jet Go, Elinor Wonders Why, Odd Squad, Peg + Cat, and more! Other courses provide techniques for the classroom and ways to engage students, such as Connecting with Families and Teach with Informational Text learning paths.
Each learning path assesses knowledge before beginning and after completing all coursework. There are videos to watch, practice questions throughout, and opportunities for collaboration through discussion posts and resource files.
Recently, five South Carolina teachers were selected to participate in a cohort to preview the courses and provide their feedback to our PBS partner. During the cohort, they completed three learning paths: Connecting with Families, Model Learning with Odd Squad, and Share Media with Peg + Cat. They were able to provide feedback to the PBS KIDS team that helped fix any glitches, overcome any potential challenges, and more.
Brittney Wilbanks, Kindergarten teacher at Joanna-Woodson Elementary School in Joanna, stated how she enjoyed the courses so much and appreciated the fact that they were self-paced and provided assessments and exercises along the way to ensure learning was taking place.
Krystal Foxworth, First Steps 4K teacher at Little Love Christian Academy in Columbia, enjoyed the courses as well. She loved that the courses provided her with the correct terminology for some techniques she was already practicing in the classroom and was surprised to find new tactics that would work, especially from the Connecting with Families learning path.
Tristan Brown, Pre-K teacher at Bethel-Hanberry Elementary in Blythewood, expressed that she would like to see courses for each PBS KIDS show. Coincidentally, this is something the PBS KIDS team is currently working on, as new courses and learning paths will be added often.
These courses are free, flexible, fun, and very educational for teachers. Each learning path should take between one and four hours to complete, but again, these are done at your own pace! I was able to take the courses along with the cohort, and I enjoyed my experience. The coursework was challenging enough to keep me engaged and informative enough to give me ideas that can assist teachers in the classroom. I enjoyed working with this enthusiastic group and would be delighted to help more educators take advantage of this free service.
If you have any questions or concerns regarding the courses, please contact Ms. Bre Wilson at bmwilson@scetv.org. Also, if you do take the courses, please send feedback as well. We would love to see, hear, and read about how you've utilized our resources in your classroom. Happy learning!