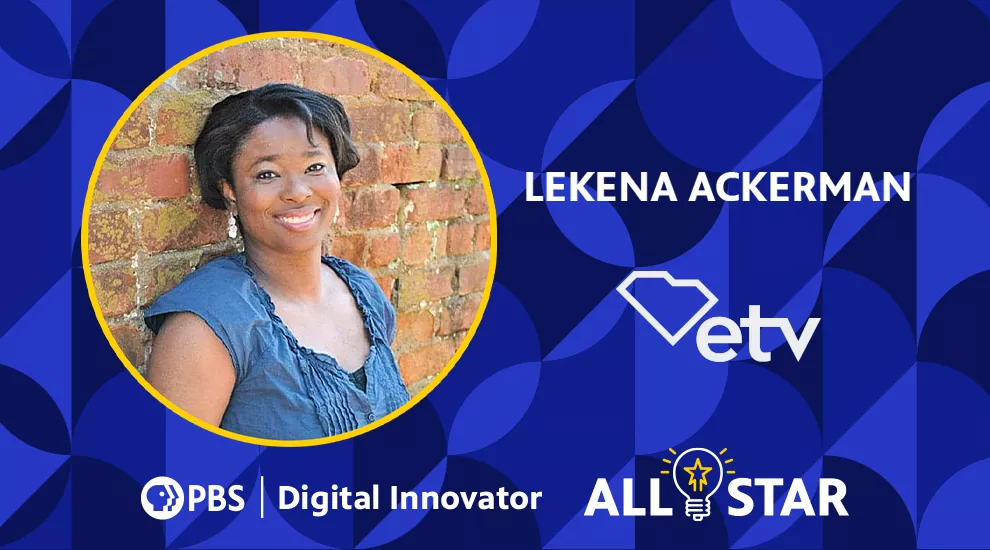 Congratulations to SC educator, Lekena Ackerman, on being named a 2022 PBS Digital Innovator All-Star!
Ms. Ackerman, a social studies teacher and department chair at Southeast Middle School, Richland District One, was chosen as one of only 20 educators across the nation for the honor of participating in the PBS Digital Innovator All-Star Program which recognizes top PreK-12 educators who are innovators and leaders both in and outside of the classroom. Selected especially for supporting student learning by integrating media and digital technology in their teaching environments and inspiring students to use these tools in responsible, effective and empowering ways, other All-Star criteria included being a bold and passionate educator and providing a high-impact to students and families.
Certainly a bold and passionate educator (she regularly wears costumes while teaching to bring history to life), Ackerman has been previously honored as a News 19 WLTX Teacher of the Week, the 2020 SC Middle School Mock Trial Teacher of the Year, and, also in 2020, her fifth year of teaching, she was recognized nationally on NBC's Today show for her impact on students while navigating the new school year during a pandemic.
During the 2020-21 school year, Lekena participated in SCETV's Media Literacy Pilot Program and became the first participant, and only the second educator in the state, to earn the PBS Media Literacy Educator Certification by KQED, an experience she shared in an ETV Education blog post. Regarding the pilot program, she noted, "The true winners will be my students." Indeed, Ackerman cites her deep love and caring for her students as her motivation for all she does; in return, her Richland students are engaged and look forward to learning in her class. "The most important thing here is that whatever we do, I always maintain my excitement for what we are doing, because that keeps the students truly engaged." 
SCETV was pleased to nominate Ackerman as a candidate for the All-Star program, and we are delighted she was selected! SC was honored, too, in 2020 with the PBS selection of educator Warren Wise of Richland Two for the All-Star program when he chosen as one of the 18 participants. 
As a 2022 PBS Digital Innovator All-Star, Ackerman will collaborate with SCETV, PBS and her All-Star peers to create meaningful and impactful projects that will serve to engage fellow educators, students and/or families and elevate her professional voice as an education thought leader. 
"We are thrilled to recognize these 20 teachers for their extraordinary work and dedication to their local communities," said Lori Brittain, Vice President of PBS LearningMedia. "Each of the new PBS Digital Innovator All-Stars have worked tirelessly to enrich the lives of their students, all while navigating another challenging school year. It is an honor to elevate their powerful stories and thank them for the passion, creativity and grace they bring to their classrooms every day."
View the PBS Digital Innovator All-Star Class of 2022. 
Ackerman quotes:
"I think that the most unique way that I integrate media and digital technology into [the] learning environment is putting myself into the environment.  If I am at a place that is beneficial to my content, I make it into a virtual field trip for my students.  I make sure to maintain all of my geeky, nerdy and genuine excitement throughout the entire endeavor!  I read to my students constantly!  If there is a children's book that goes along with my content area, I am sharing it with my students.  I think that reading to someone provides comfort and confidence!  We make memes, Snaps, you name it, we do it!  The most important thing here is that whatever we do, I always maintain my excitement for what we are doing, because that keeps the students truly engaged." 

"I am able to relate to my students through the use of technology. I am not above learning the latest Tik Tok dance or using goofy Snapchat/Instagram filters to get my lessons through to my students.  As a matter of fact, when it comes to social media platforms and other types of technology, I find it to be rewarding to be the student and my students are the educators. We all have something to teach each other. 21st century media and literacy are different than what we are accustomed to. Students know how they like to learn and the best results are always reached when we let them show us what they know in ways that they can be their best."

"Without a doubt, KnowItAll.org is my favorite site to use in my classroom! The GullahNet series always has a place in my classroom (I adore Aunt Pearlie Sue)!  Some of the newer parts of KnowItAll.org are very intriguing to me, as well!  I am especially interested in the "History in a Nutshell" and "Let's Go! CAREERS" series."
Lekena is truly an All-Star educator because she's always seeking ways to better serve her students, including by readily employing the latest 'it' thing in technology to reach and engage her students. She brings energy (and then some) to her teaching! 
Keep up this dynamic educator on Twitter @StudiesW.