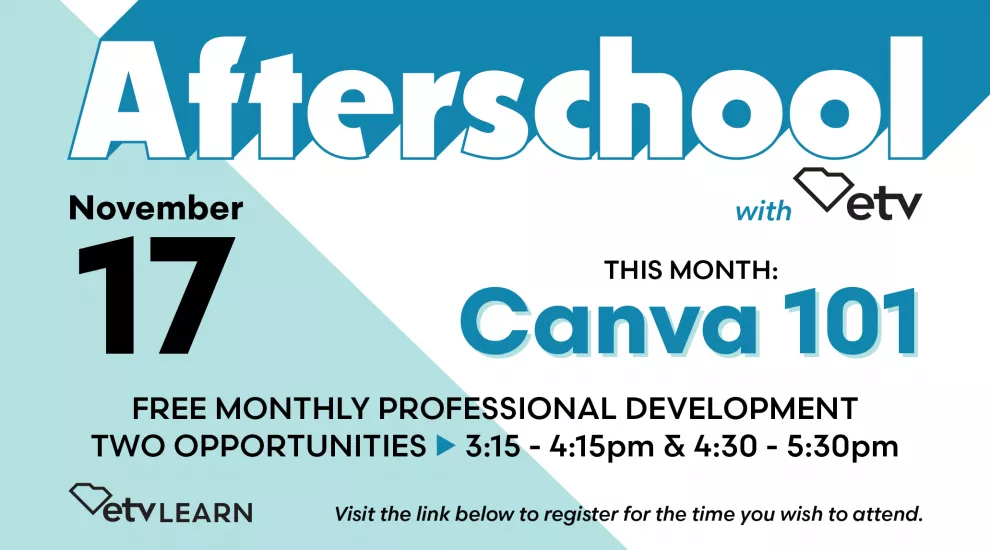 Each month, ETV Education is hosting an hour-long training session via Zoom on a topic of interest to our state's educators. Participants will be able to receive a certificate of participation for the hour, PLUS they'll have the chance to win exciting giveaways! 
The topic for this month's Afterschool with ETV session will be Canva 101.
Session description:
You've heard of it, come learn to use it! In this workshop, participants will go over the basics of the free parts of Canva and an overview of creating eye-catching and fun materials. Canva is a great free resource for teachers, learn from a graphic designer on how to make the most of what is offered! 
By the end of this training, attendees should be able to:  
Evaluate how to use Canva like a graphic designer  
Learn basic graphic design tips and tricks to make using Canva a breeze  
Create your own Canva resource to use in your learning environment  
REGISTER NOW to attend our November 17, 2022, session; choose either the 3:15-4:15 pm session or the 4:30-5:30 pm session. 
Save the date for these upcoming sessions; session topics and start times will be announced in our monthly e-newsletters (subscribe here) along with planned dates for 2023. 
We hope to offer each session at least twice during the day to accommodate the varying schedules of educators. 
If you miss a session or would like to view recordings of past session, access our Professional Development At Home sessions via our ETV LEARN Moodle platform. Learners can view these recordings on-demand and then receive a certificate of participation. Registration is free, but you do not need to create an account. 
Please share this information with your colleagues, and we look forward to seeing you on Thursday, November 17, 2022, at 3:15-4:15 pm or 4:30-5:30 pm!