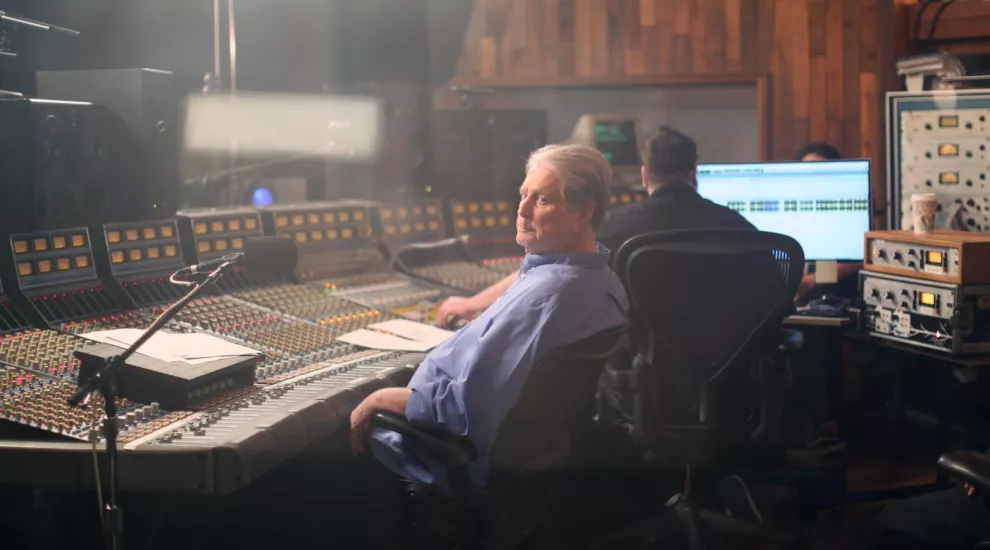 Features an original song written by Wilson and Jim James and interviews with Bruce Springsteen, Elton John, Nick Jonas, Jakob Dylan, Gustavo Dudamel and others
The principal originator of the "California sound," musician, singer, songwriter, record producer and co-founder of The Beach Boys, Brian Wilson is known for his novel approach to composition and recording and is widely acknowledged as one of the most innovative and significant musicians of the 20th century. The new documentary American Masters – Brian Wilson: Long Promised Road follows Wilson on a drive through Los Angeles with his longtime friend and Rolling Stone editor Jason Fine. With Fine behind the wheel and Wilson selecting the music, they reflect on the formative and creative periods in Wilson's life as they revisit the places that helped to shape his career. American Masters – Brian Wilson: Long Promised Road premieres on Tuesday, June 14 at 10 p.m. on SCETV, at pbs.org/americanmasters and the PBS Video App as part of #PBSForTheArts.
The filmed road trip provides an intimate look into Wilson's recollections and is bolstered by memorable concert and studio footage as well as interviews with Wilson's admirers and those close to him, including Al Jardine (co-founder of The Beach Boys), Don Was (record executive), Bruce Springsteen (musician), Elton John (musician), Nick Jonas (musician and actor), Jim James (My Morning Jacket), Jakob Dylan (Wallflowers), Gustavo Dudamel (conductor and music director) and the late Taylor Hawkins (Foo Fighters), among others. The documentary also introduces "Right Where I Belong," an original song written and performed by Wilson and Jim James.
For more information and to read the full release, visit the PBS Pressroom.
American Masters – Brian Wilson: Long Promised Road premieres on Tuesday, June 14 at 10 p.m. on SCETV
---
About South Carolina ETV and Public Radio
South Carolina ETV (SCETV) is the state's public educational broadcasting network. Using television, radio and diverse digital properties, SCETV's mission is to enrich lives by educating children, informing and connecting citizens, celebrating our culture and environment and instilling the joy of learning. In addition to airing local programs, such as Carolina Classrooms, Making It Grow, Palmetto Scene and This Week in South Carolina, SCETV also presents multiple programs to regional and national audiences, including By The River, Expeditions, Reconnecting Roots, Reel South, Somewhere South, Yoga in Practice and Live from Charleston Music Hall. In addition, SC Public Radio produces the national radio production, Chamber Music from Spoleto Festival USA.
Media Contact:
Landon Masters
media@scetv.org 
(803) 737-3337
American Masters Presents the U.S. Broadcast Premiere of Brian Wilson: Long Promised Road (PDF)