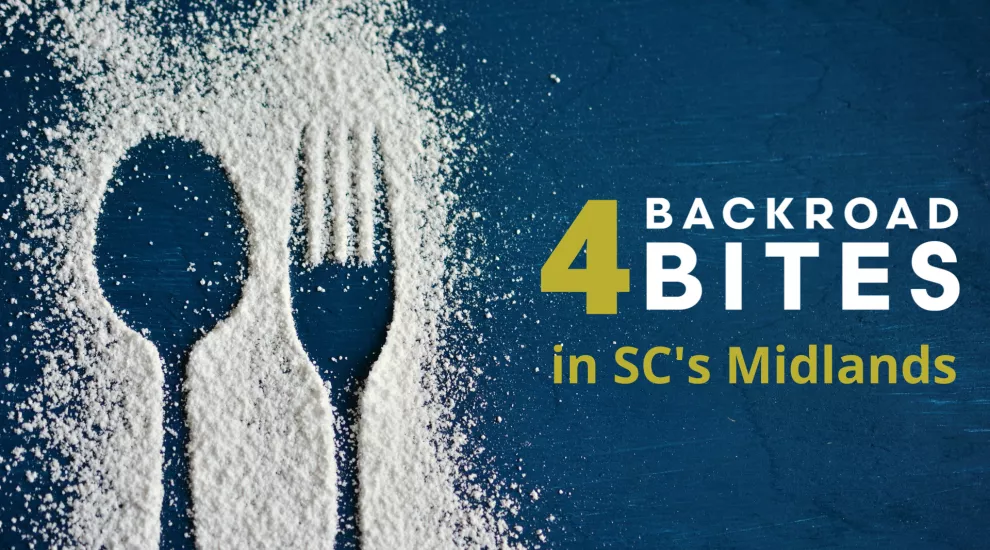 Crisscrossing across the Palmetto State, South Carolina ETV's digital series "Backroad Bites" takes you down the path less traveled to find the most delicious local eateries across South Carolina.  Hop in as we take you down backroads to four places to try next time you're in the Midlands region of the state!
Antique Mall Café in Little Mountain, SC
Tucked away in the basement of Little Mountain Antique Mall, which some arguably call the best antique store in the state, is the Antique Mall Café. Created out of necessity to feed hungry shoppers as they traverse the mall above, this café serves up an eclectic lunch menu with daily quiche and soup specials.  
Pro Tip: This antique mall might be jam-packed with treasures, but the café's menu is, too! Look out for sandwiches that include their own blackberry and raspberry-jalapeño jams.  
Juniper in Ridge Spring, SC
The great recipes that Southern food is known for come from the family kitchen and that's just what you get at Juniper. Located in Ridge Spring, this restaurant serves traditional meals just like Grandma made. From their corn chowder to their shrimp and grits, meals at Juniper taste better with locally sourced ingredients.  
Pro Tip: Stop in on a Monday and try their meatloaf with mashed potatoes and herb gravy, you won't regret it.  
A Peace of Soul Vegan Kitchen in Columbia, SC
What if I told you in South Carolina's capital city there is a place you can eat a bucket of fried chicken without taking a bite of meat? A Peace of Soul Vegan Kitchen is a Black-owned vegan restaurant doing just that! This restaurant serves up 100% plant-based cuisine including their famous fried "chicken," mac and cheese, and many more soul food classics.  
Pro Tip: Since we visited A Peace of Soul Vegan Kitchen, they turned up the heat, adding a Nashville hot "chicken" sandwich to their menu.  
Miller's Bread Basket in Blackville, SC
At Miller's Bread Basket the key to the delicious food and baked goods is all in the family. Two things you're going to want to try when you stop by, the fried chicken and the stewed tomatoes over rice. But plan to stay awhile, the food is just a vehicle to have great conversations with the company you're with.  
Pro Tip: Be sure to bring a jug and fill it up at God's Acre Healing Springs where the clean water flows and folks drive in from miles around for that high quality H2O.