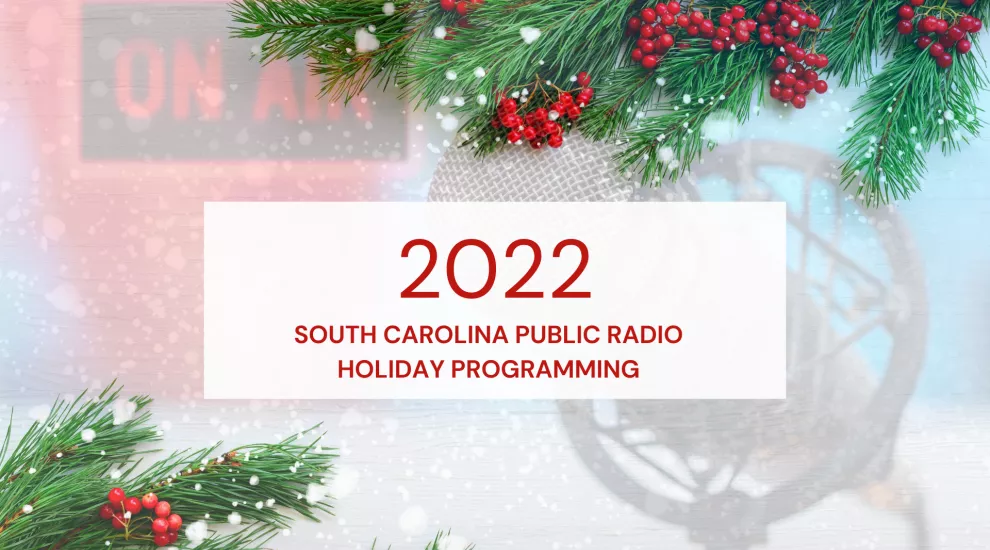 To find more holiday content or to stream these radio programs online, visit South Carolina Public Radio or download the SCETV App from the Apple or Android store.
Want to watch more holiday programming on television or online, check out the Happy Holidays page!
Programming listing updated 12/12/2022
December 19
Dec. 19 at 11 a.m.
Welcome Christmas – APM – A perennial Christmas favorite from VocalEssence, one of the world's premiere choral groups, presenting an hour of traditional carols and new discoveries.
Dec. 19 at 12 p.m.
Candles Burning Brightly – APM – Candles Burning Brightly is a one-hour celebration of Chanukah, the Jewish Festival of Lights with an exploration of Chanukah foods and traditional activities, and plenty of music.
December 20
Dec. 20 at 11 a.m.
The Thistle and Shamrock Presents 'A Child's Christmas in Wales' – NPR
Musician Cerys Matthews presents excerpts from and music inspired by Welsh poet Dylan Thomas' classic holiday story, A Child's Christmas in Wales.
Dec. 20 at 12 p.m.
Christmas with Morehouse and Spelman Glee Clubs – NPR
One of the great holiday traditions in America, the choirs of Morehouse and Spelman Colleges – two of the most prestigious historically Black institutions in the nation – get together to present a spine-tingling concert program.
December 21
Dec. 21 at 11 a.m.
ColaJazz Presents: Jingle Bell Jazz – A local production in partnership with the ColaJazz Foundation, Jingle Bell Jazz is a jazzy celebration of holiday favorites old and new recorded in front of a live audience in Columbia, SC. Hosted by Mark Rapp. (will also air Dec. 25 at 8 p.m. on all SC Public Radio stations)
Dec. 21 at 12 p.m.
A Choral Christmas with Stile Antico – NPR – Celebrate Christmas with the sound of soaring voices. Stile Antico, the award-winning choir from London, performs a concert of radiant sacred music for the season by the most acclaimed composers of the Renaissance.
December 22
Dec. 22 at 11 a.m.
Hanukkah Lights – NPR – A perennial NPR favorite, Hanukkah Lights features all new Hanukkah stories. Read by hosts Susan Stamberg and Murray Horwitz.
Dec. 22 at 12 p.m.
An Afro Blue Christmas – NPR – Join us for a special holiday concert with Howard University's premiere vocal ensemble Afro Blue and special guest pianist Cyrus Chestnut. Hear the a-cappella group perform a variety of holiday songs including African American spirituals, jazz and pop tunes, and classical repertoire.
December 23
Dec. 23 at 10 a.m. (Two hours)
St. Olaf Christmas Festival – APM - St. Olaf Christmas Festival is a chance for listeners across the country and around the world to participate in one of the nation's most treasured holiday celebrations. Programming includes sacred choral and instrumental music from many traditions: beloved hymns, classical masterworks, folk songs from around the world, and African American spirituals.
December 24
Dec. 24 at 3 p.m.
A Festival of Nine Lessons and Carols – APM - An annual and beloved Christmas Eve tradition, A Festival of Nine Lessons and Carols is an extraordinary and memorable service of word and music from the Chapel of King's College, Cambridge, England.  (Two Hours) [Note: This will be a delayed version of the program that normally airs live at 10 a.m.]
December 26
Dec. 26 at 11 a.m.
All is Bright – APM – An hour-long program of contemplative choral and solo vocal Christmas music for the season.
Dec. 26 at 12 p.m.
A World Café Holiday – NPR – World Café gives the musical gift of hip holiday cheer.
December 27
Dec. 27 at 11 a.m.
Jazz Piano Christmas – NPR – Join the Kennedy Center and NPR Music for this annual holiday tradition highlighting jazz pianists and their favorite seasonal music, captured live in concert with a small audience.
Dec. 27 at 12 p.m. 
A Mountain Stage Holiday – NPR – Join Mountain Stage host Larry Groce for an hour filled with beautiful music to mark the season. The show features special guests Holly Cole, Joan Baez, Bruce Cockburn, Loudon Wainwright III, The Roches, Kathy Mattea and more. All performances were recorded live on the Mountain Stage.
December 28
Dec 28 at 11 a.m.
A Chanticleer Christmas – APM – A one-hour program of holiday classics presented live in concert by Chanticleer, the superb 12-man ensemble known as "an orchestra of voices."
Dec. 28 at 12 p.m.
The Big Tiny Desk Holiday Special – NPR – Celebrate the season with amazing holiday performances from The Tiny Desk Concert series including Sharon Jones & The Dap-Kings, Steve Martin, Hanson, The Polyphonic Spree and more.
 

December 29
Dec. 29 at 11 a.m.
A Soulful Christmas – APM – An uplifting, relevant display of Black music in the classical, gospel, spiritual, and jazz-inspired style. This special celebrates the non-idiomatic Black classical music, while exploring non-idiomatic choral traditions.
Dec 29 at 12 p.m.
Joy to the World – A Holiday in Pink – NPR
The internationally acclaimed "little orchestra" bedecks the airwaves with festival holiday songs from across the globe. From timeless classics to rarely heard gems, hear a multi-denominational, multi-cultural jubilee, overflowing with enough holiday spirit to warm your entire family. Hosted by All Things Considered's Ari Shapiro. 
December 30
Dec. 30 at 10 a.m.
A Paul Winter Solstice – NPR – Celebrate the return of the sun and the warming of the heart with Paul Winter's Winter Solstice Celebration. We head back to New York's Cathedral of St. John the Divine to hear a new performance of The Paul Winter Consort and the glorious Cathedral Pipe Organ. Dec. 30 at 11 a.m.
January 2
Jan. 2 at 11 a.m. (Two hours)
Toast of the Nation – NPR – An NPR tradition since the 1970s, Toast of the Nation is the perfect jazzy complement for ringing in the new year.
Want to watch more holiday programming on Television, Radio or Digital, check out the Happy Holidays page!