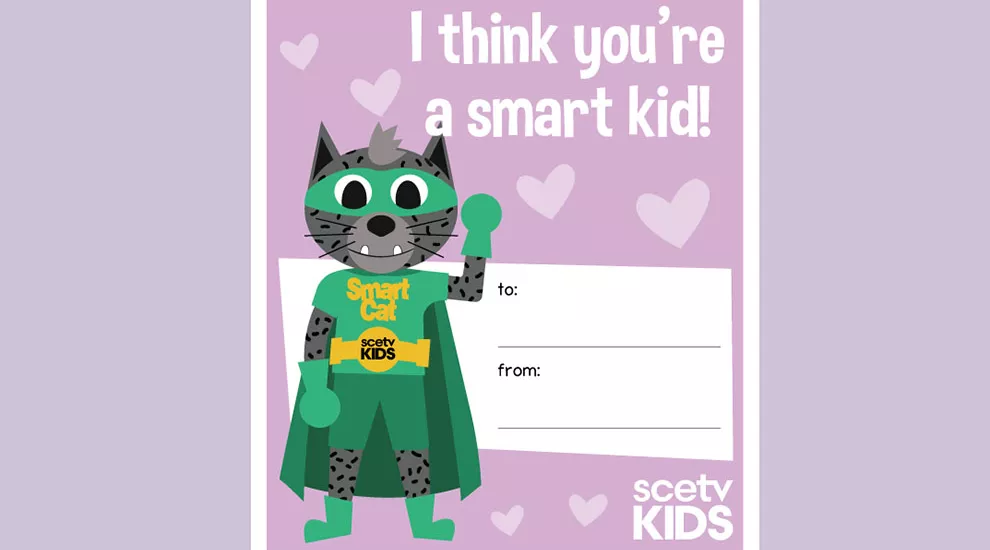 "Je suis deja d'amour tanné
Ma tres doulce Valentinée"
Which roughly translates to "I am already sick of love, my very gentle Valentine."
One of the earliest examples we have of someone putting pen to paper to declare their love on Valentine's Day. The message was sent in 1415 by the Duke of Orleans to his wife from the tower of London following the battle of Agincourt. While the history of Valentine's Day dates back by well over 2,000 years, the history of Valentine's Day cards is far more recent, at least in relative terms.
Due to the COVID-19 pandemic, SCETV and PBS would like to help your learner still celebrate and participate in this long-held tradition. SCETV is offering pre-made cards for you to print at home for your learner to cut out and give out if they are in a classroom setting, and cards that your learner can send virtually to their friends featuring their favorite SCETV and PBS Kids characters like Smart Cat and Daniel Tiger. Download and print Valentine's Day cards from Smart Cat's page.
The Smart Cat Valentines from SCETV offer the ability for your learner to write their own messages—either digitally or by hand—or use one of our prewritten messages that can be printed out or sent virtually. You can also find the PBS Kids cards at Valentine's Day Crafts and Activities | PBS KIDS for Parents If your student would like to pass them out in person, simply print out the cards and cut them out along the dotted lines.