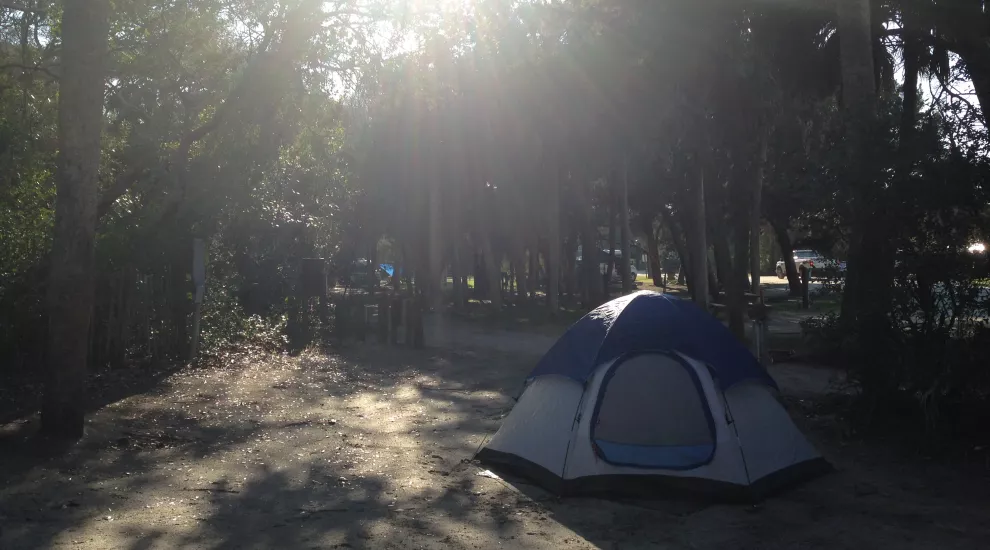 The Historic Charleston district of South Carolina is known for the metropolis of Charleston itself, the tourism industry and the rich history that is ever-present here. But sometimes unknown or underappreciated is the beauty of the surrounding environment which can be appreciated in the preserved state parks in the district.  
Edisto Beach State Park

Camping oceanfront at Edisto Beach State Park is the gateway for more enriching history and outdoor experiences. The state park is one of the four coastal parks in the state and is located in the historic Charleston district where the beauty of the natural world is braided in with the historical charm of the Lowcountry. 
This park is the best way to experience them both in one stroke, offering campsites by the oceanfront, hiking trails and Native American history. The interpretive trails bring to life a time before the rapid urbanization of the near-by city of Charleston with level walks through forests of live oak, Spanish moss, and palmetto trees. Even the wildlife adds a whimsical element to the state park with many sightings of deer, osprey and bobcats.
The oceanfront aspect of the park provides the opportunity for water activities. Fishing, boating and water sports are popular for the visitors of the park especially in the warm summer months.
Givhans Ferry State Park

Leading inland from Edisto Beach State Park, up Edisto River is Givhans Ferry State Park – a forest located in the Lowcountry along the river that features beautiful views and plenty of opportunity for visitors to partake in outdoor sports like kayaking and canoeing. The Edisto River is actually the longest free-flowing, blackwater river in the continent and is on display from the cabins and campsites that the state park has to offer.
These parks are the perfect way to escape the realities of everyday life and the faster pace of the cities of the Lowcountry to find some solitude in the natural beauty of South Carolina. 
Photo by Danie Becknell