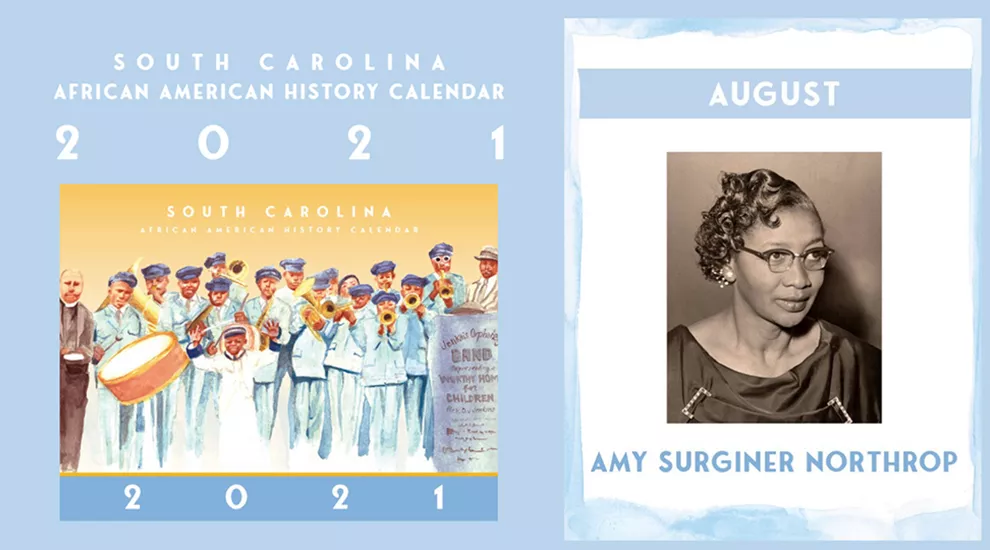 Amy G. Surginer Northrop was born in Dixiana in 1905. She earned a bachelor's degree from Allen University, and continued studies as far as the Manhattan Trade School.
After school, Northrop lived in Pennsylvania, New Jersey, and New York, operating a beauty shop. In 1935, she returned to Columbia, establishing Amy's Beauty Shop. Northrop hosted the first clinic for the S.C. State Cosmetology Association in 1936. She became a charter member of the Columbia Citywide Cosmetology Association in 1938, negotiating their affiliation with the National Beauty Culturist League in 1941.
She was appointed the first African American state inspector of beauty shops in S.C. Northrop founded the Gamma Epsilon Sorority, a chapter of Alpha Chi Pi Omega Sorority. In 1974, she was S.C. State Cosmetologist Association's "Woman of the Year." An entrepreneur, she secured the purchase of the city's beauticians association building and the State Cosmetology Headquarters.
Northrop held life memberships in the NAACP, National Council of Negro Women, and at Mt. Pisgah AME Church. In the 1940s, she fundraised for the Good Samaritan Waverly Hospital, served as vice-president of the Columbia Women's Council, and led the Missionary Society of the historic Sidney Park CME Church. She supported the October 1946 meeting of the Southern Negro Youth Congress, featuring Dr. W. E. B. Du Bois. In the 1950s and 1960s, she joined civil rights activist John H. McCray as a member of the South Carolina Progressive Democrats. She was inducted into the South Carolina Black Hall of Fame and honored by Columbia's mayor with a Key to the City. The Honorable James Clyburn gave a tribute to Northrop before the U.S. House of Representatives for her 100th birthday.
After a long life and a productive career as an entrepreneur and public servant, Mrs. Northrop passed away in 2010, survived by her son and niece.