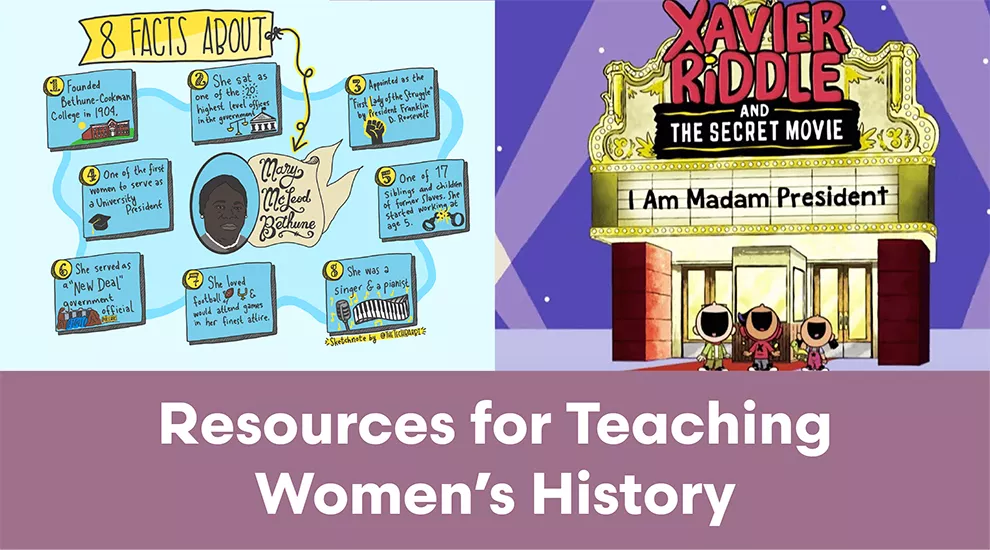 March is Women's History Month. While we need to make sure to incorporate the many historical milestones by women throughout the year, March is the designated month to study the countless moments in women's history.
SCETV provides a wide variety of multimedia resources to enhance the teaching of women's history.
The first resource is the KnowItAll Women's History Collection. This free collection features many videos, documents, and photos that can be used in your classroom. The subjects of the videos include Mary McLeod Bethune, Women's Suffrage (both in South Carolina and on the national scene), the Grimke Sisters, plus much more. These rich resources are available in a digital format and can be utilized in your current classroom environment.
PBS LearningMedia also offers a wide variety of free interactive resources that feature women's history throughout all grade levels. For the early learners and elementary grades, please be sure to check out one of the newer shows offered by PBS, Xavier Riddle and the Secret Museum. In this show, Xavier and his friends travel back in history to meet famous historical figures when they were children. The collection features media galleries, videos, interactives, and documents. Find Xavier Riddle and the Secret Movie: I am Madame President and content featuring Abigail Adams, Amelia Earhart, Ana Pavlova, Cleopatra, Eleanor Roosevelt, Helen Keller and others here.
For upper elementary through high school, the educational resources that accompany the award-winning program American Experience are also great tools. Here you can find an interactive
timeline on the Women's Suffrage Movement, plus documents, videos, media galleries, interactives, and images on many historical events and women.
These are just a sampling of the many resources that SCETV offers for Women's History Month. We would love to know which ones you found most useful, plus any additional resources that was not mentioned. Please let us know on our Facebook Page – SCETV Education