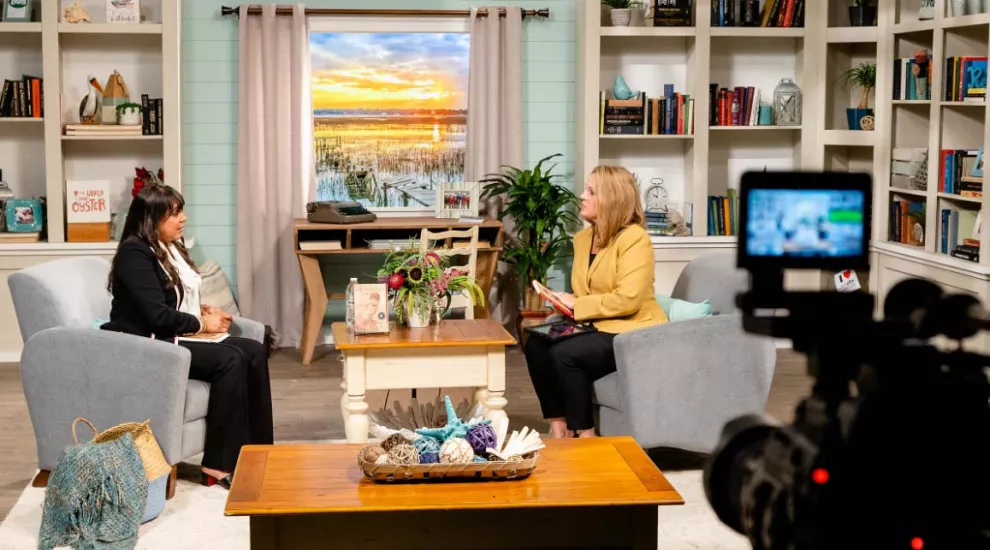 Television personality and former host of PBS' Reading Rainbow Levar Burton once said, "If you're a reader for life, then you're a learner for life." Throughout the month of October, as SCETV celebrates National Book Month, we recognize the accuracy and significance of Burton's words. In fact, our agency has worked hard throughout its six-decade history to promote reading and literacy in South Carolina.
An example of these efforts is By The River, SCETV's weekly, 30-minute literature-focused series, which is achieved in partnership with the University of South Carolina Beaufort (USCB). Filmed at ETV Lowcountry, our regional station in Beaufort, S.C., the program utilizes an intimate interview format, allowing authors with ties to the Palmetto State to discuss their books, writing lives and inspirations. By The River, which airs Thursdays at 8:30 p.m. on SCETV, represents what can be achieved through community engagement and collaboration as the program's entire production crew consists of Communication Studies students at USCB.
SCETV's work in the literacy area extends beyond television programming. The agency's Education team utilizes various initiatives to actively promote reading to South Carolina students. One such initiative is the team's current literacy contest, which calls on students to read a book of their choice and submit a review via a written essay, a video essay or a creative report. Entries can be submitted online at www.scetv.org/literacycontest through October 22.
Part of SCETV's mission is to instill the joy of learning in citizens across this state. As Burton's quote suggests, a love of reading is synonymous with a love of learning. So, we'll continue to do our part to promote literacy, not only during National Book Month, but year-round.
Anthony Padgett
President & CEO
SCETV/SC Public Radio