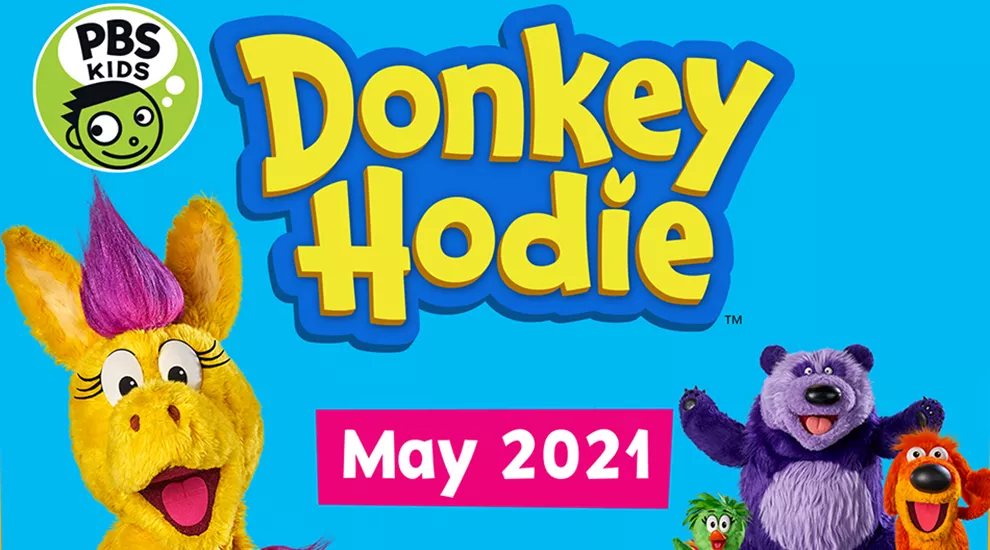 This May on SCETV, a new PBS KIDS premieres: Donkey Hodie, a new puppet series for preschoolers. Plus, check out another brand new series presented by SCETV to PBS stations across the nation featuring Charleston entrepreneur, chef and mother, Carrie Morey in How She Rolls. 
The third episode of Sisterhood:  South Carolina Suffragists premieres featuring the Pollitzer sisters. 
Also, special programs honoring our military and veterans will air at the end of the month around Memorial Day. Learn more below and consult SCETV's online TV schedule for more upcoming programs. 
PBS KIDS 
A brand new PBS KIDS series premieres Monday, May 3! Donkey Hodie is a new puppet series for preschoolers from Fred Rogers Productions and Spiffy Pictures.  
Each episode follows the adventures of Donkey Hodie and her pals — Purple Panda, Duck Duck and Bob Dog — as they follow their big dreams and work together to come up with creative solutions to everyday problems. Kids will learn about perseverance, resilience and problem-solving, while enjoying plenty of silliness along the way. Airs weekdays at 10 a.m. and 1:30 p.m. on SCETV and at 4 p.m. on SCETV PBS KIDS. For more airtimes, visit scetv.org/tv-schedule and search "Donkey Hodie." 
SCETV 
How She Rolls 
Series premiere Thursday, May 13 at 9 p.m. 
It's a full life, every day. Carrie Morey runs a growing business based on her mother's biscuit recipe. She does this from her kitchen, her car, food festivals, her daughter's volleyball games, and anywhere else she finds herself around Charleston. SCETV presents the 10-episode first season of How She Rolls. 
Sisterhood: South Carolina Suffragists - Clubwomen, The Pollitzer Sisters & The Vote! 
Episode 3 premieres May 20 at 9:30 p.m. 
As the National Debate for Suffrage came to the fore, Charleston sisters, Carrie, Mabel and Anita Pollitzer led and joined other members of local women's groups in pursuit of social and educational reform. The youngest sister, Anita Pollitzer rose to prominence in the more militant National Women's Party and is said to have helped influence Tennessee Senator Harry Burn, who cast the decisive vote for passage of the suffrage amendment in 1920. 
The Major of St. Lo 
Premieres Sunday, May 30 at 7:30 p.m. on SCETV 
Major Thomas Dry Howie (April 12, 1908 - July 17, 1944), a native of Abbeville, South Carolina, was a United States Army Infantry Officer and Battalion Commander in the 29th Infantry Division. He was killed in action during the Battle of Normandy in World War II while leading his unit's effort to capture the strategic French town of Saint-Lo. He became immortalized as "The Major of St. Lo." 
National Memorial Day Concert 2021 
Premieres Sunday, May 30 at 8 p.m. on SCETV 
Tune in to the 32nd annual broadcast of America's national night of remembrance, honoring the military service of all our men and women in uniform, their families, and those who have made the ultimate sacrifice for our country. 
 You can watch the program broadcast on SCETV or online with SCETV Live at the scheduled airtime. You may also find many of the programs on SCETV available at https://video.scetv.org/ for online viewing for about two weeks after the broadcast.