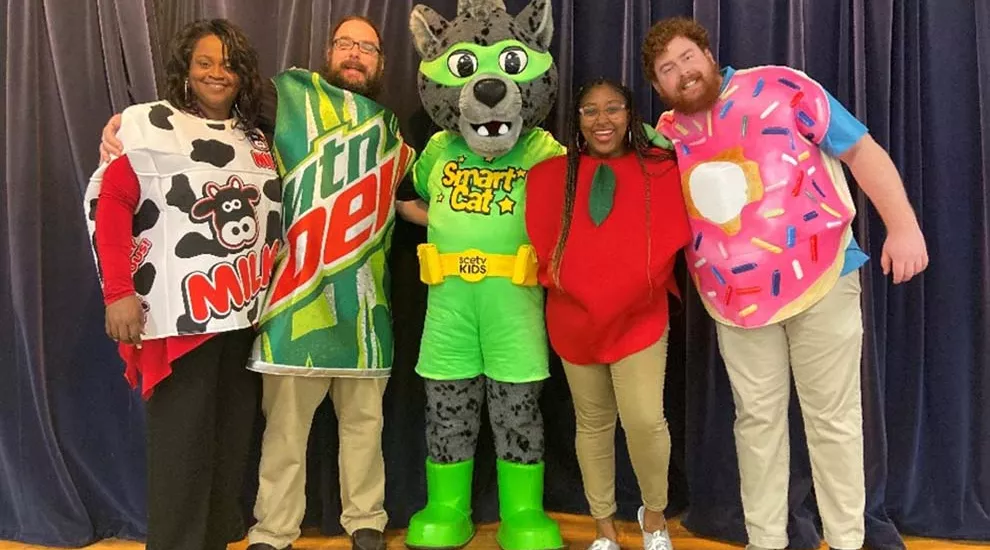 Happy March! March is a month where lots of things begin to change – the season, daylight savings time, and much more! Why not change our eating habits too?
National School Breakfast Week 2021 is March 8-12 and the perfect time to teach your students and children about making healthy choices for breakfast. After all, breakfast is the most important meal of the day, so let's help teach our students and children how much better it is for their bodies to begin their day with grains, fruit, and milk rather than sugar, soda, and carbs! 
This year the National School Breakfast Week theme is Score Big with National School Breakfast Week. SCETV will engage early learners across the state though an interactive virtual skit and exercise with Smart Cat. If you would like the team to virtually visit your school or classroom, please reach out. If you would like more resources or information on National School Breakfast Week, the School Nutrition Association website has several great resources readily available and resources made available upon request. We look forward to seeing you and/or your celebrations. If posting on social media please use the hashtags #NSBW21, #SCScoreBig, and #SmartCatBreakfast.
SCETV celebrates healthy lifestyle choices all year and we have lots of health and nutrition resources that can help teach your little ones, whether in the classroom or at home. On KnowItAll.org, you can find our Healthy Hannah's Healthy Choice Heroes series, which includes lesson plans and videos. In each video, Healthy Hannah takes her friends on trips to fun places and explains the importance of nutrition. Videos such as "Milk Makes Healthy Bones", "Go Lean with Protein", and "Choose My Plate" from this series would be excellent to watch during National School Breakfast Week. Lesson plans also accompany the videos!
Speaking of videos, a new Smart Cat series is here! Smart Cat, once known solely for eating healthy and exercising, is now growing up! He's making friends, making healthy choices, and having fun learning in the new "Growing Up with Smart Cat series! Videos are no longer than one minute and will get your students and/or children moving their bodies and having fun! The videos can be used alongside our FREE downloadable standard-aligned workbook.
If you would like to collaborate to celebrate National School Breakfast Week or need assistance navigating SCETV PBS Kids resources, feel free to reach out to me at bmwilson@scetv.org. Also, don't forget to share your videos, pictures, and lesson plans from #NSBW21. We cannot wait to see you and your students SCORE!