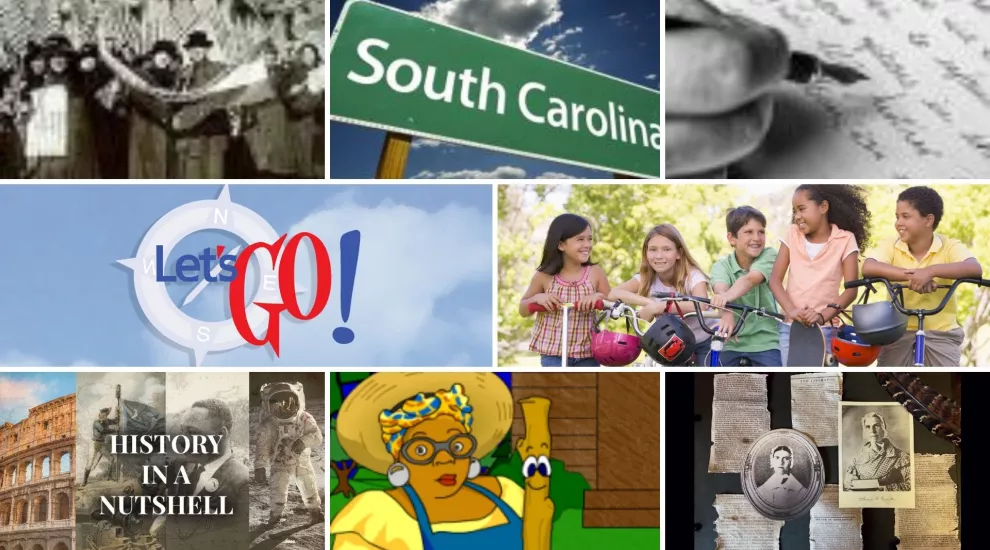 South Carolina Day, World Storytelling and Poetry Day Resources
Plus Women's History & National Nutrition Months & More
on KnowItAll.org!
KnowItAll brings you an abundance of content for South Carolina Day, World Storytelling Day and World Poetry Day. See below for details! We hope you'll enjoy exploring—and please encourage your students and their parents to do the same!
We also have numerous resources for Women's History and National Nutrition Months—and it's all so easy to locate—just a few clicks away!
Please consider linking to KnowItAll.org on your school website and teacher pages! https://www.knowitall.org/     
NEW ON KNOWITALL.ORG
SC African American History Calendar – March Honorees:
Bernard and Herbert Fielding
Bernard and Herbert Fielding grew up in Charleston during the Great Depression. Herbert, a veteran of World War II, graduated from West Virginia State College in 1948. Bernard graduated from the Hampton Institute in 1953 and spent two years with the Army, completing his law degree at Boston University while stationed there.
In 1952, Herbert took on his family's funeral home business as CEO and President. Bernard assumed these positions in 1984. Fielding Home of Funerals was established in 1912 and is one of the oldest African American businesses in Charleston.
Herbert and Bernard became active in the NAACP. In 1965, Herbert founded the Political Action Committee of Charleston County to provide voter education and promote the employment of African Americans to voter registration and school trustee boards. In 1969, Bernard became the first African American president of the Young Democrats of Charleston County.
In 1970, Herbert became one of the first African American legislatures elected to the S.C. House of Representatives since Reconstruction. Herbert served on many committees during his decades-long tenure as a member of the S.C. House of Representatives, and then the S.C. Senate. In 1976, Bernard was appointed an associate probate judge in Charleston County, becoming the first African American to hold the position in S.C. In 1990, Bernard became the first African American elected Charleston County Probate Judge. Herbert was chairman of the S.C. Senate Delegation from 1989-1992 and chairman of the S.C. Legislative Black Caucus from 1990-1992.
The SCDOT named Highway 61 from the James Island Expressway to South Carolina Route 61 in Charleston County as the Herbert U. Fielding Connector. Bernard's work has been recognized by the Center for Heirs Property Preservation's Commitment to Justice Award. For more than fifty years, Bernard offered free services to the Young Women's Christian Association of Greater Charleston.
Herbert passed away in 2015, followed by his brother Bernard in 2020.
Presented through a partnership between the South Carolina Department of Education and South Carolina ETV. 
View the website on Knowitall.org here.
Download the SC African American History Calendar here.
Dates for Your Calendar and Knowitall Resources
March 1 – National Horse Protection Day
View our content on horses here.
March 1 – National Pig Day
Listen to the Three Little Pigs in both English and Gullah by Aunt Pearlie Sue. (Gullah Net) 
Please note: A recent update in Chrome is causing some of our interactives not to play. Please use another browser while we work to resolve the issue.
March 2 – National Read Across America Day
Visit our Libraries, Literature and Learning Collection for resources!
March 3 - World Wildlife Day
Explore our Environmental Awareness Collection!
March 4 – National Grammar Day
View our content related to grammar here.
South Carolina educators, please register for an account on KnowItAll.org to gain access to all of the  resources. 
March 5 – National Employee Appreciation Day
March 6 – National Dentist's Day
View our resources on dentists here.
March 8 - International Women's Day
Celebrate the day by learning more about women who have led the way!
March 10 - National Registered Dietitian Nutritionist Day 
March 12 – National Plant a Flower Day
Try out these lessons related to flowers!
There's more to explore by searching on the key word flower!
March 14 – National Learn About Butterflies Day
Explore our resources on butterflies here.
LESSONS
March 15, 44 BC  "Beware the Ides of March!"
Roman dictator Gaius Julius Caesar was assassinated. Learn more about Ancient Rome with History In A Nutshell!
March 18 – South Carolina Day
See below for an array of content about South Carolina's history, people and places! Be sure to explore our 3D tours and virtual tours!
        Explore more of our history here.
March 19 – National Certified Nurses Day
View more content by using the search term nurse. View them here.
March 20 – French Language Day
South Carolina educators, please register for an account on KnowItAll.org to gain access to these resources. 
March 20 – World Storytelling Day
What kinds of stories interest you? For World Storytelling Day, make your first stop the Libraries, Literature & Learning Collection, a convenient place to find all things related to literacy! Here you can learn about storytelling from some of the best! You can also find out some of the secrets to writing great stories from some outstanding writers!
South Carolina educators, please register for an account on KnowItAll.org to gain access to all of the  resources. 
Series from the Collection include:
Topics include:
March 21 - World Poetry Day
March 21 – International Day of Forests
March 21 – International Day for the Elimination of Racial Discrimination
March 22 – World Water Day
March 23 – National 3-D Day
Try out our 3D VR Interactives!
Let's Go!
To View VRs on the Matterport App: The 3D experiences were shot with a Matterport Pro 3D Camera. Experience the VRs using the Matterport phone apps with either a Google Cardboard or Samsung Gear VR.
(1) Download the iOS or Android app to your phone
(2) Use your phone's browser to go to the VR links
March 23 - World Meteorological Day
View these resources related to meteorology, motion in the environment and weather.
March 23 – National Ag Day
March 24: Education and Sharing Day
March 25 – International Day of Remembrance of the Victims of Slavery and the Transatlantic Slave Trade
March 27 – World Theatre Day
Backstage Pass! | Carolina Stories
Individual assets:
March 27, 8:30 to 9:30 p.m. EST – Earth Hour Day
Non-essential lights are turned off for an hour.
March 29 – National Vietnam War Veterans Day
March 30 – Doctors' Day
March 31 – Manatee Appreciation Day
The Merritt Island National Wildlife Refuge is part of Kennedy Space Center. The Fish and Wildlife Service manages the natural areas not actively in use by the space program, and there is a tremendous diversity of habitats in the area, including over 300 kinds of birds that live in the area permanently or seasonally. Manatees gather there during the spring before migrating to other areas along the coast for the summer months. The manatee population has increased dramatically where boats are prohibited. Some 19 threatened and endangered species enjoy sanctuary in these wild areas.
Featured This Month on Knowitall
Our Collections and Series for March!
From the American Revolution to the Civil Rights Era, and in fields from education, to medicine, to law, this collection brings stories of the outstanding women who have led the way!
NEW THIS MONTH! View our Women's History Collection on the Women's Suffrage Movement! Details below!
SERIES
See how these South Carolina women impacted our history and our future!
WOMEN'S HISTORY MONTH | PERISCOPE
At the turn of the 20th century, women in the United States could not vote. A political party promoted National Women's Day as a day to protest for women's rights, particularly the right to vote. On February 23, 1909, over 2,000 men and women attended the first National Women's Day rally in New York. The success of the event inspired other countries to participate, and National Women's Day became International Women's Day in 1911.
COLLECTIONS
History In A Nutshell - Episode 8: Women's Suffrage
This two-part expose on the Women's Suffrage Movement in the U.S. outlines the early years of the movement, all the way to the passing of the 19th Amendment on August 18, 1920. The fight for full suffrage, to include African Americans and minorities, would not come to pass until the Voting Rights Act of 1965. Thanks to the efforts of generations of suffrage leaders, people of all races and genders can have a say in U.S. elections! 
Sisterhood: SC Suffragists – Moving Forward
Celebrate the 100th anniversary of the passage of the 19th amendment and learn the role South Carolina women played in the national movement that eventually guaranteed more than 26 million women the right to vote. But there is more to do.
Sisterhood: SC Suffragists - The Grimke Sisters Through the Civil War
Sarah and Angelina Grimke worked tirelessly for both abolition, and women's suffrage. The Grimke sisters were the first to say, in print, that women deserved to live alongside men with an equal political footing. They were the first to connect abolitionism with feminism.
In addition to featuring content on the women who made a difference in our history, we also offer Palmetto Voices, a series featuring women leaders in our times! Take a look!
 
The series features female leaders in South Carolina who share the experiences, skills and decisions that have brought them success. These voices of the Palmetto State offer advice and suggestions for excellence in various career clusters and fields of study.
We also offer Project Lead South Carolina, a series for young women about what it takes to be a leader. 
From middle school to high school, teenage girls face unique pressures every day. Between issues with bullying, body image, boys, friends and "frenemies," life during that awkward transitional period can feel like it's filled with challenges. It's important our girls have role models, people to look up to, think about, and speak with to help navigate those land mines.
Notable women in South Carolina give advice on what makes a successful leader. 
In addition, we encourage girls to pursue careers in science and mathematics.
A girl's odyssey of hands-on science and math activities, speakers, shows and exhibits—all designed to educate, inspire, stimulate and entertain middle school girls ages 10-14. 
And we offer a series on young women who are serving their communities and our state through their commitment to public service.
Focuses on issues affecting women throughout the state and the nation, and a new generation of young people pursuing public service for their communities and the state at large. 
In addition, we offer the James Otis Lecture Series 2015 on Women's Rights, including addresses by the following:
There is also a Q&A Session on Women's Rights included in the program:
RESOURCES FOR NATIONAL NUTRITION MONTH ARE EASY TO LOCATE - 

Healthy Food, Farms & Gardens | Youth Media Health Institute
The American Graduate Youth Media Institute, held at South Carolina ETV, focused on health and community engagement. Students used their video and reporting skills to create short documentaries on healthy food, farms and gardens. By focusing on sustainable food production and nutrition, the Youth Media Institute helped students make the connection between a healthy lifestyle and their own educations.
EdAware: Eat Smart, Move More
Series designed to increase understanding of the problem of childhood obesity and related health, nutrition and physical activity issues and to make viewers aware that they are part of the solution.
Healthy Hannah's Healthy Choice Heroes
Healthy Hannah is a cyber super hero who helps her friends make healthy choices by teaching them about nutrition and physical activity while taking them on adventures through cyber space. This micro-series consists of twenty 2 to 3-minute episodes intended for ages K-6.
Please note: The above Series include all of the programs in each series. To view the ones related specifically to nutrition, please view the assets featured in the Nutrition Collection individually. Just scroll down past the Series and you'll see them all!
Additional Videos Include:
As we focus on ways to improve our health and nutrition, we also want to emphasize the importance of handwashing and avoiding the spread of COVID-19. We'd like to remind you of these videos:
ILLNESS PREVENTION TIPS & WASH HANDS SONG
These PSAs were created by SC DHEC to prevent the spread of flu and other contagious illnesses. Four key illness prevention tips are highlighted in English and with Spanish subtitles, along with the Wash Hands Song with Danielle Howle (K-2).
FOR SOUTH CAROLINA DAY, KNOWITALL OFFERS THESE GREAT FIELD TRIPS! 
Check out virtual reality tours of some of South Carolina's most interesting historical sites on your desktop computer or the Matterport App. Each tour includes an overview video and photo gallery.
Benjamin Mays Historical Preservation Site
Dr. Benjamin E. Mays' childhood home is the focal point of the Dr. Benjamin E. Mays Historical Preservation Site, a destination for individuals and groups interested in learning about the life of one of the nation's most influential Civil Rights leaders and the African American experience in South Carolina. 
Learn more about Dr. Mays by watching the Carolina Stories documentary, Born To Rebel, Driven to Excel.
Catawba Cultural Center
The mission of the Catawba Cultural Center is to preserve, protect, promote and maintain the rich cultural heritage of the Catawba Indian Nation through efforts in archives, archeology, tribal historic preservation, native crafts, cultural education, and tourism development. The Cultural Center provides an overview of the rich culture and history of the Catawba Indian Nation. There are exhibits that can be seen at no charge and a member of the staff will be happy to answer any questions that you have. There is also a craft store in the center that features crafts from many of our native artisans.
Columbia Museum of Art
The Columbia Museum of Art sparks powerful connections through art from around the corner and around the world in an environment that is welcoming to all. The museum is the cultural heart of a revitalized downtown Columbia and boasts a wide variety of original and historic art pieces, from thousands of years ago, to present day.
Fort Hill Plantation
Fort Hill, the antebellum plantation of John C. Calhoun, South Carolina's pre-eminent 19th century statesman, started as a four-room Clergy Hall. Through a succession of Calhoun-Clemson women, Fort Hill would come into Thomas Green Clemson's possession. In 1888, Clemson bequeathed three-fourths of the Fort Hill plantation and $80,000 to the state of South Carolina for the establishment of a public scientific and agricultural college. He willed that Fort Hill "shall always be open for the inspection of visitors."
H.L. Hunley Museum
The H.L. Hunley submarine made history during the American Civil War when she became the first submarine to sink an enemy ship in combat. In February 1864, the Hunley, under command of Lieutenant George E. Dixon, sank the U.S.S. Housatonic; a Union blockade vessel.  The Hunley's mission was a success, but disappeared under mysterious circumstances, and never returned to port. 
Historic Brattonsville
Located in York County near Rock Hill, Brattonsville is home to structures that range from a pre-Revolutionary War cabin to an antebellum plantation.
Mann-Simons Site
The Mann-Simons Site, home to the same entrepreneurial African American family for nearly 130 years, traces the journey of Columbia's African American community from enslavement through urban renewal.
Modjeska Monteith Simkins House
Built between 1890 and 1895, this one-story cottage was home to Modjeska Monteith Simkins, considered "the Matriarch of Civil Rights activists of South Carolina," from 1932 until her death on April 5, 1992.
Old Exchange and Provost Dungeon
Located in downtown Charleston, the Old Exchange and Provost Dungeon is nationally recognized as one of our country's most significant historical sites.
Powder Magazine
Completed by 1713, The Powder Magazine is the oldest governmental building in South Carolina. This facility was used as an arsenal from 1713 - 1748 to defend the colony from the Spanish, French, pirates, slave rebellion and native attacks. It was then temporarily reinstated by the Continental Army during the American Revolution.  After 1780, The Powder Magazine was retired; however, private owners discovered a variety of other functions for this historic structure. Throughout the 19th century, The Powder Magazine was converted to a stable, print shop, blacksmith shop, wine cellar, and horse carriage house. In 1902, The National Society of The Colonial Dames of America in The State of South Carolina purchased the building, saving it from being destroyed. It was then restored and opened as a museum.
SC Confederate Relic Room & Military Museum
The South Carolina Confederate Relic Room and Military Museum's mission is to collect and preserve the military history of this state. When visitors enter Columbia's oldest museum, they will uncover the state's military history from the Revolutionary War to the present War on Terror.
South Carolina State House
Located in the capital city of Columbia, the State House and its grounds are a living monument to South Carolina's rich history. Take a 3D virtual tour inside the SC State House.
Upcountry History Museum
The Upcountry History Museum is a history museum in Greenville, South Carolina that displays the regional history of fifteen upstate South Carolina counties from the early 18th century to the present.
USS Yorktown at Patriot's Point
USS Yorktown (CV-10) was an Essex-class aircraft carrier that served with the US Navy in World War II and the Vietnam War. World War II's famous "Fighting Lady" would participate significantly in the Pacific offensive that began in late 1943 and ended with the defeat of Japan in 1945. The Yorktown received the Presidential Unit Citation and earned 11 battle stars for service in World War II. In the 1950s, the Yorktown was modernized to operate jet aircraft as an attack carrier (CVA). In 1957, she was re-designated an anti-submarine aircraft carrier (CVS), and would later earn 5 battle stars for service off Vietnam (1965-68). The ship also recovered the Apollo 8 astronauts and capsule (December 1968). The Yorktown was decommissioned in 1970 and placed in reserve. Today, the ship is a floating military museum located at Patriot's Point in Charleston, SC.   
Woodrow Wilson Family Home
The Woodrow Wilson House in Columbia is the only museum in the nation dedicated to telling the story of Reconstruction. Located at 1705 Hampton Street, in historic downtown Columbia, South Carolina, this is the home where President Woodrow Wilson spent four years of his childhood. The house was built in 1871, during the height of the Reconstruction era; a tumultuous period in United States and South Carolina history. Today, the house is a museum, devoted to showing Columbia's struggle to rebuild itself after the Civil War, and the Wilson family's time spent in the home. 
These episodes relate to South Carolina history:
Episode 2: 1918 Flu Pandemic in SC
In January of 1918, a deadly H1N1 strain of Influenza called the "Spanish Flu" began sweeping across the globe. This flu, also known as "Strain A" or "Avian Flu", took its toll worldwide, infecting mainly young adults, and even South Carolinians had to face this flu without any real forms of medicine. Learn how the Pandemic first arrived in South Carolina, along with its socio-economic effects, and measures taken to combat its spread.
Episode 4: The Space Race
In the late 1950's, and throughout the 1960's, the U.S. was in the middle of The Cold War with the Soviet Union. Both sides tried to out-perform one another in every way, including scientific advancements and setting records. The Soviet Union had kicked off the "Space Race" when they launched the first man-made satellite called "Sputnik."  In this episode of History In A Nutshell, follow the events leading up to the U.S. landing on the moon; from test pilots and Project Mercury, through Gemini and the Apollo program! 
Also included in this episode is a bonus feature! For the 50th anniversary of the Apollo 11 moon landing, the South Carolina State Museum hosted a special screening of the PBS documentary Chasing The Moon. During this event, Knowitall.org and SCETV got the opportunity to interview two South Carolinians who helped recover Apollo spacecraft after they returned from their journeys to the moon! 
Episode 7: Carolina Day
This episode of History in a Nutshell explores the S.C.-centric holiday known as "Carolina Day"! Carolina Day, which commemorates the victorious Battle of Sullivan's Island during the American Revolutionary War, is observed every June 28th. On June 28, 1776, a small band of Patriots stationed at the palmetto log fort managed to miraculously fend off a massive British fleet. Learn more about the Battle of Sullivan's Island, the evolution of the Carolina Day holiday, and how the S.C. State Flag as we know it today came to be!
EXPLORE SOUTH CAROLINA – VIEW THE COLLECTION!
Series include:
Topics include:
MORE SOUTH CAROLINA CONTENT - JUST A CLICK AWAY!
View our list of South Carolina content above – See March 18 - Dates for Your Calendar!
They're all right at your fingertips! Enjoy your travels!
TO GET THE MOST OUT OF KNOWITALL, EXPLORE THESE AREAS!
KnowItAll Series
Knowitall.org features over 9,000 mobile-friendly videos, worksheets, and interactives for preK-12.
KnowItAll Collections
Find topical content and lessons grouped together for your convenience.
Curriculum and Lesson Plans
Lesson plans for teachers that meet South Carolina standards.
KnowiItAll Factoids by the Month
Visit our March Factoids. You may be surprised at what you'll find!
KnowItAll Blog
Find featured content and helpful information on using KnowItAll throughout the month!
What's New on KnowItAll?
Find new content recently added. Visit often, so you won't miss a thing!
Questions or comments?
We welcome your questions and comments! We would love to hear from you!
Curious about SC Day? Take a look!
*South Carolina Day
 *SECTION 53-3-60*. *South Carolina Day*. [SC ST SEC 53-3-60]
The public schools shall observe Calhoun's birthday, the eighteenth of March of each year, as South Carolina Day and on that day the school officers and teachers shall conduct such exercises as will conduce to a more general knowledge and appreciation of the history, resources and possibilities of this State. If such day shall fall on Saturday or Sunday the Friday nearest to March eighteenth shall be so observed and if any school shall not be in session on such date, the celebration may be held before the close of the term. The State Superintendent of Education shall suggest such topics or programs, as he may deem appropriate for the celebration of South Carolina Day.
Read more: https://www.scstatehouse.gov/code/t53c003.php